Full Radius Dance presents mixed bill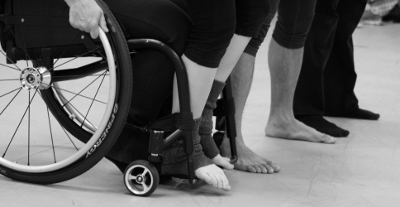 Atlanta's Full Radius Dance, a physically-integrated modern dance company made up of dancers with and without disabilities, will return to 7 Stages Theatre on March 13-14 to present Snapshot.
In this program, Full Radius Dance will feature works inspired by Emily Dickinson, the Beast of Gévaudan and the photography of Garry Winogrand. These choreographic snapshots of life are designed to be astute and to reveal truths about the human condition.
The Gorgeous Nothings is the title of a published collection of Dickinson's fragments of poetry, written on scraps of paper. Full Radius Dance Artistic Director Douglas Scott, in collaboration with the dancers, used Dickinson's words to create a work about the inconsequential, but beautiful, moments of everyday life.
The Beast of Gévaudan is a mythical creature that was held responsible for numerous deaths in 1760s France. This account of a man-eating wolf energized Scott to create the work Bête Noire (literally translated as "Black Beast.") This is Full Radius Dance's version of a fairytale, one in which good and evil become indistinguishable.
Lastly, Scott was also inspired for his third premiere – aptly named Snapshot – by a group of black-and-white photos on display at the National Gallery of Art in Washington, D.C. Captured by 20th-century American photographer Garry Winogrand, the photos were taken in Las Vegas and Coney Island, at rodeos and nightclubs.
For more information on this program, visit www.fullradiusdance.org. Tickets are now available.
Photo by Onur Topal-Sumer.