Gauthier Dance dedicates month to 'Infinity'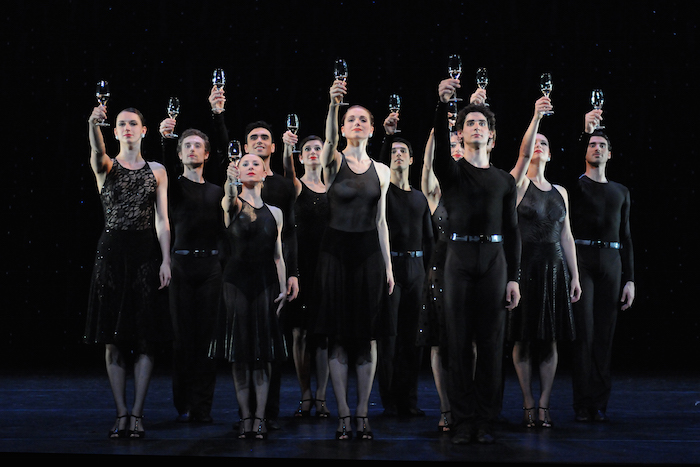 German contemporary dance company Gauthier Dance has dedicated the whole month of November to Infinity. The name of the mixed bill featuring eight choreographies refers to the mathematical symbol of infinity, the sideways eight and shows the virtually infinite potential of contemporary dance. Due to the COLOURS festival in June and July, the production has not been on the schedule very often. The company is going to make up for this in November with 14 shows in Theaterhaus Stuttgart and on tour in Switzerland and Southern Germany.
Infinity presents works by Alejandro Cerrudo, Po-Cheng Tsai, Alexander Ekman, Johan Inger, Nanine Linning, Charles Moulton & Janice Garrett, Cayetano Soto and Hans van Manen. Four works were world premières when first presented in this program.
Johan Inger from Sweden ranks among today's top choreographers, with acclaimed works for the Nederlands Dans Theater and the Cullberg Ballet. At the beginning of his career, you could still sense the influence of Jiří Kylián in his quiet, intense choreographies. By now he has definitely found his own voice. His haunting new pas de deux Now and now relentlessly explores the various stages of love.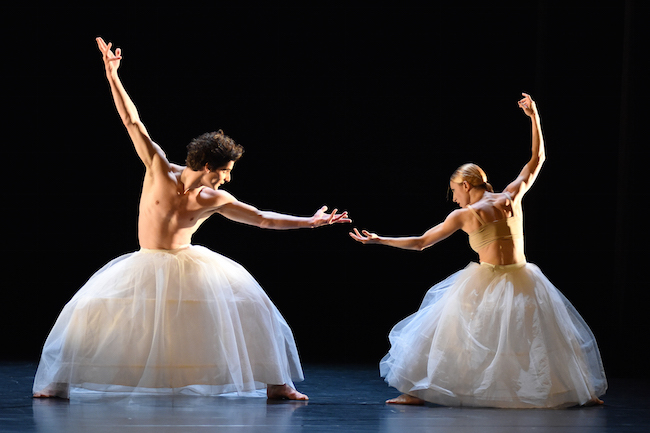 In her mid-thirties, Nanine Linning from the Netherlands has achieved as much as some towards the end of their careers: The Dance Director of Heidelberg and choreographic shooting star of the German dance scene and beyond contributed a powerful world première to Infinity, with strong images and mythological references. Set to the metaphysical music of Arvo Pärt's 4th Symphony, she drew her inspiration from Hesiod's Theogony and the arguably darkest picture of Goya's legendary Black Paintings series: Saturn Devouring his Son.
With his raw, physical approach, Cayetano Soto never fails to grip his audiences and to draw them into his very own universe. Following his celebrated La Lupe tribute Malasangre for the program Future 6, the Spanish choreographer created his second tailor-made piece for the Dance Company Theaterhaus Stuttgart: CONRAZONCORAZON. A madcap ensemble piece sporting an eccentric jockey look, it is full to the brim with the joy of dancing.
Alejandro Cerrudo's laid-back choreography Lickety-Split from the mixed bill Lucky Seven took the Gauthier Dance audience by storm. Now the Resident Choreographer of Hubbard Street Dance Chicago is back, with a piece which is easily just as hip. PACOPEPEPLUTO consists of three solos set to songs by the "King of Cool", Dean Martin, and is a perfect fit for the company's fabulous male dancers. Cerrudo gets right to the heart of the choreographic matter: sexy, ironic and with a seemingly nude cast.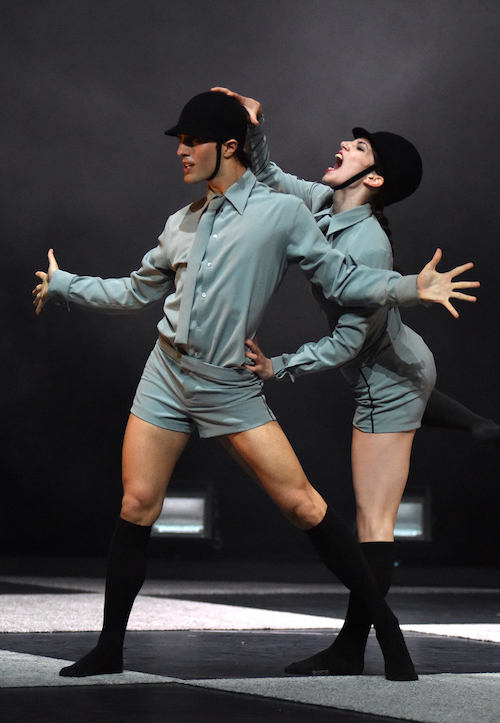 The 2014 edition of the International Competition for Choreographers organised by the Ballet Society Hannover saw the première of the new Gauthier Dance Production Prize. Together with the audience award, it went to Po-Cheng Tsai from Taiwan, who was thus chosen to show his winning piece in Stuttgart. Floating Flowers is sheer Asian poetry. Exquisite, sensitive, with flowing movements – and as full of surprises as the journey of life itself.
Ball Passing creator Charles Moulton spent a lot of time in Stuttgart this summer. Prior to devising a special COLOURS version of his iconic piece for amateurs, he rehearsed with Gauthier Dance. In collaboration with the choreographer Janice Garrett, he adapted a piece from his latest programme The Luminous Edge especially for the Dance Company Theaterhaus Stuttgart. Infinite Sixes bears all the trademarks of Moulton's distinctive touch: light-footed, seemingly relaxed, American style – and a real coordination challenge for the 15 dancers.
Alexander Ekman often causes a stir. When he flooded the stage of the Norwegian National Ballet for his Swan Lake production, he had finally conquered the international dance scene. Working with the major players all over the world, the Swede has come pretty close to his self-declared goal: to provoke, grip – and amaze his audience. The charming pas de deux Two Become Three is a prime example. The surprise is guaranteed at the conclusion of this humorous, true-to-life story of a young couple.
Hans van Manen is the great innovator of truly contemporary ballet. Following The Old Man and Me, which featured a superb Eric Gauthier as the torn lover, Black Cake was the second van Manen classic to make its way to Theaterhaus Stuttgart: a formal high-society party that is getting hilariously out of control.
For more information on Gauthier Dance's Stuttgart performances and Infinity, visit www.theaterhaus.com. The Stuttgart performances are set for Thursday-Monday, November 26-30, while the Switzerland show is Saturday, November 7 and the Southern Germany shows are Tuesday-Saturday, November 10-21.
Photo (top): Gauthier Dance in Hans van Manen's Black Cake. Photo (left): Maurus Gauthier and Garazi Perez Oloriz in Po-Cheng Tsai's Floating Flowers. Photo (right): David Rodríguez and Sandra Bourdais in Cayetano Soto's CONRAZONCORAZON. Photos by Regina Brocke.