Get up close & personal in 'Y Cabaret' in NYC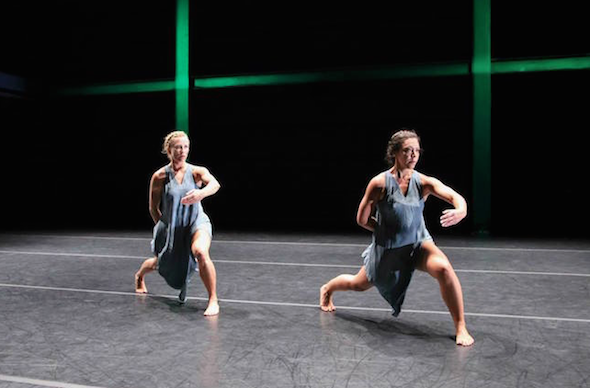 Y Cabaret is a pilot performance program at the 14th St Y in East Village premiering this November 2 and 3. It will curate seven New York-based contemporary choreographers in an intimate evening of drinks and dance. Pieces range from sensual solos, to larger athletic modern works, to a new dance-theater interpretation of the musical Sweeney Todd.
Choreographers featured in the premier Y Cabaret are Adam Barruch (director of Adam Barruch Dance), Lauren Cox (artistic director of Humans Collective and former dancer with Alicia Keys and Pharrell), Omar Roman de Jesus (in his second season with Parsons Dance), Ashley Menestrina (of BARE Dance Company and Dante Warehouse Dance), Jon Ole Olstad (former dancer with Nederlands Dans Theater), Summation Dance (specifically Taryn Vander Hoop and Sumi Clements) and Yin Yue (director of Yin Yue Dance Company.) The event is hosted by Clinton Edward, who is currently performing in Queen of the Night, an immersive evening-long spectacle in the basement of the Paramount Hotel.
Tickets for Y Cabaret can be purchased online for $20 or at the door for $22. Doors open at 7:15pm, with beer and wine provided for all guests.
The performance is a mixed bill of new and existing choreography. Audiences will get to experience the weird, the sensual, the dark, the slinky and the entertaining in this cabaret of dance.
"When most people hear the word 'cabaret' they think song and theater, and that it's going to be funny, intimate, sexual and entertaining. Those are not words though most people would in turn give to contemporary dance performance. Our goal with the first Y Cabaret show is to allow audiences another context in which to see, and hopefully enjoy, contemporary dance," said Larry Daniels of Bearded Ladies Productions, the co-producer of the event.
For further information or to book tickets, head to www.14streety.org/landing-pages/arts-culture.
Photo: Summation Dance's Taryn Vander Hoop and Sumi Clements. Photo by John Suhar.