'GlamourTango' opens Latino Cultural Fest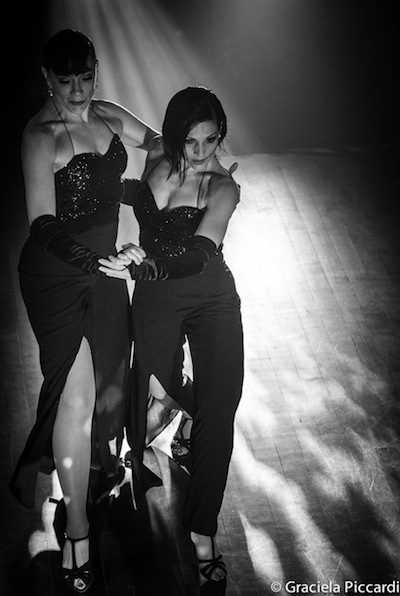 Polly Ferman's GlamourTango, an all-female multi-media music and dance spectacle that pays tribute to the women who were a major force in early tango, will open the 2014 Latino Cultural Festival on Tuesday, July 29 at 8 p.m. at Queens Theatre in NYC.
The production includes fascinating and rarely seen black and white films from Argentina recorded in the early 1940s, featuring female singers and tango dancers, as well as the stunning GlamourTango company of female musicians and dancers specializing in Argentine tango.
Uruguayan Creator and Music Director Polly Ferman created this stylish production of tango music and dance from South America's Rio de la Plata region. Choreographed by Mariana Parma and featuring projections by Federico Bongiorno, the show will present dancers Mariana Parma, Mariana Galassi, Karina Romero, Ana Padron and Valeria Solomonoff. GlamourTango's New York performance will also present vocalist Sofia Tosello and violinist Ina Paris, flutist Yael Archer, bassist Iris Ornig and Ferman on piano.
GlamourTango premiered in Montevideo in 2009 and has delighted audiences in performances in Buenos Aires, Montreal, Chicago, San Francisco and New York City. Music includes compositions by famed tango composers Astor Piazzolla, Horacio Salgan, Daniel Binelli, Anselmo Aieta, Pintin Castellanos, Rosita Quiroga, Enrique Mendizabel and more.
For more information, visit www.queenstheatre.org or call 718-760-0064. Queens Theatre is located at 14 United Nations South, Flushing Meadows Corona Park, Queens, New York.
Photo by Graciela Piccardi.