Google Cultural Institute offers 360-degree dance videos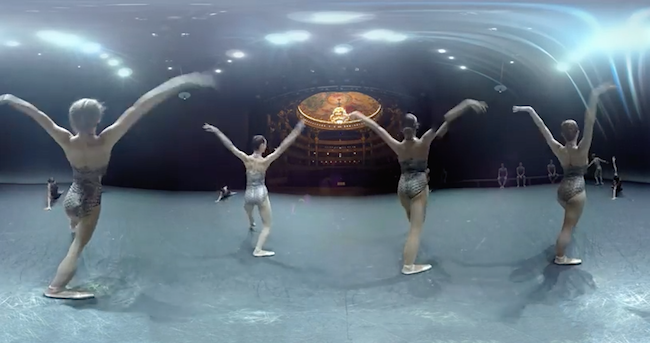 Just in time for the holiday season, the Google Cultural Institute has delivered a gift for all dancers and art enthusiasts to enjoy! Previously, the free website has focused on digitizing and displaying the collections of more than 800 art museums and historical archives around the world. Now, as of last Tuesday, the Institute offers 360-degree videos of various performing arts groups, including the Paris Opera Ballet.
As The New York Times wrote, "The Google initiative is now moving into the performing arts, and this exhibition is the first fruit of its partnerships with more than 60 groups from around the world — with the groups providing the content and Google providing the gee-whiz technology."
Quite excitingly, dancers can now log in and virtually stand on the stage of the Palais Garnier among the dancers of the Paris Opera Ballet. They can use their mouse to direct a 360-degree video to see company dancers perform Artistic Director Benjamin Millepied's Clear, Loud, Bright, Forward. This allows them to take in multiple angles of the movement.
Institute Director Amit Sood said in a recent video interview from London, "What I'm hoping is that [the arts community] will realize that there's much more to being on the Internet than just capturing a video and uploading it to YouTube. That's important, for sure, but the idea here is to provide narrative, to provide behind the scenes, to provide context."
Millepied is all about new technology too, having launched a website earlier this year called "3e Scène," or "Third Stage," that showcases films with company dancers performing original works. He told the Times, "I do use and do believe in using digital media to present dance to the largest audience possible…Now I think it would be the time to think about creating work specifically for the technology."
Other dance groups participating in the Institute's digital exhibition are American Ballet Theatre, the National Ballet of Canada, Queensland Performing Arts Centre, New York Live Arts and the Martha Graham Center for Contemporary Dance. Some exhibitions are more thorough and technologically advanced while others are more basic.
Head to performingarts.withgoogle.com to discover all that's available.
Photo: Still of Paris Opera Ballet dancers in Benjamin Millepied's Clear, Loud, Bright, Forward. Photo courtesy of Google Cultural Institute and 3e Scène.
---