Hip Op-eration Crew takes Vegas by storm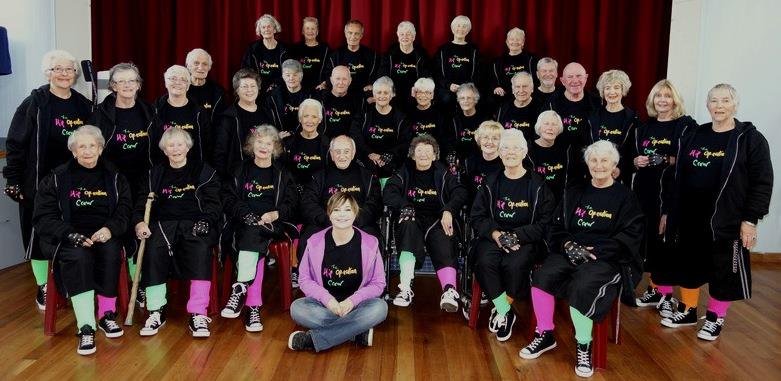 Hundreds of hip-hop dance crews competed in Las Vegas last weekend at the World Hip Hop Dance Championships. But by far, one of the most sensational and unique groups performing was the world's oldest hip-hop group – better known as "The Hip Op-eration Crew."
The Hip Op-eration Crew hails from the New Zealand island of Waiheke near Auckland, and includes 36 senior citizens ranging in age from 65 to over 90. While some are deaf, one is legally blind and others have artificial hips, all of them know how to get their swagga on.
Last week, on August 5-11, the World Hip Hop Dance Championships brought more than 2,000 of the world's best dancers together, including The Hip Op-eration Crew. They found themselves dancing on the same stage as performers from countries such as Argentina, Australia, Bahamas, Belgium, Brazil, Canada, Colombia, Denmark, Finland, France, Germany, Greece, Hungary, India, Ireland, Israel, Italy, Japan, Mexico and many others.
The crew competed as an exhibition team — which only winners of national tournaments are eligible for — with 26 of their members. Ten members cheered their teammates on from home as they were warned by doctors they were medically unfit for the long journey from New Zealand to Southern Nevada.
After their initial performance, the crew's leader, manager and choreographer Billie Jordan, announced that they had been invited to perform at the Championship Finals on Sunday, August 11. She wrote that the audience would be "ten times bigger than what we performed at last night."
"[We're] loving every second of our time in Las Vegas," she wrote on the crew's social media page on Saturday. "[It's] so overwhelming to get so many cheers and screams when we perform."
The crew, which was birthed out of a life-changing experience for Jordan, has now been going since August 2012 – only a year! It started after Jordan organized a successful flash mob for local seniors. The group quickly committed to rehearsals and more public performances, evolving into the regular hip-hop dance team it is today.
Now, many crew members view the tight-knit collaboration as a family and recount how, in numerous ways, the crew has also helped their health. Kara "Bang Bang" Nelson, who performs with a cane, told the Las Vegas Sun last weekend that the crew "keeps us up and active."
When performing, crew members sport black T-shirts and baggy pants with high-top Converse Chuck Taylors over neon-colored socks. Each dancer wears a black, metal-studded glove and a chain with a peace symbol.
After their recent performances at the championship at Red Rock Resort in Las Vegas, it's likely the group will continue to receive many more performance offers, as well as praise and support. For more information on The Hip Op-eration Crew, visit www.hipop-eration.com.
Photo courtesy of The Hip Op-eration Crew.