Hubbard Street Tharp Collaboration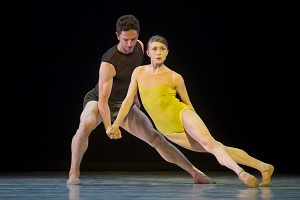 Hubbard Street Dance Chicago, led by Artistic Director Glenn Edgerton, will launch its 34th season with the most anticipated dance event of the year featuring a world premiere by dance legend Twyla Tharp; the return of the reflective Arcangelo by Nacho Duato based on the marvelous Concerti Grossi by Arcangelo Corelli; and the hilariously bizarre Walking Mad by Johan Inger. This eclectic engagement will take place at the Harris Theater for Music and Dance, 205 E. Randolph Drive, in four performances only, October 13-16, 2011.
Known for her playful style, Twyla Tharp returns to Hubbard Street Dance Chicago after 15 years where she was instrumental in creating and setting a plush repertoire of work, helping to form the renowned dance company that exists today.
Beginning the creative process in June 2011 and returning to Hubbard Street Dance Center in early September, Tharp is deep in the creative process of this new commission. Currently untitled, Tharp's new work is set to a selection of sonatas by Domenico Scarlatti, which is helping to inform the structure of the piece. This world premiere will also feature costumes from fashion icon Norma Kamali's fall collection.
Photo: Hubbard Street dancers Kellie Epperheimer and Jesse Bechard in Alonzo King's 'Following the Subtle Current Upstream'. Photo by Todd Rosenberg.