Inaugural 'Tap Family Reunion' announced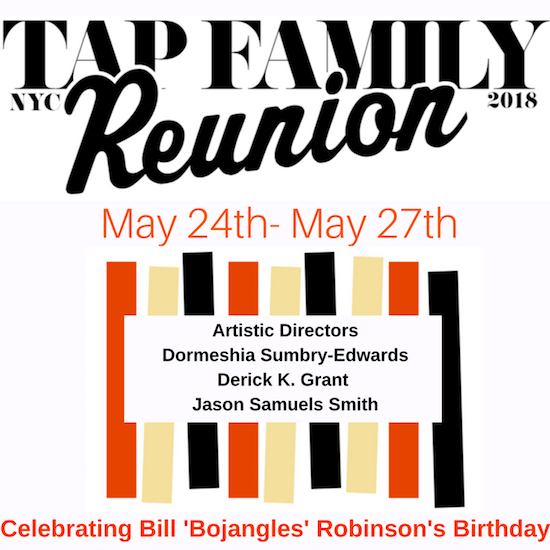 Directed by world-renowned tap dance 
luminaries Dormeshia Sumbry-Edwards, Derick K. Grant and Jason Samuels Smith, the inaugural Tap Family Reunion is a three-day celebration of National Tap Dance Day on
 Bill "Bojangles" Robinson's birthday. Made possible by generous support from the Debbie Allen Dance Academy, programming includes performances, gatherings, workshops and so much more.
Taking place at key locations throughout New York City, this event is centered on the original American art form of tap dance to attract participation from tap dancers and enthusiasts worldwide as well as further engage local communities. All programming aims to highlight the intergenerational importance of the culture; celebrating the art form's elders while making history accessible to youth and everyone in between.
The Tap Family Reunion kicks off on Thursday, May 24 from 1-2 p.m. at the Schomburg Center for Research in Black Culture, housing an open archive on historic Bojangles artifacts. Friday continues at the Schomburg, with a free, open-to-the-public performance conceived and choreographed by Dormeshia Sumbry-Edwards, Derick K. Grant and Jason Samuels-Smith. Raising The Bar is a dynamic new revue celebrating the timeless relationship between tap dance and jazz: two of the most popular and original African-American art forms that have since been embraced worldwide. The show will be followed by a post-show birthday reception with a live DJ.
On Saturday, events take place at the Ailey Studios and will include tap dance workshops for all levels with guest artists, "The Tap Family Feud" game show, the Cutting Contest and Tap Con. Workshops will take place between 9 a.m. and 5:30 p.m. while Tap Con takes place on location featuring products, demos, barter/trade, giveaways and more.
"The Tap Family Feud" is an original game show experience that utilizes tap dance trivia. Contestants will be selected from audience members with the opportunity to compete for great prizes. The evening ends with the Cutting Contest, a tap dance improvisation battle formatted and made popular worldwide by Jason Samuels Smith.
The final day begins with the "Footsteps of The Giants" scavenger hunt which fully engages participants as they progress to each of the monuments of significance to tap dance history and culture throughout NYC. Events culminate in a final Tap Jam/celebration at Swing 46 Jazz and Supper Club from 12-6 p.m. in honor of the historic Buster Brown Tap Jam.
Tickets are on sale at www.Tap-Family-Reunion@Ticketleap.com.
Here are more Tap Family Reunion featured guest artists:
- Skip Cunningham, "one of America's most talented entertainers and one of the last great song and dance men."
- Brenda Bufalino, performer/innovator, founder of American Tap Dance Orchestra and Woodpeckers Tap Dance Center.
- Karen Calloway-Williams, Broadway veteran performer, instructor and author of Gabriella's Tap Shoes.
- Maurice Chestnut, performer in Bring in Da'Noise, Bring in Da'Funk, plus a producer, NAACP Act-So gold medalist.
- Star Dixon, assistant director/principal of MADD Rhythms.
- Nico Rubio, founder Tap Company 333, original member Jus'LisTeN, received Chicago Dancemaker's Forums' RDDI.
- Hank Smith ("Griot"), performer/producer/director, student of Charles "Cookie" Cook, creator "Story of Tap."
- Calvin Booker ("DJ C Boogie"), performer, original member of the Young Hoofers.
---