Jacob's Pillow documentary to be on PBS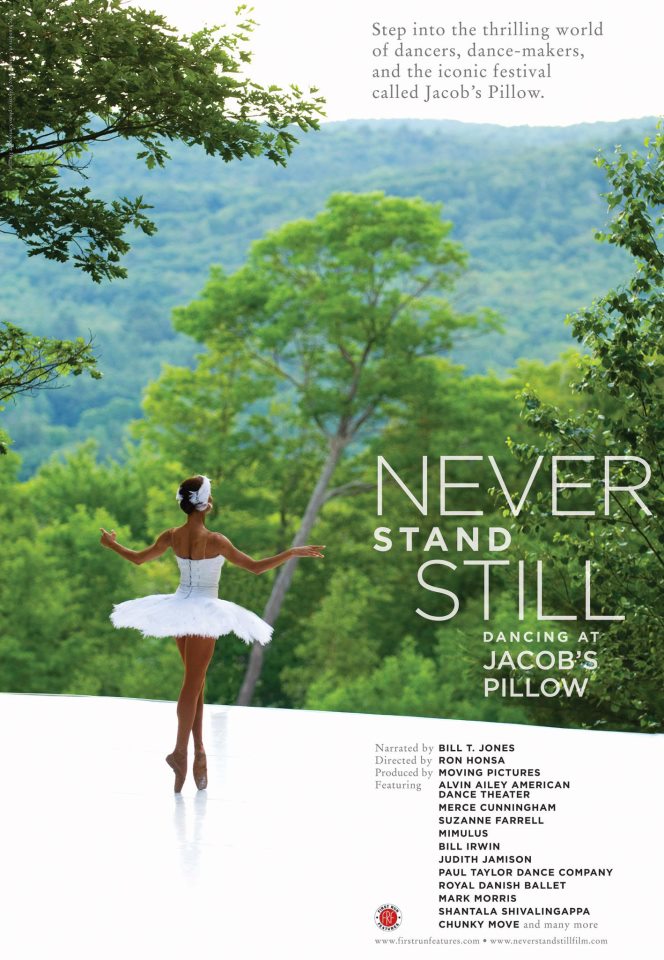 Winner of Best Documentary at both the San Francisco Dance Film Festival and the Dance Camera West Festival in Los Angeles, Dancing at Jacob's Pillow: Never Stand Still will have its television premiere on THIRTEEN's Great Performances on Friday, July 26 at 9 p.m. on PBS (check local listings).
Directed by veteran documentary filmmaker Ron Honsa, Dancing at Jacob's Pillow: Never Stand Still reveals the passion, discipline and daring of those who choose a life in dance. Performances filmed live at Jacob's Pillow Dance Festival, interviews with extraordinary artists, rare archival footage and behind-the-scenes insights bring dance to life, as Dancing at Jacob's Pillow: Never Stand Still visits the iconic international nexus for dance: Jacob's Pillow.
Founded in the 1930s by visionary dance pioneer Ted Shawn on a farm in the Berkshires region of western Massachusetts, today the Pillow is an idyllic mecca for artists and audiences from around the world, a place where dance in all its forms – from ballet to jazz to contemporary – is performed, studied, created and celebrated. Jacob's Pillow is also the only dance presenter to receive the prestigious National Medal of Arts.
Intimate and candid conversations offer personal portraits of leading choreographers and dancers: renowned ballerina Suzanne Farrell recalls some of her first performances; Tony Award-winner Bill Irwin marvels at the physical humor of Charlie Chaplin and Buster Keaton; celebrated dancer Rasta Thomas discusses his "bad boy" route to dance; former Ballet Russe de Monte Carlo star Frederic Franklin, in one of his last filmed interviews, recalls the early days of the Pillow, where Joseph Pilates taught his now ubiquitous body-strengthening methods; Mark Morris talks about his love of music; and Merce Cunningham, also in one of his last interviews, describes why dance "is not for the timid."
Also interviewed are dance icons Paul Taylor and Judith Jamison, as well as a new generation of artists and companies including Chunky Move, Shantala Shivalingappa and Stockholm 59° North, who appear in performance and off-stage during their creative workdays.
The theatrical release of Never Stand Still last year coincided with the 80th anniversary season of America's longest running dance festival. Andrea Pflaumer of the San Francisco Examiner dubbed the film "exhilarating" and noted the "kinesthetically gripping visuals."
Director Ron Honsa first came to Jacob's Pillow Dance Festival in the early 1980s on a film assignment and was struck by the beauty and intelligence of the work that was being performed, studied and created at this exceptional place. This experience ultimately led to the making of Honsa's award-winning 1985 documentary The Men Who Danced, the story of Ted Shawn and the first all-male dance company in America. On his film about the Pillow, Honsa states: "From the youngest dancers in this film to the legendary masters, it was obvious to me that a deep and creative vibration has always resonated at Jacob's Pillow. Never Stand Still is a love letter to a rare place and the artists who dare to express the inexpressible through movement."
Throughout his career, Honsa has had a personal passion for directing dance for television, including his work with Dance Theatre of Harlem, the Limón Dance Company, Savion Glover and video projects for the Balanchine Trust. His television and film credits include: CBS Reports, NOW with Bill Moyers, Saturday Night Live, America's Most Wanted, Sesame Street, US Tennis Open, Head of State, Cadillac Man, The Fallen, True Colors, She Devil and Live from Lincoln Center.
Great Performances is a production of THIRTEEN for WNET, one of America's most prolific and respected public media providers. Throughout its 40 year history on public television, Great Performances has provided viewers across the country with an unparalleled showcase of the best in all genres of the performing arts, serving as America's most prestigious and enduring broadcaster of cultural programming.
Visit Great Performances Online at www.pbs.org/gperf for additional information about this and other programs. The program will also be streamed there in full after broadcast.
Photo courtesy of Jacob's Pillow Dance Festival and Dancing at Jacob's Pillow: Never Stand Still.