Jazz Tap Center: Miller & Ben Tap Shoes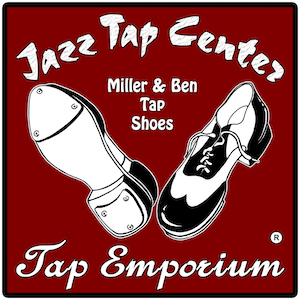 The Jazz Tap Center is the home of Avi Miller, Ofer Ben and The Miller & Ben Tap Shoes. One of the world's best "musical tap instruments", these handmade shoes are elegant and comfortable, and they come in 10 models and 50 leather colors and patterns.
All of their high-quality shoes are produced under the careful supervision of Miller and Ben. They ensure that their shoes are meticulously designed so that every size has perfect fitting taps.
The Miller & Ben Tap Shoes boast immaculately varnished leather soles and compressed wood heels that produce a deep "basso" sound. With or without taps, the shoes are exceptionally well-balanced. They have invisibly-stitched, thick, super-rigid soles providing superior durability and eliminating the need for extra buildup.
All Miller & Ben Tap Shoes have deliberately counter-free toe boxes that allow shoes to conform to your foot shape. They are expertly folded and sewn by master shoemakers with hidden cutwork on all seams.
Teachers and schools should note that the Jazz Tap Center offers discounts on bulk orders of Miller & Ben Tap Shoes.
Founders Miller and Ben are well known as the producers of The Big Apple Tap Festival, held every November in New York City. Formerly from Israel, they now teach and perform in workshops and festivals all over the world.
The Miller & Ben Triple Threat style shoe in Pink and Silver with the Royal Design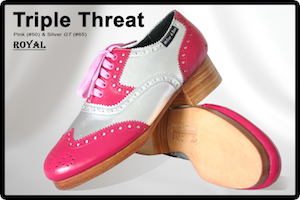 The Miller & Ben La Coquette style shoe in Skin Tan and Light Tan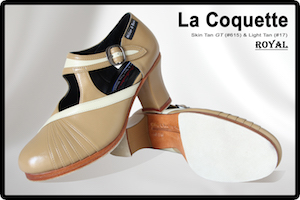 All Miller & Ben Tap Shoes come with a free pair of M&B Tap Wraps – wearable tap shoe covers designed to protect your M&Bs in transit whether you are packing a suitcase or making a silent entrance on stage.
Contact
Phone: 646-383-4949