Jersey Tap Fest returns for 9th festival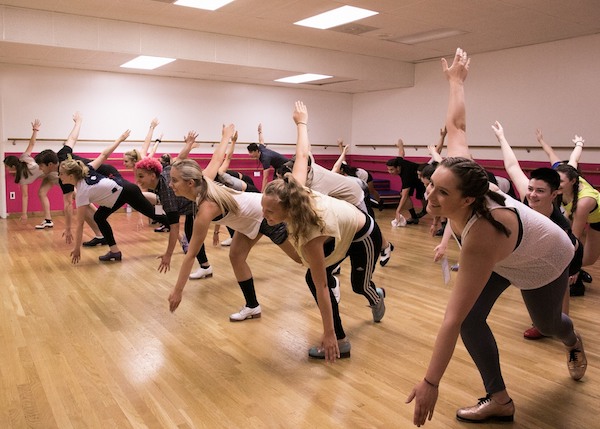 Jersey Tap Fest, New Jersey's sole dance festival featuring world-class tap faculty, celebrates its ninth year on August 9-12 in East Hanover and Morristown, NJ. The expanding four-day festival offers a full menu of over 50 beginner, intermediate and advanced classes in tap, improvisation, body percussion, hip-hop, music theory and more.
In offering optimal opportunities for students to interact with the faculty and their peers, registrants also participate in jam sessions with live accompaniment, share their own works in a student showcase and engage in tap talks with the festival's esteemed faculty. Per tradition, the festival will conclude with TAP 'N TIME, the mainstage event featuring internationally acclaimed tap dance artists, regional tap companies and other special performers.
"Spending intimate time with artists who are each individually dedicated to sharing their love and knowledge for this art form alongside eager students who are hungry to learn is inspiring," says Hillary-Marie, director and founder of Jersey Tap Fest. "There is something special and powerful about housing multiple generations in the same room during the festival as tap dancers from all over the world of differing levels, ages and backgrounds come together to celebrate passion for this beautiful American art form. Tap dance really is for everyone and I give thanks to be able to host this special event for the ninth consecutive season."
Classes will be taught by a stellar all-star line-up of more than 17 internationally recognized artists, including Anthony Morigerato, Jason Samuels Smith, Bril Barrett, Ray Hesselink, Hillary-Marie, Evan Ruggiero, Mark Orsborn, Kyle Wilder, Corey Hutchins, Justin Myles, Nicholas Young, Karen Callaway Williams, Lynn Schwab, Jeff Foote, Andrew Atkinson, Shani Alston and Esira Castillo.
Bridging together students and faculty, the yearly TAP 'N TIME showcase will be held Saturday, August 11 at 7:30 p.m. Attracting tap enthusiasts throughout the northeast, the evening will feature live music, rhythmic dance and tap performances by Anthony Morigerato (So You Think You Can Dance), Jason Samuels Smith (Emmy Award, Bring in 'Da Noise Bring in 'Da Funk), Bril Barrett (Riverdance), Karen Callaway Williams (Riverdance), Jeff Foote (NJTAP), Hillary-Marie's Sole Music Collective, FutureSTEP Tap Company and more inspirational artists to be announced.
Speaking of inspiration, TAP 'N TIME will also feature Evan Ruggiero, the dancer, actor, musician and recent Drama Desk and Chita Rivera Award nominee who rebounded courageously when bone cancer claimed his right leg at the age of 19.
"Evan is the type of person who makes you see the beauty in life and the reason for art," says Hillary-Marie. "We grew up dancing together as kids and it's amazing to see him years later chasing his dreams and inspiring people around the world. To have him back at Jersey Tap Fest is like a tap family reunion."
With a strong and clear commitment to tap education and artistry, Jersey Tap Fest Founder Hillary-Marie recently expanded her educational capacities with the launch of iTapOnline, an online membership portal to virtual tutorials, feedback opportunities and classes in technique, choreography, improvisation and musicality. She is also the co-founder of the recently expanded and renovated Grooves Unlimited Dance Studio located in Livingston, NJ. Grooves is also host to FutureSTEP Tap Company, a pre-professional tap dance company for dancers ages 10-25 who work with live music accompaniment.
For more information on the festival, visit www.jerseytapfest.com.
Photo courtesy of Jersey Tap Fest.
---