Joffrey Ballet to present 'Russian Masters'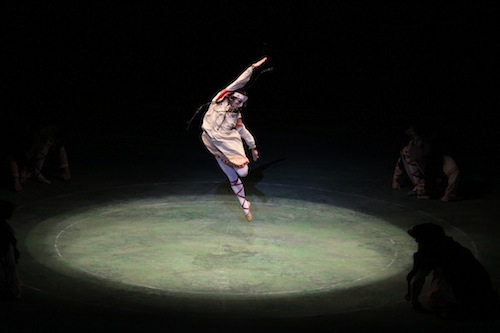 The Joffrey Ballet will kick off its 2013-14 Masters of Dance season with a special addition to its home engagement line-up, a one-weekend-only program titled Russian Masters, celebrating the centennial of Vaslav Nijinsky's groundbreaking 1913 ballet Le Sacre du Printemps (The Rite of Spring).
Alongside The Rite of Spring, George Balanchine's Allegro Brillante and two works by Yuri Possokhov, including the Chicago premiere of Adagio and the return of his 2011 Joffrey commission, Bells, will be presented.
These four powerful works by Russian choreographers and composers will be presented on September 19–22 in four performances only in the Joffrey's home venue, the historic Auditorium Theatre of Roosevelt University in downtown Chicago at 50 E. Congress Parkway.
In 1913, Ballet Russe star Vaslav Nijinsky premiered Le Sacre du Printemps (The Rite of Spring) at the Théâtre des Champs-Élysées in Paris, a ballet about a pagan fertility ritual set to a new score by Igor Stravinsky. Stravinsky's unconventional musical phrasing and Nijinsky's highly unusual choreography, full of odd body positions (including turned in feet), created an uproar.
In 1987, Robert Joffrey commissioned a restoration of the then-almost-forgotten ballet in its original form. American dance historian Millicent Hodson was brought in to oversee the meticulous reconstruction of Nijinsky's choreography while British art historian Kenneth Archer oversaw reconstruction of the original costume and set design by Nicholas Roerich. Today, Le Sacre du Printemps is widely recognized as a pioneering work of contemporary ballet and the Joffrey culminates a national tour of it in honor of the ballet's 100th anniversary.
"Before 1913, much of European and American culture was understood to be a continuation of classical and romantic traditions," noted Ashley Wheater, Joffrey Ballet Artistic Director. "The creation of Le Sacre du Printemps pointed to the advent of modernism. If not fully a break from the past, at least this collaboration between Stravinsky, Nijinsky and Roerich reveals the aspirations of the age: to idealize certain aspects of our primitive history, to explore uncharted artistic frontiers, to see ourselves reflected in a shattered mirror."
Wheater continued, "At nearly the same time, Pablo Picasso was distorting the subjects of Les Demoiselles d'Avignon and, closer to home, Frank Lloyd Wright was constructing his Unity Temple. These icons are familiar today, but it is not hard to imagine how they surprised the early 20th century mind. Buildings and paintings last for ages. With dance and music, we remember best by witnessing a live performance."
George Balanchine's 1956 Allegro Brillante is danced to Peter Ilyich Tchaikovsky's unfinished third piano concerto, the last music he composed before his death. It is a purely choreographic exercise without plot, incident or specific mood that, as its title suggests, is a study in brilliance. Four couples are already in motion as the curtain rises and the movement continues without break to the final note of the music. Within the sweeping style of the music, the choreography alternates between fast-moving ensemble passages and sections of peaceful lyricism.
Yuri Possokhov's first choreographed work for The Joffrey Ballet, Bells, premiered in Chicago in 2011. Set to seven piano compositions (one repeated at the end) by Sergei Rachmaninoff, Bells is a contemporary ballet full of contrasts. There are examples of traditional Russian folk dance (snapping fingers, flexing feet, crossing arms) offset by softly weeping arms or stronger, aggressive moves, complex partnering, melancholy and wit.
Possokhov, resident choreographer of San Francisco Ballet, explains, "My choreography is physically hard and the music is romantic but with a twist – 'with strength inside,' as a Russian expression puts it. There is no scenario for the ballet, just pictures, memories and feelings in eight sections."
Rounding out the program is a work new to Chicago audiences, Possokhov's Adagio, a pas de deux set to music by Russian composer Aram Khachaturian. Adagio was originally choreographed on Joffrey dancers (and real-life husband and wife) Victoria Jaiani and Temur Suluashvili for the Napa Valley Festival del Sole in 2012. Since its premiere, Possokhov has had the opportunity to revisit the work, to expand upon it and refine the interpretation of the dance.
Although the music is very recognizable as the famous pas de deux from the ballet Spartacus choreographed by Leonid Yakobson, the duet is Possokov's response to the music itself and not an interpretation of the original storyline of the work. This dance is full of fluid movement as well as impressive technical achievements.
For more information on Joffrey Ballet's Russian Masters program, visit www.joffrey.com. Tickets are now available.
Less than a month after Russian Masters, The Joffrey Ballet's season continues on October 16-27 as it takes Chicago audiences to India by way of Houston Ballet Artistic Director Stanton Welch, with his 2010 staging of La Bayadère: The Temple Dancer, a Joffrey and Chicago premiere.
Photo: Joanna Wozniak in Sacre du Printemps. Photo by Herbert Migdoll.