Judges Keep All Top 20 Finalists on So You Think You Can Dance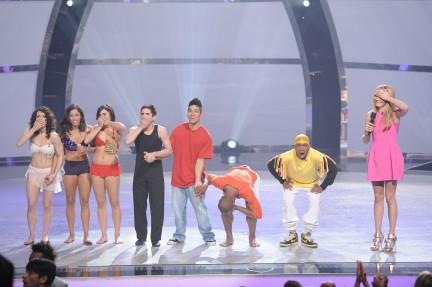 In an unprecedented move, judges Nigel Lythgoe and Mary Murphy and guest judge Megan Mullally kept all Top 20 finalists on So You Think You Can Dance safe from elimination last night. After America's vote was revealed, Jordan Casanova and Tadd Gadduang; Clarice Ordaz and Jess LeProtto; and Miranda Maleski and Robert Taylor Jr. were the three couples who received the fewest votes. Unable to compete in Wednesday night's performance show, Mitchell Kelly was also placed in the bottom. The judges asked the finalists to perform solo routines, and after deliberating, chose not to eliminate anyone. As a result, two couples – four dancers – will be sent home next week.
This week's results show featured performances by Grammy-nominated R&B vocalist Keri Hilson and Ukrainian folk dancer Gennadi Saveliev (who was AMAZING), as well as the world premiere of the video for pop superstar Lady Gaga's new single, "The Edge of Glory." In addition, it was announced that Lady Gaga will serve as a guest judge later in the season and that the second annual National Dance Day will take place on Saturday, July 30.
Photo: SO YOU THINIK YOU CAN DANCE: The Bottom 3 contestants and Cat Deeley on SO YOU THINK YOU CAN DANCE airing Thursday, June 16 (8:00-9:00 PM ET/PT) on FOX. ©2011 Fox Broadcasting Co. Cr: Michael Becker/FOX