Kairos Dance Co. calls for choreographers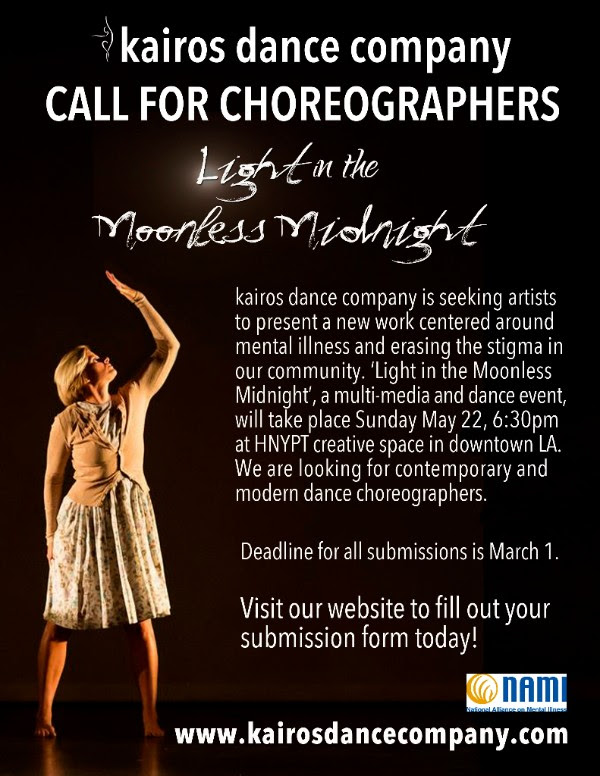 Kairos Dance Company based in Manhattan Beach, CA, is seeking guest artists to present their choreography at Light in the Moonless Midnight, a multimedia dance event centered on mental illness and erasing its stigma. Kairos is accepting applications through March 1.
If selected, artists will be commissioned to create one piece, no longer than six minutes in duration, to be performed Sunday, May 22 at 6:30 pm at HNYPT Creative Space in downtown Los Angeles.
"We are looking for artists to create works specifically themed around: hydrotherapy in the early 1960s, the use of straightjackets used as treatment in the early 1960s, mental illness and stigmas surrounding it today, and a look into a brighter future without stigmas surrounding mental illness," stated the company's call for artists.
In addition to the performance, choreographers and their dancers will need to be available for the dress rehearsal scheduled for Saturday, May 21 at 6 pm and the tech rehearsal on Sunday, May 22 at 1 pm.
Applicants should submit a sample of their choreography that's no older than three years. Choreographers will be notified of acceptance no later than April 1.
For further information, visit www.kairosdancecompany.com/call-for-artists.html.