Lois Greenfield exhibit opens in Kentucky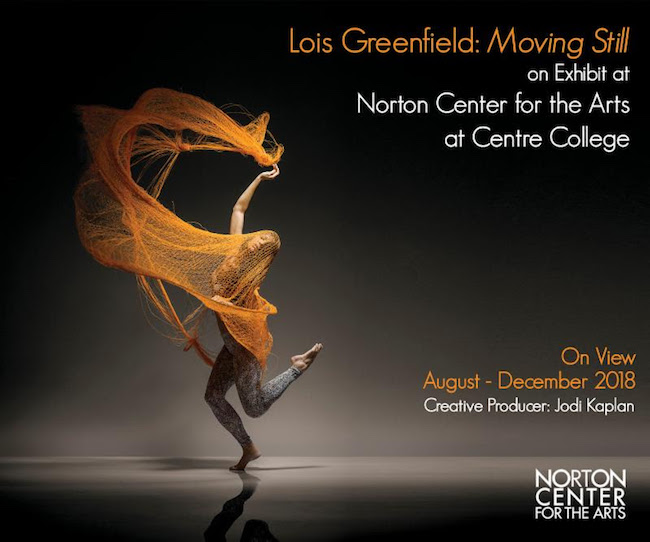 The "Lois Greenfield:Moving Still" Exhibit has arrived at the Norton Center for the Arts in Danville, Kentucky, where it will be on display till December. As the fifth stop on the exhibit's world tour, Kentucky residents now have the chance to see renowned American photographer Lois Greenfield's phenomenal dance portraits up close and personal.
A groundbreaking show, "Lois Greenfield:Moving Still" marks a radical departure for Greenfield. In this very contemporary collection, perplexing scenarios slowly unfold, and yet the mystery intensifies with what is revealed.
Working outside the constraints of choreography, Greenfield allows the dancers to project a fluid identity for the camera and showcase a different persona in each photo, producing images that represent dreams of our constantly shifting selves. By turns playful, elegant and profound, these images capture the dancer's grace and power to bend the body, and with it, time and space, giving us a glimpse of a movement continuum of the dancer's own design. The laws of logic are replaced by the paradox of inversion – the moving elements solidify, and what appears immobile is in flux.
This exhibit is a companion to Greenfield's latest monograph, Lois Greenfield: Moving Still, showcasing more than 150 new images and charting her shift to color photography.
Sarah L. Kaufman of The Washington Post said, "Greenfield coaxes from the dancers a seductive balance of wildness and calm. In the most intriguing, secretive pictures, it's as if we're watching the dancers dream. We're seeing that moment when the dream whips them around and spins right out of them, and in our minds, perhaps, we catch a little of how that feels."
This exhibit is free and open to the public from 9 am – 4 pm every Monday through Friday, as well as by appointment and when the Norton Center is open for concerts and related activities.
To see the photographs on exhibit, head to www.loisgreenfield.com. To learn more about the Kentucky exhibit, visit nortoncenter.com.