London's leading hip-hop convention returns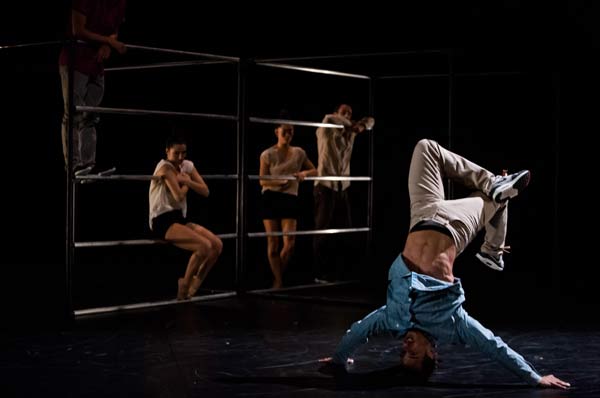 This autumn, Breakin' Convention returns to London to once again present its international festival of hip-hop dance. This year's line-up includes: a pioneering Wildcard series by Botis Seva, the artistic director of Far From The Norm; the six-dancer work Borderline, created by genre-splicing duo Sébastien Ramirez and Honji Wang; and ZooNation's hit show Into the Hoods with a fresh spin.
While a decade ago no one would have suspected Sadler's Wells to house so much hip-hop, now the dance form has clearly claimed its own, coming alongside ballet and contemporary dance in programming. In 2015, it's clear that times have moved on! Breakin' Convention Founder and Artistic Director Jonzi D is an Associate Artist at Sadler's Wells Theatre. A dancer, spoken word artist and director, he is the foremost advocate for hip-hop who has influenced the British dance and theatre scene over the last two decades.
Now in its 12th season, Breakin' Convention has certainly uncovered some boundary-pushing choreographers and companies. Amongst them are this year's festival artists.
First up is Far From The Norm's Botis Seva, who follows in the steps of BirdGang's Ivan Blackstock in securing a Wildcard evening in the Lilian Baylis Studio. For this series, Seva will be handed the keys to the studio to create, perform and program what he likes in a night of his own unique, abstract hip-hop dance interpretations. Like Blackstock, Seva partook in the first Back to the Lab professional development course for hip-hop dancers. Wildcard will take place on Thursday and Friday, September 24 and 25.
On Friday and Saturday, October 2 and 3, dancers/choreographers Sébastien Ramirez and Honji Wang will present the stunning piece Borderline. Fusing breakdancing and contemporary dance, the pair will take to the stage with a group of other dancers to toy with the forces of gravity. With nods to ballet and martial arts, Wang's movement style merges with hip-hop while B-boy Ramirez represents a more subtle, controlled physicality. The duo is known for winning the New York "Bessie" Award for "Outstanding Performers" for their appearance at Breakin' Convention in New York.
For a special treat on the evenings Borderline is presented, arrive early to see DJ Billy Biznizz of Tha En4cers mixing hip-hop, soul and funk for a dancers' freestyle circle.
Lastly, ZooNation, a resident company at Sadler's Wells, will bring back Into the Hoods for three weeks from October 23-November 14 at the Peacock Theatre. This newly "remixed" version of Sadler's Wells Associate Artist Kate Prince's acclaimed take of Sondheim's Into the Woods will feature an up-to-date soundtrack and brand new cast. Originally presented by Breakin' Convention, Into the Hoods premiered at the Peacock Theatre with ZooNation and Impact Dance's Underworld in 2006, going on to become one of the Novello Theatre's longest running shows and a precursor to the U.K. street dance movies and TV talent contests.
For more information on the 2015 U.K. Breakin' Convention, visit http://breakinconvention.com. Breakin' Conventions will also be presented in New York and Charlotte, NC, this fall.
Photo: Dancers in Sébastien Ramirez and Honji Wang's Borderline. Photo courtesy of Sadler's Wells.