Lydia Johnson premieres her 'Undercurrent'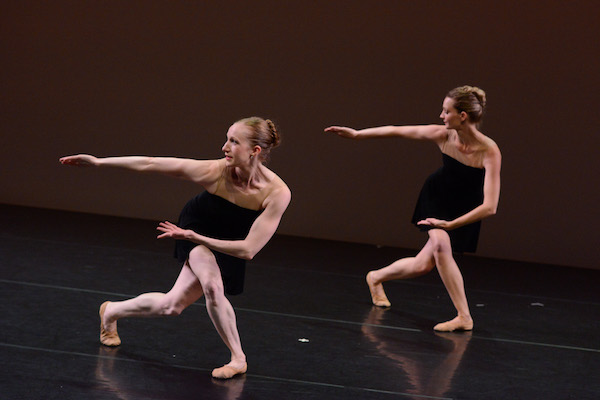 This week, choreographer Lydia Johnson will present her Lydia Johnson Dance in a program of new and repertory works to music that ranges from Philip Glass to the trio sonatas of Handel. The season's premiere will be Undercurrent, a group work for the company's eight resident dancers joined by four apprentices, and set to music by one of the choreographer's favorite composers, Henryk Gorecki. Special guest for the season will be Stephen Hanna, former principal dancer with New York City Ballet (NYCB). Deborah Wingert, former 15-year member of NYCB, returns as company ballet mistress.
The new Undercurrent opens with aggressive, forceful movements, in contrast to a melancholy central adagio section that follows, with a series of duets and solos that move through the space one after the other. The final section is a large group dance that includes a reprisal of the opening theme.
The 2015 What Counts inspired Brian Seibert of The New York Times to observe, "What seems to count most for Ms. Johnson is music," adding, "The four pieces on the program all showed uncommon skill at matching ballet movement to music, both at the large scale of structure and in small, felicitous details."
Johnson chose the Trio Sonatas of Handel for her Trio Sonatas, an abstract work that offers a joyous sense of the human spirit. The challenge of creating compelling architecture for these trios is what inspired the choreographer to create the dance for an ensemble of seven.
This, and my heart beside is one of Johnson's more character driven works. Set to music by Philip Glass and Marc Mellits, the piece takes its title from a line in Emily Dickinson's It's all I have to bring today:
It's all I have to bring today -
This, and my heart beside -
This, and my heart, and all the fields -
And all the meadows wide -
Be sure you count - should I forget
Some one the sum could tell -
This, and my heart, and all the Bees
Which in the Clover dwell.
Guest Artist Stephen Hanna's illustrious career ranges from rising through the ranks of NYCB to principal dancer, to appearing in many Broadway shows, including Hello, Dolly! with Bette Midler, An American in Paris, On the Town and Billy Elliot The Musical (in the featured role of the Older Billy). Hanna returned to NYCB as a guest artist for the 2009-10 Season, followed by appearing in the role of Sid in the national tour of Twyla Tharp's Come Fly Away. He then traveled to Spoleto, Italy to partner Alessandra Ferri in her return to the stage in The Piano Upstairs. Several years ago Hanna took on a new exploration of expression by studying acting, which has landed him appearances on TV in several shows, including All My Children and Boardwalk Empire, and as a lead in the short film Fourth Position.
To see Hanna and all the dancers of Lydia Johnson Dance (including Peter Cheng, Laura Di Orio, Chazz Fenner-McBride, Ramona Kelley, MinSeon Kim, Katie Martin-Lohiya, Daniel Pigliavento and Dona Wiley), head to Ailey Citigroup Theater at 405 West 55 Street in NYC at 7:30 p.m. on June 6-8. Tickets are $38, or $15 for dancers. For reservations, call 212-868-4444 or visit www.smarttix.com.
For more information on Lydia Johnson Dance, visit www.lydiajohnsondance.org.
Photo: Laura Di Orio and Katie Lohiya in Trio Sonatas. Photo by Nira Rieli.
---