Maddie Ziegler joins SYTYCD as a Judge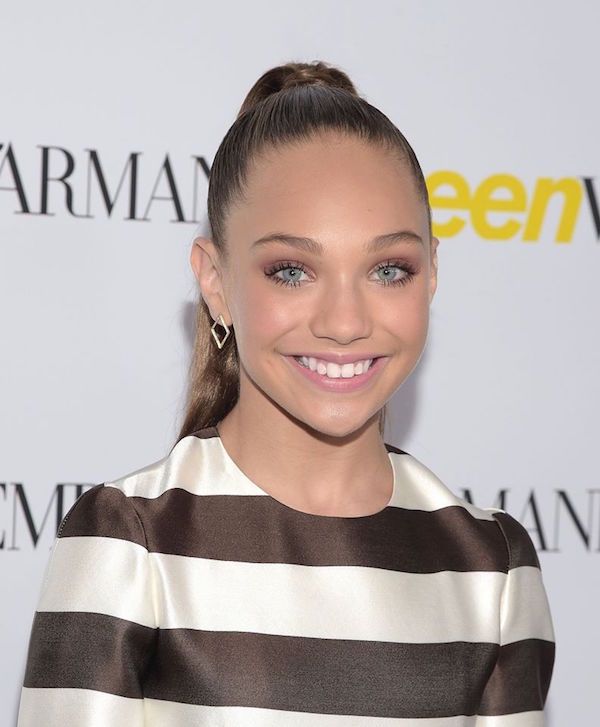 Fox's So You Think You Can Dance has officially announced that teen dance phenomenon Maddie Ziegler will join Nigel Lythgoe, Paula Abdul and Jason Derulo as a judge on this season's spin-off featuring young dancers – titled So You Think You Can Dance: The Next Generation.
It was announced in early February by Entertainment Tonight that Ziegler was saying goodbye to the hit Lifetime reality show Dance Moms and the Abby Lee Dance Company after Season Six. The 13-year-old had been invited to star in Sister, a film project written and directed by her frequent collaborator, Sia. The two had previously worked on three of Sia's music videos – "Chandelier," "Elastic Heart" and "Big Girls Cry." Apparently Sia's first-ever film will be based on a one-page story she wrote eight years ago.
For SYTYCD, Ziegler will lend her expertise as a dancer who's performed professionally on Saturday Night Live, the Grammy Awards, The Ellen DeGeneres Show, "We Can Survive" at the Hollywood Bowl, Dancing with the Stars and Jimmy Kimmel Live. She'll critique and praise the contestants as they battle it out during the studio shows this summer.
In case you missed the memo, SYTYCD's new format will feature a younger generation of dancers between the ages of 8-13, who are skilled in various dance styles, such as contemporary, tap, hip-hop, ballroom, animation and breaking. They'll be paired up with All-Stars to compete for the title of "America's Favorite Dancer."
Auditions have begun and head to Chicago next week (Friday, March 11), followed by New York (Friday, March 18). Visit fox.com/dance for more information about Season 13, which premieres Monday, May 30 at 8 pm ET on Fox.
Another project Ziegler is reportedly working on: the upcoming feature film The Book of Henry directed by Colin Trevorrow. This will be her big screen debut, starring opposite Naomi Watts. She'll be pulling from her previous experience playing roles on TV shows like Pretty Little Liars, Austin & Ally and Nicky, Ricky, Dicky & Dawn.
See Ziegler dancing in a promotional video for Capezio here:
www.danceinforma.com/2016/02/10/capezio-releases-dance-in-you-starring-maddie-ziegler
Photo courtesy of Fox.