Maks, Val & Peta tour 'Confidential'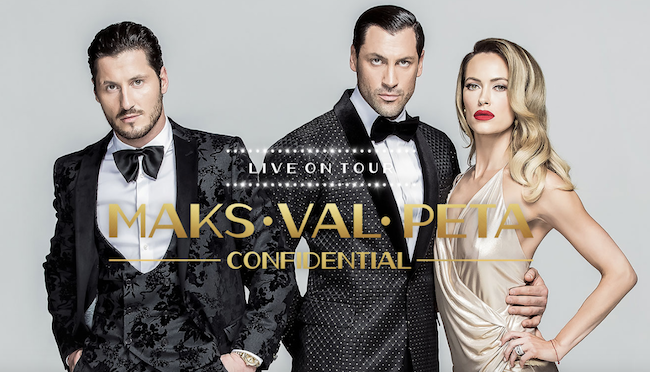 Dancing with the Stars professionals Maksim Chmerkovskiy, Valentin Chmerkovskiy and Peta Murgatroyd are currently touring their all-new dance show, Confidential. The 50-city tour follows Maks and Val's successful Our Way tour in 2016. Confidential examines family bonds, lives and love stories. It's being branded as the brothers' "most honest show yet" and promises to reveal the "secrets, hopes and dreams" of these three widely known ballroom experts.
Maks commented, "The Our Way tour was a dream come true. The culmination of a lifetime of hard work and the show that my brother and I have been visualizing since we were kids putting on shows in the restaurants of Brighton Beach. The show was also just a beginning…"
He continued, "The Confidential tour is a dance show driven by our family and our love stories. This time I'm a husband, a father, in the best shape of my professional career and still learning on and off the dance floor every day. I've had two of the most eventful years of my life and I can't wait to use my favorite medium to express what's on my mind and in my heart. Sharing a stage with my wife and my brother, what could be better than that!"
Val agreed that this tour is different but still a pleasure to be a part of. He said, "Sharing the Our Way stage with my brother and some of the greatest dancers in the world was the highlight of my career so far. This time we have set the bar higher, and given ourselves more time to rehearse and produce the show that we can honestly say is our very best. No excuses."
Val added, "Writing my memoir recently has given me time to reflect on my life so far, and to focus on what drives me and inspires me. I believe this show will bring me to a new level as a performer, and allow me to share with complete honesty. I hope you can relate to our story and the message of this show, as it is a universal one of love, family and the amazing chaos that comes with it. We hope you enjoy it as much as we enjoy performing it for you."
Peta, who was pregnant with Maks' little boy Shai when the brothers went on tour last time, is equally thrilled that this trip is a full family affair.
She said, "I made a little cameo in the video of Our Way, but this time I've decided to show these boys how to dance! I've performed in the fantastic Burn The Floor on Broadway, and of course on the Dancing With The Stars stage, but in those shows I'm acting out a love story. This time there will be no acting, and we have the unique opportunity to perform a true love story. I found the power of Our Way to be the relationship between Maks and Val, and this time I hope to cut in on that love story! What have I got myself into!"
The Confidential tour began on March 19 in Missouri and will end on May 16 in Las Vegas. It will include stops at the Microsoft Theatre in Los Angeles and Radio City Music Hall in New York City. Shai, Maks and Peta' little boy, is on tour with his parents.
For more information on tickets and tour dates, go to www.maksandvaltour.com.
Image courtesy of Faculty Productions.
---