Mikhailovsky Ballet makes West Coast debut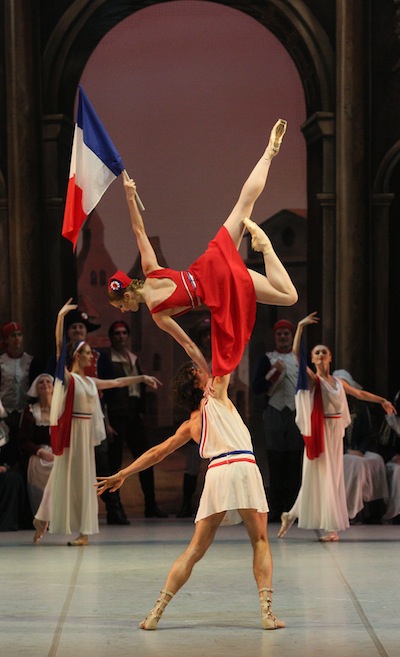 Joining the illustrious list of renowned ballet companies presented by Segerstrom Center for the Arts in Costa Mesa, California, the Mikhailovsky Ballet from St. Petersburg, Russia will make its West Coast debut on November 28, opening the Center's 2014–15 International Dance Series.
Mikhailovsky Ballet, which is currently performing through November 23 in its official American debut at Lincoln Center's David H. Koch Theater in New York, will present The Flames of Paris, a work rarely seen in a full production, at Segerstrom Center. When this new production premiered in St. Petersburg, London's Financial Times said, "The drums of revolution beat out once more in St. Petersburg with Mikhail Messerer's pitch-perfect restoration of Vasily Vainonen's 1932 The Flames of Paris for the Mikhailovsky Ballet."
West Coast audiences will have the treat of seeing the Mikhailovsky dance this full-length ballet in four performances at Segerstrom Hall through November 30. The company's chief soloists, whose names are synonymous around the world with the highest achievements in Russian ballet today, will perform the lead character roles. Among these will be phenomenal, top-ranking stars like Ivan Vasiliev and Leonid Sarafanov, as well as dancers whose talent has received well-deserved recognition like Angelina Vorontsova, Oksana Bondareva, Anastasia Soboleva, Victor Lebedev and Ivan Zaytsev.
Laura Cappelle of DanceTabs writes of the Mikhailovsky's three-act production, "… the ballet is paced to perfection, and leaves us waiting for more every time the curtain comes down." The Flames of Paris, a work focusing on the French Revolution, is rarely performed in its entirety and demands spectacular theatricality and the greatest technique and ability from its dancers.
Free Preview Talks will be given one hour prior to each performance by Mikhail Messerer, choreographer-in-chief of the Mikhailovsky Ballet. He will be interviewed by Producer and Artist Representative Sergei Danilian. Messerer is from a legendary family of dance artists: Asaf Messerer, who was choreographer with the Bolshoi Ballet; Bois Messerer, his uncle who is a famous visual artist and scenographer (The Bright Stream set and costumes); his mother, Sulamif Messerer, who was a respected teacher with The Royal Ballet for many years; his cousin Azary Plisetsky, who was a Bejart Ballet teacher, and another cousin, Maya Plisetskaya, who is a Russian ballet dancer, choreographer, ballet director and actress and is considered one of the greatest ballerinas of the 20th century.
Tickets for the Mikhailovsky Ballet at Segerstrom Center are available now. Single tickets start at $29. For more information, head to SCFTA.org or call the Box Office at (714) 556-2787.
Photo: Mikhailovsky Ballet performs The Flames of Paris. Photo by Stas Levshin.