Modern dancer celebrates her 20-year career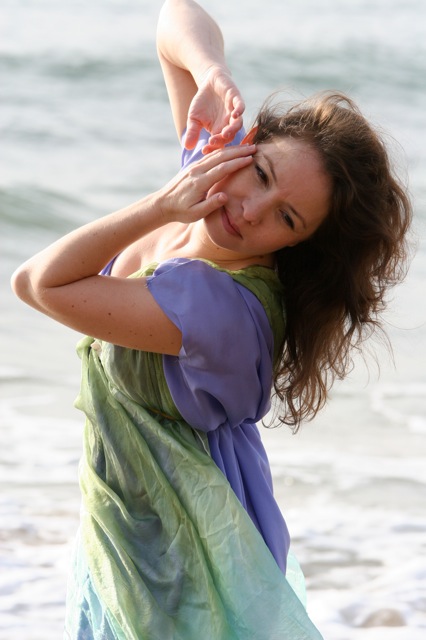 Francesca Todesco, a longtime member of the Sokolow Theatre/Dance Ensemble and Dances by Isadora, celebrates her 20-year journey in the American Modern Dance Scene with two performances on November 3 and 4 at University Settlement in downtown Manhattan.
Todesco has assembled a stellar cast of artists and colleagues, including members of the Sokolow Ensemble, Dances by Isadora and Thoughts in Motion Dance Company, to perform dances by Isadora Duncan, Anna Sokolow, Catherine Gallant, Jim May and a premiere by Rae Ballard. All music in the program will be played live by pianists Nathaniel LaNasa and Isidora Vladic, who will perform Brahms, Chopin, Masiello, Schmitt, Scriabin, Portuguese composers Burnay, Colaҫo and Costa, and a new score by Bruno Belthoise. A native of Switzerland, Todesco will trace her career in New York City in this concert, as well as her love for American Modern Dance.
From the repertory of Isadora Duncan are rarely seen trios choreographed to music by Florent Schmitt, Reflects d'Allemagne. Schmitt's score for four-hand piano will be played by LaNasa and Vladic. Crossing, Mother and Revolutionary is a powerful trilogy of dances set to three Scriabin Etudes and depicting different stages of Duncan's life. There will also be a series of Duncan dances to music by Chopin, completed by Catherine Gallant's 2010 work to Chopin.
Anna Sokolow's 1995 solo Poem will be performed to a newly composed score by French pianist/composer Bruno Belthoise, who found that "the choreography transmits a sense of meditative solitude". He said, "Through my music, I tried to emphasize both the great inner calm of this intimate meditation and the tragic outbursts that sometimes come back to haunt her soul."
The program's second Sokolow work is a trio excerpted from her 1970's Magritte, Magritte, performed by longtime members of the Sokolow company, all dear friends of Todesco. The poems by Paul Eluard that accompany this dance will be recited by Sokolow's director and mentor Jim May.
May, as choreographer, will be represented on the program with his 1985 duet Sleeping Bouquet, created to Rachmaninoff's Piano Concerto #2 in C Minor (the only recorded music on the program), performed by Todesco and Daniel Fetecua, former principal dancer with the Limón Dance Company. In this performance, Todesco fulfills her dream to dance this duet after seeing it at the Limón Institute almost 20 years ago.
Rae Ballard will premiere a dance set to the music of three Portuguese composers: Luiz Costa, Eduardo Burnay and Alexandre Rey Colaҫo. Ecos de Vales by Costa portrays a serene lyricism that evokes his native Minho area, resplendent with natural beauty. In contrast, Fados by Burnay and Colaco captures popular themes and rhythms of Lisbon.
For more information on this show, visit sokolowtheatredance.org/awakening-rhythms.
Photo: Francesca Todesco. Photo by Daniel Dugan.
---