Nexstar National Talent Competition
NexStar is entering its 19th touring season in 2020 as one of the largest and most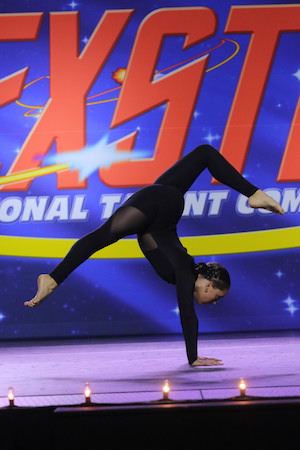 successful competitions in the world!
NexStar has mastered the feeling of a very well run, organized and exciting competition that exudes a laid back, family-friendly atmosphere and positive feeling for the competitors and families.


The backstage managers are the best in the business and keep the competitors energized with a positive & fun atmosphere. NexStar awards trophies, plaques, pins and cash prizes.


For more information, please visit our website linked below or call us at 937-376-7777.
2019 Dates and Cities

Feb 07 – Feb 09, 2020 East Brunswick, NJ
Feb 14 – Feb 16, 2020 Amarillo, TX, Dayton-1, OH, Jacksonville, FL, Louisville, KY
Feb 21 – Feb 23, 2020 Fort Smith, AR, Greensboro, NC, Lancaster, PA
Feb 28 – Mar 01, 2020 Austin, TX, Fort Lauderdale, FL, San Diego, CA, Shreveport, LA
Mar 06 – Mar 08, 2020 Chicago-1, IL, Cleveland, OH, Fresno, CA, Madison, WI, Murfreesboro, TN
Mar 13 – Mar 15, 2020 Chattanooga, TN, Hackensack, NJ, Lakeland, FL, Upland, CA
Mar 20 – Mar 22, 2020 Branson, MO, Des Moines, IA, Spartanburg, SC, St. Paul, MN, Upper Marlboro, MD, Wilmington, DE
Mar 27 – Mar 29, 2020 Columbus, OH, Davenport, IA, Denver, CO, Houston, TX, Providence, RI, San Jose, CA
Apr 03 – Apr 05, 2020 Fort Wayne, IN, Mason, OH, New Orleans, LA, Woodbridge, VA
Apr 17 – Apr 19, 2020 Detroit, MI, New Haven, CT, Syracuse, NY, Zanesville, OH
Apr 18 – Apr 19, 2020 Oklahoma City, OK
Apr 24 – Apr 26, 2020 Atlanta, GA, Orlando, FL, Pittsburgh, PA, Sparta, NJ, West Memphis, AR
May 01 – May 03, 2020 Chicago-2, IL, Midland, TX, Pittsburg, KS/Joplin, MO, Sewell, NJ
May 08 – May 10, 2020 Akron, OH, Dayton-2, OH, Hot Springs, AR, Lansing, MI, Omaha, NE
May 15 – May 17, 2020 Baltimore, MD, Indianapolis, IN, St. Louis, MO, Tulsa, OK
May 22 – May 24, 2020 Frankenmuth, MI
Jun 08, 2020 Video Qualification
NATIONAL CHAMPIONSHIPS
Jun 22 – Jun 28, 2020 Sandusky, OH – NATIONALS
Jun 28 – Jul 02, 2020 Orlando, FL – NATIONALS
Jul 02 – Jul 06, 2020 Gatlinburg, TN – NATIONALS
Contact
Nexstar National Talent Competition
Phone 937.376.7777
1455 S Patton Street
Xenia, OH 45385