Online Exhibit Sets Black Dancers Within a Digital Galaxy to Highlight their Contributions to Ballet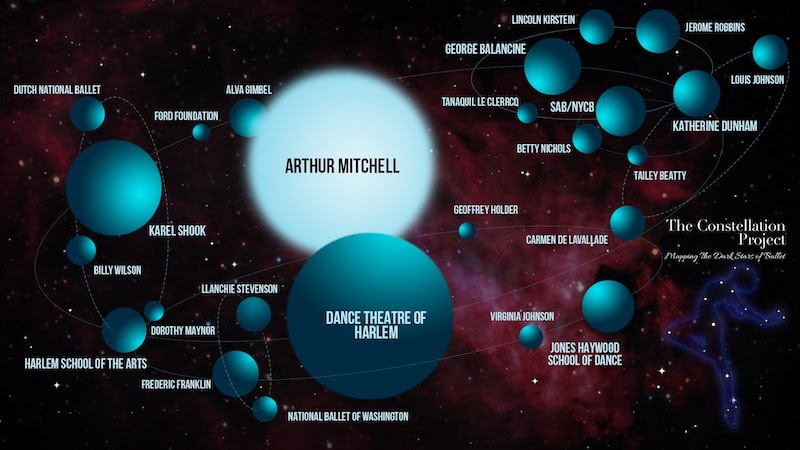 Memoirs of Blacks in Ballet (MoBBallet), the groundbreaking project documenting and transforming conversations around Black ballet artists, announces its launch of The Constellation Project: Mapping the Dark Stars of Ballet. The project maps the points at which the lives and careers of dancers Arthur Mitchell, Mel Tomlinson, Lavinia Williams, Mabel Jones Freeman, Doris Jones, and Claire Haywood intersected with each other, and other artists, institutions, and white allies contemporary to them. The immersive interactive exhibit, designed by MoBBallet's Digital Art Director Natasha Hulme, will go live on February 1 on MoBBallet.org in honor of Black history month. Additionally, the company will host "Check-in and Checkup," a FREE virtual town hall gathering on February 20 from 12-2 pm for The Village–members of the MoBBallet and larger community.
The Constellation Project places key Black ballet dancers within a digitally rendered galaxy where visitors can explore each star's "orbit" and learn about the intersections and experiences that shaped the dancer's career. The project is the third exhibit housed in MoBBallet's digital archives, which include the company's Knight Foundation-funded exhibit And Still They Rose: The Legacy of Black Philadelphians in Ballet, and Dancing Diversity: Celebrating the Black Ballet Artists of the Dutch National Ballet, which was created in partnership with the Dutch National Ballet and highlights the numerous Black dancers who danced with the company throughout its nearly 60-year history.
Preview the Constellation Project here.