'Orpheus and Eurydice' reimagined in NYC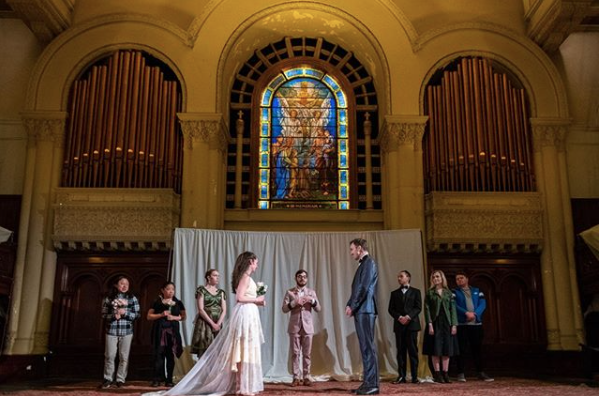 Linked Dance Theatre's Beloved/Departed officially made its Off-Off-Broadway debut Thursday, April 26 at The Center at West Park. This engagement closes Friday, May 18.
Beloved/Departed is a modern, immersive reimagining of the Greek tragedy Orpheus and Eurydice featuring movement-based storytelling and original music. Audiences are invited by the host Aphrodite, Goddess of Love, and the bride and groom to attend this celestial wedding, where they will celebrate with other guests, divine creatures, and ultimately tackle the timeless question - is love enough?
The intimate setting of Beloved/Departed keeps audiences to less than 40 people, giving everyone a unique perspective of the festivities and allows them to be completely engaged in the wedding celebrations.
An exciting theatrical event, drawing on Linked Dance Theatre's experience in the immersive realm, Beloved/Departed features original movement and text created by the company. The production features lighting and scenic design by Cheyenne Sykes, costume design by Nicholas Smith, original music composed by Brendan Littlefield, stage management by Cati Pishal and direction by Jordan Chlapecka, co-artistic director of Linked.
Beloved/Departed stars Chlapecka, Josh James, Kendra Slack (co-artistic director of Linked), Kellyn Thornburg, Calvin Tsang, Maya Gonzalez, Chloe Markewich, Rita McCann, Matt Engle and Oliver "Tillett" Burke.
"Our version of the myth of Orpheus and Eurydice aims to give a perspective on jumping into things too fast," Chlapecka and Slack explained. "Weddings are a particular ritual where everything is called into question, and your past can come to haunt you at a family gathering, and begs a greater question of self, the myths we make, and the age old question, 'Is love enough to conquer death?'"
Performances of Beloved/Departed are currently taking place at The Center at West Park (165 West 86th Street, at Amsterdam Avenue) through May 18. Tickets, ranging from $45 - $75, are available for purchase online from www.linkeddancetheatre.com/beloved/departed.
Photo: Linked Dance Theatre in Beloved/Departed. Photo by Russ Rowland.
---