Paris Opera Ballet reveals exciting new plans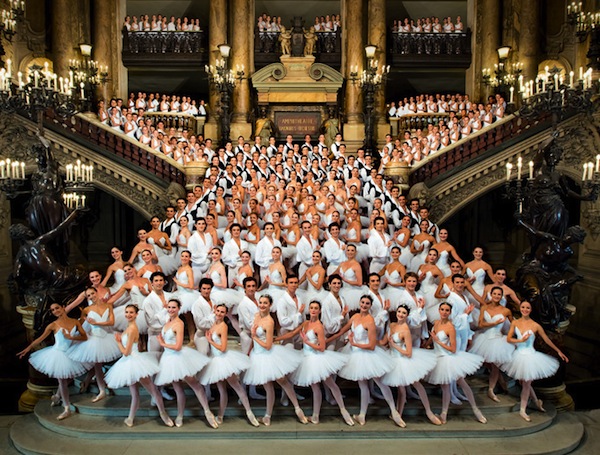 As expected, Paris Opera Ballet's new Artistic Director Benjamin Millepied is shaking up the iconic ballet organization in all kinds of exciting ways. By his side is the Opera's new general director, Stéphane Lissner. On Wednesday, the two gentlemen lifted the curtain on one of the ballet world's most revered companies and revealed some thrilling and unforeseen plans.
For starters, the Paris Opera Ballet has officially secured one of the dance world's biggest names, William Forsythe, as the company's new associate choreographer! Forsythe, who is known as a prolific choreographer and the former director of the Forsythe Company till 2013, will create a new work for the company, his first large-scale piece made for a troupe other than his own since 1999. The work will premiere in 2016 as part of a full program showcasing his choreography.
In addition to his new role choreographing on the company dancers, Forsythe will be involved in coaching participants in the Paris Opera Academy, a new project just announced by Millepied and Lissner that will train and develop choreographers, musicians, stage directors and singers.
According to an interview with Millepied conducted for a New York Times article, the idea of teaching the craft of dance-making was behind the conception of the academy. Millepied plans to offer a two-year residency to two choreographers from outside the Opera and three from the company.
"We won't necessarily discover more geniuses, but there will be more competence," Millepied told The New York Times. "Composers learn the principles of harmony, counterpoint, technique and choreography is no different."
In addition to this news, there was also word of a new digital platform in the works. "3e Scene," or "third stage," will launch on the Paris Opera Ballet website mid-September and will promote new work by composers, choreographers, directors, visual artists, filmmakers and writers. Millepied said the company wanted a way to stay better connected to fans all over the world.
In the formal 2015-16 Season announcement at the Bastille Opera on Wednesday, Millepied and Lissner also unveiled a series of ambitious new works for the upcoming programs. In addition to Forsythe's new creation, the company will premiere works by Justin Peck, Wayne McGregor, Jérôme Bel and Millepied himself. Also included in the season are works by George Balanchine, Boris Charmatz, Anne Teresa De Keersmaeker, Christopher Wheeldon, Jerome Robbins, Alexei Ratmansky and Maguy Marin. There are only three full-length ballets – Rudolf Nureyev's Bayadère and Romeo and Juliet, and Patrice Bart and Eugène Polyakov's Giselle.
For more information on the new programs and ambitious undertakings of the Paris Opera Ballet, visit www.operadeparis.fr/en/les-artistes/le-ballet.
Photo: The 154 dancers, 18 étoiles and 14 premiers danseurs of the Paris Opera Ballet. Photo courtesy of the Opera National de Paris.