Pentacle presents 7th year of 'Fall Further'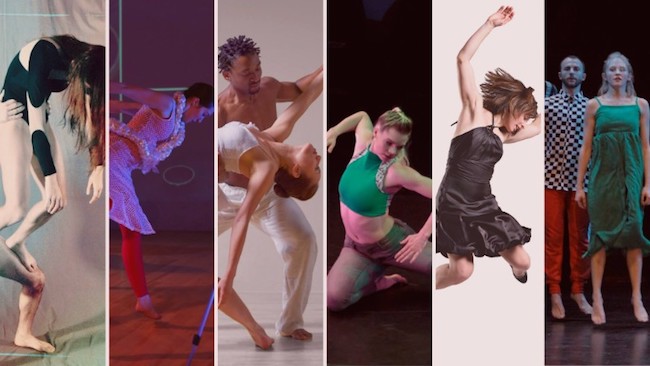 Pentacle's seventh year of Fall Further will present the distinct work of choreographers using dance as a vehicle to comment on, represent, question and deny the realities of our current times. From classical to modern to theatrical, these select artists in Pentacle's Administrative Support Program create a diverse evening of dance with a provocative flair.
Set for Sunday, November 4 at 7 p.m., the program will be staged at Dixon Place, located at 161A Chrystie Street in NYC. It will feature works from ALDEN MOVES Dance Theater, CoreDance Contemporary, Erick Montes/Danceable Projects, Rachel Thorne Germond Performance Collage, Rock Dance Collective and Thomas/Ortiz Dance. Read a general description about each of their presentations below.
Tickets are $15 in advance or $18 at the door, unless you're a student or senior, in which case you get a $3 discount. Book your tickets at dixonplace.org.
FALL FURTHER VII
ALDEN MOVES Dance Theater
The modern day story ballet lives where contemporary modern dance meets the color of theater. Choreographers Alden LaPaglia and Gregory Kollarus use the music of Talking Heads to tell the story of young artists navigating life and relationships.
CoreDance Contemporary - six plane faces
Six sides, all square and of equal proportion, with no two faces the same. The intramural is disentangled to reveal a periphery of six emotions. The plane faces now colored, are engaged in a game of knots where relationships and strategy are used to unravel and put back together the pieces of the puzzle.
Erick Montes/Danceable Projects - OTHERWISE
OTHERWISE is a journey of movement and abstraction that in a meditative state leans towards moments of chaos and recovery; the ensemble gravitates around the thought that unity is not uniformity. Why are bodies more genuine in moments of exhaustion? How can we collapse and inform back from moments of crisis and uncertainty?
Rachel Thorne Germond - Performance Collage #2: TRIPOD
Rachel Thorne Germond's work incorporates the conceptual aspects and aesthetic of collage, with an interdisciplinary method that includes elements of choreography, visual design, music/sound, theater, film, photography and video projection.
Rock Dance Collective - On Borders
A meditation on space and the imaginary and movable dividing lines that separate and categorize us, On Borders explores the humanity of living within confined parameters.
Thomas/Ortiz Dance - From Birmingham to Baltimore
This is a work that explores the concept of post democracy as it relates to social economical, cultural, sexual and racial equality as it was in the 60's and how it compares to the current events of today. The 60's had a dance and musical platform that echoed the sentiments of a young America, desperate for change on many of the key social debates that was then fought for and made law by the Supreme Court, which has shaped America today.
Image courtesy of Audrey Ross.
---