PNB farewells one-of-a-kind 'Nutcracker'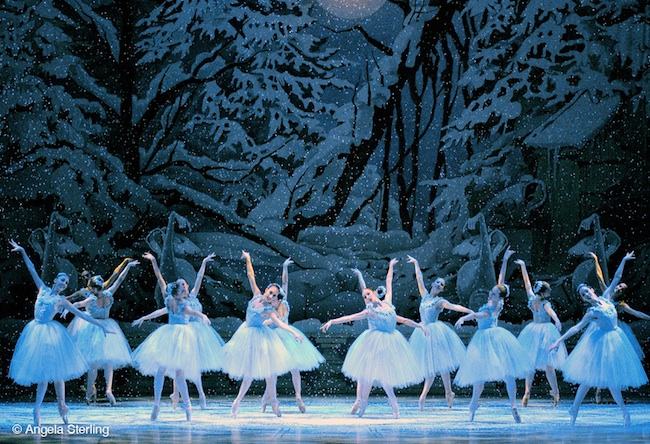 For more than 30 years, family and friends have shared the wonder and beauty of the holidays with Pacific Northwest Ballet's world-famous Nutcracker. Created by Founding Artistic Director Kent Stowell and children's author and illustrator Maurice Sendak, PNB's one-of-a-kind Nutcracker has been dazzling Northwest audiences since 1983. Now PNB celebrates this acclaimed and much-loved Nutcracker for the final season before it goes into the PNB vault. In 2015, the company will unveil its production of George Balanchine's The Nutcracker, featuring all-new sets and costumes by children's author/illustrator and theatre designer Ian Falconer.
The Stowell and Sendak Nutcracker has returned to Seattle Center's McCaw Hall for public performances now through December 28. Tickets are available through the PNB Box Office at 206.441.2424 or online.
"This is a bittersweet year for us at PNB," said Artistic Director Peter Boal, reflecting on the legacy of the Stowell and Sendak Nutcracker. "We celebrate and salute a production like no other in our history – one that has brought more people through our doors than any other. We recognize and appreciate the profound contributions of Kent Stowell and Maurice Sendak, but also those of thousands of others, from our child performers and their carpooling parents and patient ballet masters, to our supernumeraries, some of whom have participated in this production every year since 1983! There are ticket sellers and seam sewers, dressers and stage managers, helpful ushers and members of the stage crew, some of whom not only built these whimsical sets but also still manually operate them during every performance, every year. We love this production as you do, and we look back with great pride and respect on an amazing run."
Speaking on behalf of their dearly departed friend Maurice Sendak and themselves, PNB's Founding Artistic Directors Kent Stowell and Francia Russell added, "It takes so many people to make this production possible: onstage, backstage, in the PNB studios and offices, and out in the lobbies of the theater—a veritable army. All these groups become a real family from Thanksgiving to the New Year. To so many more than can be listed here, our heartfelt thanks for your contributions to the work and joy we shared. Together, we propelled PNB onto the world stage. And to the generations of faithful audience members who made possible the mighty 32-year success of Seattle's own Nutcracker, our deepest gratitude."
Don't miss your last chance to see this magnificent ballet if you are in the Seattle, Washington area! For more information on this farewell season, see the video below or head to PNB.org/Season/14-15/Nutcracker/#Details.
Photo: PNB dancers in Nutcracker. Photo by Angela Sterling.