Rosie Herrera Dance Theatre in Philly debut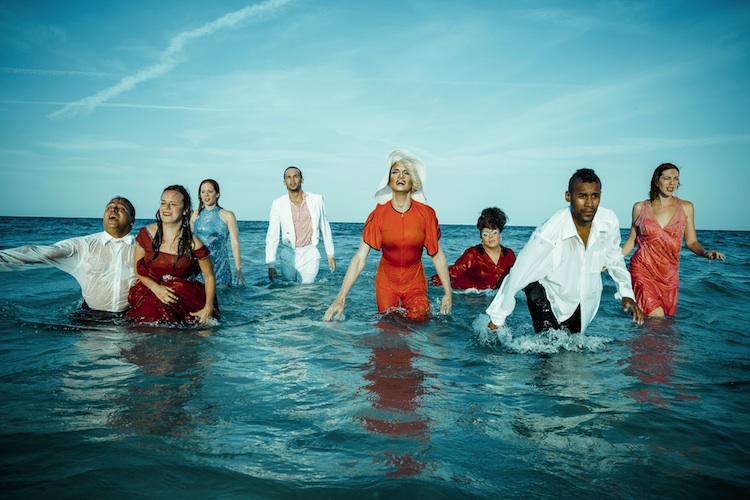 Known for its larger-than life theatricality and surreal aesthetic based on Miami's unique subculture, Rosie Herrera Dance Theatre will present two full-length dance theatre works that fuse contemporary dance, theatre, opera, music, performance art and drag at Annenberg Center in Philadelphia for the first time on January 15-17.
Presented as part of the Center's current Dance Celebration season, which is co-presented by Dance Affiliates and Annenberg Center Live, the program will open with Dining Alone, a 2011 work choreographed by Artistic Director Rosie Herrera, who has been described by The New York Times as "the Pina Bausch of South Beach."
An exploration into the deconstruction of empathetic instincts assigned to age, fragility, youth and isolation, Dining Alone addresses the inherent drama and comedy attached to food. Inspired by Herrera's early childhood memories as the daughter of a restaurant owner, she observes bittersweet and private moments that are amplified by the experience of solitary diners. Set to music by Michael Galasso, Claude Debussy, Jose Pero, Rachmaninoff, Kitka, Ilene Woods and Mike Douglas, these vignettes showcase "Herrera's appetite for dark humor" (New York Times). Renowned dance critic Deborah Jowitt hailed Dining Alone as "earthy, poetic and beyond dada imaginative."
Using water as a metaphor for the unconscious, the 2009 work Various Stages of Drowning: A Cabaret recreates dream states by incorporating dance, theatre, cabaret and film. This is a breakout piece by the young Cuban-American choreographer whom World Dance Reviews calls "a magician that twists our emotions." It features cameo appearances by characters such as a woman lounging in a claw-footed bathtub, a drag queen climbing a ladder to Celine Dion's "My Heart Will Go On", a young child being carried across the stage who reappears on a toy bike, a woman dropped on 10 cakes followed by a man dropped on 10 cakes (which elicits a different response) and more. This work was the hit of The American Dance Festival.
Herrera comments about her work, "I'm a surrealist. I can be like a child, very giddy and happy, and I can be very dark. You can't have one without having the other. It's not something I save for the stage; it's how I see life."
Performances will take place Thursday, January 15 at 7:30 p.m., Friday, January 16 at 8 p.m. and Saturday, January 17 at 2 and 8 p.m. at the Annenberg Center, located at 3680 Walnut Street in Philly. Tickets are $20-$50. To book tickets or for more information, visit AnnenbergCenter.org or call 215-898-3900.
In addition to the performances, Rosie Herrera Dance Theatre will offer two outreach activities – a Student Discovery Program for schools and special interest groups on Friday, January 16 at 10:30 a.m. and a free master class/artist chat on Friday, January 16 at 1 p.m. taught by Rosie Herrera. The class, entitled "Performance: Tool Belt", will explore performance techniques, collaboration and developing your artistic voice. For more information, contact Annemarie@danceaffiliates.org.
Photo: Miami's Rosie Herrera Dance Theatre. Photo by Adam Reign.