Royal Caribbean Auditions at WDM Italy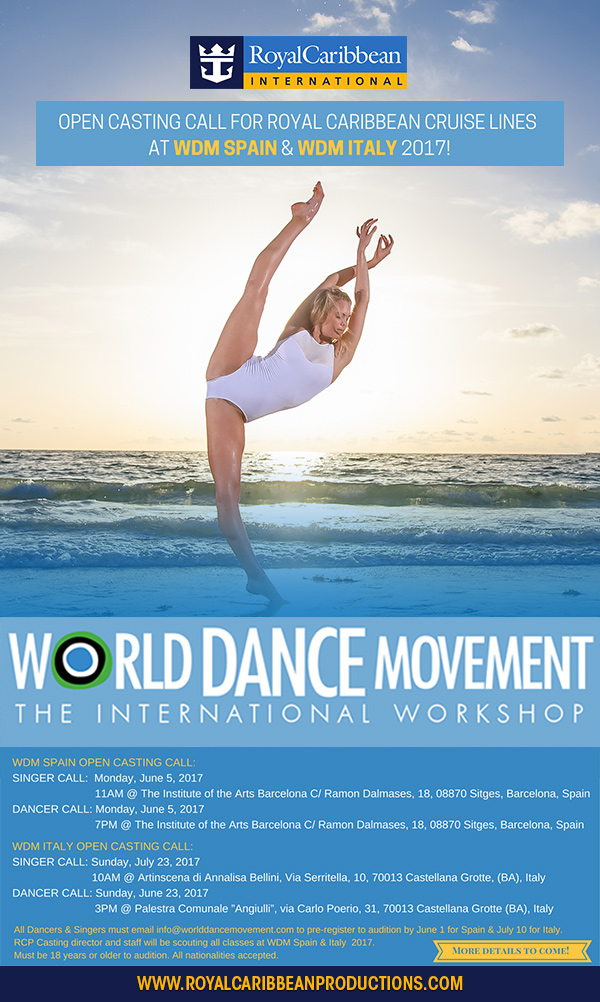 World Dance Movement (WDM) recently hosted Royal Caribbean Productions Auditions at WDM Spain, which was held at the beautiful Institute of the Arts in Barcelona. Next, auditions for this cruise line will be presented at WDM Italy on Sunday, July 23.
On the auditions, WDM Marketing Director Daniela Iorli said, "It's an amazing opportunity for dancers and singers. Students don't have to participate in our workshops in order to do the audition but RC staff will be scouting all classes so it can be an additional opportunity for dancers."
WDM Italy will be held in Castellana Grotte from July 9-30, with daily classes led by prestigious faculty in various styles. The 5th WDM International Dance Competition will be July 15.
For more information on WDM Italy, visit www.WDMItaly.com. Note that all dancers must be 18 years old to participate in WDM Italy without a chaperone/guardian.
To learn more about the Royal Caribbean Productions Auditions in Italy, click here. The deadline to pre-register for these auditions is July 10.