Ryan & Alexander miss Top 10 on So You Think You Can Dance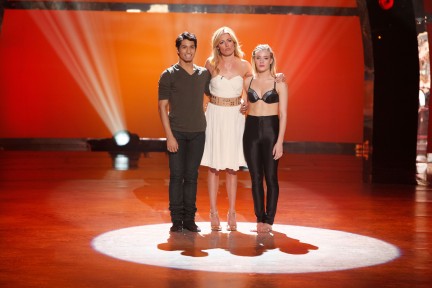 Ryan and Alexander just missed out on making it to the Top 10 on this season of So You Think You Can Dance. After their eliminations the two spoke about their time on the show.
Ryan, Nigel said you seemed "down and out" on the results show. Was that true?
When he said that I was not surprised, but I definitely didn't feel that way at all. When I got the comments on Wednesday about the duets I thought that I might be in the bottom, but I never was "down and out" about the competition. I was still fighting, and I still thought that I had a chance to stay. I was excited to do my solo so I could dance on the stage again. I never felt down or out.

Alexander, it seemed as though you were compared to your dance partner Sasha a lot this season, instead of being critiqued as a couple. Did it feel like that to you?
I feel like they kind of forgot that being a couple is about team work. Every single week Sasha and I worked extremely hard. During rehearsals nobody ever said, "you know, so and so is better or is this". It was just basically only when we went live that I started to get those comments. So it was really confusing, because you hear one thing during the rehearsals and during the dress run, and then when the show aired it's something completely different. But it is what it is and sometimes you just have to make the best of it.
Alexander, you were listed as a contemporary dancer but you're a ballet dancer through and through. As a classically trained dancer, which was the hardest dance style for you?
I think for the most part the hardest style for me was contemporary, even though I know I was listed as a contemporary dancer. Hip hop was hard as well because there's a certain type of attitude and a style (swag) that you need, but I think contemporary was a challenge because, as a ballet dancer, we don't roll ourselves on the floor. We don't go down on the floor. I'm not used to it. I didn't know how to really maneuver my body in that way. So every time I got a contemporary dance it was a very big challenge, and because I was listed as a contemporary dancer there was high expectation. So the choreography was hard and the critique was hard.
Ryan, after not making the top 20 last year, you came back strong and showed the judges that you were worthy of a spot. Was your experience everything that you thought it would be?
YES! It was everything I thought it would be and more. It was amazing. Relating to the choreographers was just as great as I thought it would be. I would say that it was better actually. And the other contestants were very inspiring. I didn't know that I would learn so much about myself through the experience. It really pushed me to my limits physically and mentally. You go through so much critique, no sleep and then have to learn so much choreography. I think I realized that I can push myself more than I thought I could.
Who's your dream choreographer to work with?
Alexander
I really enjoy working with Tyce. He's a big inspiration. Jamie King is one of my other all-time favorite choreographers.
Ryan
I would love to work with Wade Robson. I think he's a genius. I was always aiming to work for Mia. She is one of my favorite choreographers to work with. I would love to work with JaQuel Knight too. He's a hip-hop choreographer. He choreographed Nicole Scherzinger's performance last night.
Is there a dance style you haven't learned yet that you would like to learn still?
Ryan
There are a lot of dances that I would love to learn still. I always wanted to get krump on the show, just because I think that style is really interesting and entertaining. I really wanted to learn what the mechanics are with it and about it because I love the passion within it. And I'd like to learn some of the ballroom dances. I would love to learn how to waltz and tango.
Alexander
Ballroom is something that I really have opened my eyes to and also tap dance. I know they don't have tap dancing on the show, but as a dancer I really have been wanting to take tap for a while. I think that's something that I might be doing. So that's exciting!
What about this competition did you find most difficult or most surprising?
Alexander
I think the hardest part of the competition is having to perform your pieces live on television and getting critiqued and judged on television. It is a popularity contest as well as a dance competition. Yes it's very entertaining, but people at home will simply not vote for you because they don't like your costume or because you said something in the package that they didn't like. So I think that's the hardest part. You have to just keep remembering how much you love dance, why you keep doing it and that it is a chance to perform on one of the biggest stages any dancer can perform on – the So You Think You Can Dance TV show.
Ryan
I think the hardest thing was just being in the public eye so much. I didn't realize how much people really analyze your every move on the show. You have to keep your mind focused on why you're there and not get caught up in what people are saying about you. You have to keep a level head and just do it because you love dance and want to grow as a dancer.
Ryan, since you've already worked with Mia Michaels and you've assisted on some other seasons, do you plan to pursue choreography?
Yes. Becoming a choreographer is one of my main goals in life. I still want to be a performer because I love performing and being on stage. I think right now I want to continue performing while also developing my skills as a choreographer, and then hopefully, as I get older and I'm not able to perform as much, I can move into choreography and the directing side of things. Working with Mia has helped me with that and I've learned a lot about behind the scenes work, which I'm very grateful for. I'm hoping to continue to develop that.