'Savion Glover's STePz' in NY in November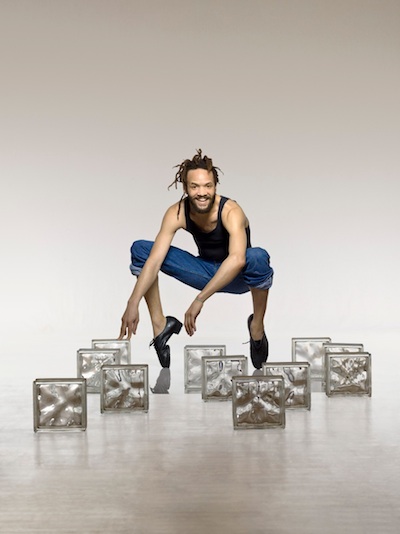 Internationally acclaimed tap dance virtuoso Savion Glover returns to Brooklyn Center for the Performing Arts at Brooklyn College in November to open their 2013-14 season with a one-night-only engagement of his new show, Savion Glover's STePz.
In Savion Glover's STePz, Mr. Glover and his ensemble of dancers (TLHS) take tap dance to new heights while fusing traditional music selections of the past with his self-proclaimed tap style of the future. The production demonstrates Mr. Glover's incredible ability to perform the complexities of jazz phrasing – both bass line and melody – as well as wild improvisations that incorporate both structure and deconstruction. Brooklyn Center's season opener will give Brooklyn audiences the opportunity to experience the versatility and virtuosity of Savion Glover's genius as a tap master.
Mr. Glover, who directed and choreographed the production, is joined on stage by Marshall Davis Jr. and 3CW (3 Controversial Women) comprised of Robyn Watson, Ayodele Casel and Sarah Savelli.
On the show, Mr. Glover says, "The power of dance can stir emotions, and I hope audiences will leave this show feeling rejuvenated."
For nearly three decades, Savion Glover has been amazing global audiences with his inimitable tap style. Mr. Glover first performed on Broadway in 1985 at age 12, when he joined the cast of The Tap Dance Kid, and has since displayed his talents as a performer and choreographer for both stage and screen.
At age 15, he became one of the youngest "Best Actor in a Musical" Tony nominees ever for his performance in Black and Blue. He received the 1996 Tony Award for "Best Choreography" for his work in Bring in Da Noise, Bring in Da Funk, a show that he starred in and co-created with George C. Wolfe. He also choreographed and performed the role of Mumble in the wildly popular animated feature film, Happy Feet.
Mr. Glover is the founder of the HooFeRzCLuB School for Tap in Newark, New Jersey. The school's mission is to impart on its students the history and theory of tap dance, while opening the doors to new styles of personal artistic expression through tap. Mr. Glover's dance ensemble for STePz will be comprised of students of HooFeRzCLuB. Gregory Hines, dance legend and former mentor to Mr. Glover, described Savion as "possibly the best tap dancer that ever lived."
Savion Glover's STePz will be presented on Saturday, November 2 at 8 p.m. Tickets begin at $36 and can be purchased by calling 718-951-4500 or by visiting www.BrooklynCenterOnline.org.
Photo courtesy of Brooklyn Center for the Performing Arts at Brooklyn College.