#ShareTheMattress Series goes viral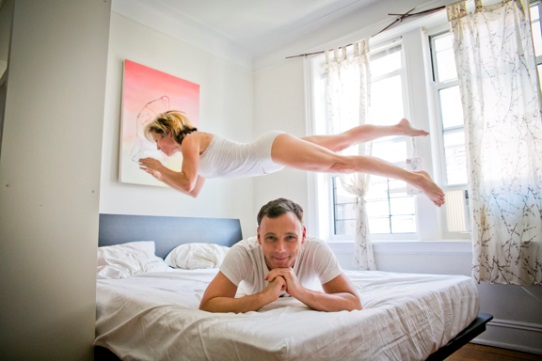 Acclaimed choreographer Larry Keigwin and his contemporary dance troupe KEIGWIN + COMPANY kicked off a fun new video series last month called #ShareTheMattress, which features Keigwin and a variety of well-known creative artists dancing and playing on their beds in tribute to one of Keigwin's best-known dance works, Mattress Suite, on its 10th anniversary.
Keigwin created this signature dance work in 2003 after watching dancer Nicole Wolcott jumping around playfully on her bed. The two dragged her mattress onto the floor, developed choreography inspired by Wolcott's moves and created a narrative that blossomed into a full-fledged work set to popular songs and classical music. The piece was a hit with critics and audiences alike when it premiered.
Now, Keigwin and Wolcott have recreated their initial burst of creativity in a charming, bright and playful video that is the first of ten rolling out through the end of this month. Each video features creative young artists and well-known luminaries in the dance, fashion and music worlds as they sway, jump and twirl on their own beds. Viewers are encouraged to make and share their own videos on Facebook, Twitter, Instagram, or YouTube with the hashtag #ShareTheMattress. KEIGWIN + COMPANY will feature submitted videos on its website.
Keigwin said, "In celebration of K+C's 10th anniversary, it feels appropriate to start where we began – with Nicole and I pulling the mattress off my bed and creating a duet. Now here we are 10 years later (me with a little less hair and Nicole with a two-year-old daughter) and it feels wonderful to return to the dance that originally cemented our friendship and collaboration."
He added, "In the spirit of this work, I am asking people who have been an inspiration to me through the years to create their own mattress dance and #sharethemattress in this special video series that will be released in the weeks leading up to our Joyce season."
So far two of the biggest artists to get involved are fashion designer and Project Runway breakout star Austin Scarlett, and Broadway star Ryan Steele. Steele, known for his roles in Matilda, Newsies and West Side Story, is also the star of the new film Five Dances, the official selection of the Seattle International Film Festival 2013 and Jacob's Pillow's Dance Festival 2013. A prolific actor and dancer in both film and theater, Steele has established himself as a prominent rising actor on Broadway and in Hollywood. In his video, which has gone viral since being released, Steele performs impressive gymnastics, acrobatics, flips and poses – and all in his underwear.
For more information or to see the first five videos, click here. KEIGWIN + COMPANY's 10th Anniversary performance season will run October 29 – November 3 at New York City's Joyce Theater. Mattress Suite will be featured in each performance. Tickets are available online.
"Ten years after we dragged that mattress downtown to Joyce Soho and put on a show titled KEIGWIN + COMPANY, we are looking forward to sharing Mattress Suite as a part of our anniversary season at The Joyce Theater," Keigwin said. "We have been so lucky over the past decade to create dances, watch people dance and encourage people to explore their own physicality and creativity. Now, we can't wait to chart new territories and share our vision of dance across new platforms."
Photo: Larry Keigwin in his recent #ShareTheMattress photoshoot. Photo by Whitney Browne.