So You Think You Can Dance Season 9 Contestants Head to Vegas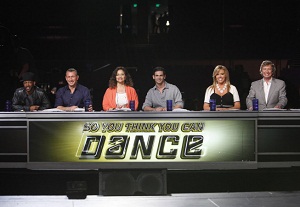 By Stephanie Wolf
It's Vegas Week, and the dancers arrive in Sin City ready to dance their way through eight grueling rounds of choreography. Season 9 auditions didn't disappoint, delivering a wealth of talented and energetic dancers. But only twenty of them will go onto the live shows—ten boys and ten girls. Notorious for lots of cheers, jeers, and tears, this season's Vegas Week was no exception.
"We're looking for genuine stars," Cat Deeley states over a montage of audition footage. Favorites from all of the audition cities, as well as some new faces crowd onto the stage and they are greeted by SYTYCD 'royalty': Debbie Allen, Adam Shankman, Tyce Diorio, Mary Murphy, and Executive Producer Nigel Lythgoe.
Round 1: Solos
"We're going to make massive cuts," Nigel says as Hampton Williams, a hip-hop dancer who earned a standing ovation for his audition in Dallas, kicks off the competition with an emotionally charged solo. He receives a similar response this go around, bringing tears to both Mary and Adam's eyes.
Vegas Week starts off strong with some incredible solos across many different dance genres, including belly dancer Janelle Issis. Full of sass and charisma, she hypnotizes the judges with her rhythmic pelvis thrusts and deep back bends. But what else is she capable of?
By the end of Round 1, 51 dancers are sent home.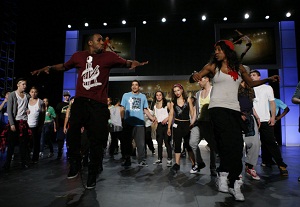 Round 2: Hip Hop
Season 4 finalists Stephen 'tWitch' Boss and Comfort Fedoke return with some funky hip-hop choreography for the Season 9 contenders to sink their teeth into. The routine is fast and furious. "You can expect to see people breathing really, really hard," says tWitch. The dancers need to bring lots of energy and personality to the routine in order to make the cut.
This season's auditions showcased oodles of hip hop talent, making the expectations for this round high. Sadly, many of the favorite poppers, lockers, and hip hoppers can't pick up the complex choreography. Hampton throws in the towel almost immediately. He is gracious for making it this far, but it's disappointing that he doesn't even try.
As the round continues, many more hip-hop hopefuls are eliminated while dancers from other genres seem to find their stride. Cat notes, "Many of the non hip-hop dancers proved they could be 'Buck.'" Ninety-seven dancers move on to the next round.
Round 3: Broadway
"It's 2am, dancers in a club. They take a break to get some water…all of a sudden something happens," says Tyce Diorio as he sets the stage for his challenging Broadway routine. "This routine is so hard…it's a bitch."
Salt Lake City's 'Team Ballroom'—comprised of blonde ballroom bombshells Lindsay Arnold and Whitney Carson—prove they can do more than cha cha and nail the technique and energy of the routine. Overall, it's a successful round for many, but Adam makes Alexa Anderson, who barely missed out on last season's Top 20, step forward and tells her she's "giving [him] no light." "Dance like you want it," he says. Alexa has a ton of potential to be the last dancer pirouetting, but the judges are getting lukewarm feelings from her. She needs to step it up.
Broadway is sadly the end of the road for quirky contemporary dancer Teddy Tedhome, a 'Vegas veteran', and 23 other dancers.
Round 4: Jazz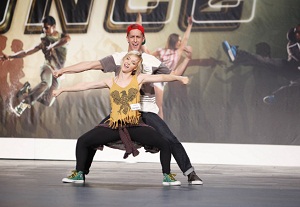 Enter Sonya Tayeh, dance-maker extraordinaire, with a jam-packed, merciless jazz routine. "This routine is focused on strength, aggression, texture, and musicality," she tells the cameras. She pushes the dancers to their limits. "I want amazing!"
Bacon-eating contemporary dancer Danielle Dominguez does well in this round, but has to be rushed to the hospital after she gets kicked in the head by another dancer.
Two ladies aren't ready to be sent home without a fight. Burlesque dancer Rachel Applehans and contemporary dancer Amelia Lowe, who resembles a silent film star, must dance for their lives. Rachel chooses to remain true to her Burlesque roots, but it's not enough to persuade the judges. Debbie Allen tells her she relies too much on her sex appeal. "Next time, put on more clothes and dance." But Amelia pulls out a stunning solo, full of clean, supple lines and genuine emotions. It's a yes from most of the judges. This 1920s throwback kid may be one to watch.
In the end, this round claims 50 more 'dance victims'.
Round 5: Group Routine
The dreaded group routine round always draws lots of anxiety. This year, the dancers get to pick their own groups of five to six dancers and are given a piece of music at random; they have the night and wee hours of the morning to choreograph and rehearse their routine. As always, fatigue eventually sets in, making the dancers cranking and raising the stakes.
Many groups crack under the pressure and deliver subpar routines. Then, like a breath of fresh air, ballet dancer Aubrey Klinger and her entourage of gentlemen waltz in. Self-named The High Schoolers, the ensemble presents an elegant, clever routine about going to prom. From then on, things start to look up as group after group brings their A-game. Sadly, for the bacon-loving Danielle, her journey ends here.
Round 6: Ballroom
Jason Gilikison choreographs a smokin' Cha Cha routine for the ballroom round. It's no surprise that Team Ballroom brings the heat to the dance floor, but the judges are pleasantly surprised to see Alexa come out of her shell. They've been exceptionally hard on her throughout the course of the week and, in this round, she commits 200% to finding her inner fire.
Unfortunately, the news is not as good for Aubrey. She is distraught over the news and sits on the lobby floor sobbing. These are the heartbreaking moments; when a dancer can't see beyond the immediacy of the situation and acknowledge the potential of a future outside of SYTYCD.
Round 7: Contemporary
"The moves are hard, the partnering is hard, the emotion is hard, it's the last round of choreography," says SYTYCD alum, choreographer, and guest judge Travis Wall about his contemporary routine. It's make it or break it time and, as the dancers prepare to push through one more round of choreography, the show highlights the comradery amongst the contestants that has developed over the past several days.
Final Round: Solos
This is the dancers' last chance to leave a lasting impression on the judges, showing their best tricks. Joshua Alexander hopes to step it up in his routine. But, from either fatigue or a miscalculation, he falls flat on his back after an ambitious flip and is rushed to the hospital. He appears to be okay, but will this risky move cost him a spot in the Top 20?
Swiss ballet dancer Chehon Wespi-Tschopp comes out of nowhere with the final solo of the night, filled with gravity-defying jumps. The judges rise to their feet after his impressive solo, but can he do more then the big virtuosic steps?
This round seems to bring out the best in most of the dancers, yet Nigel and his team make shocking eliminations like contemporary dancer Adrian Lee, who was so close to making it into Season 7's Top 20. None of the girls are cut, leaving 35 contenders for the top spots.
Some other promising dancers for the Top 20 include former San Francisco Ballet dancer Daniel Baker, hip-hop dancer Cyrus 'Glitch' Spenser—who lacks the formal training, but makes up for it in personality and perseverance—and the stunning aerial/ballet dancer Eliana Girard.
Next week, we'll find out which dancers make it into the Top 20 and see them all dance together for the first time! Here's to a great Season 9!
Photos: Top photo – Lil C, Adam Shankman, Debbie Allen, Tyce Diorio, Mary Murphy and Nigel Lythgoe judge the competition in Las Vegas.
Beth Dubber/FOX