SYTYCD: America prepares to crown its Season 10 winners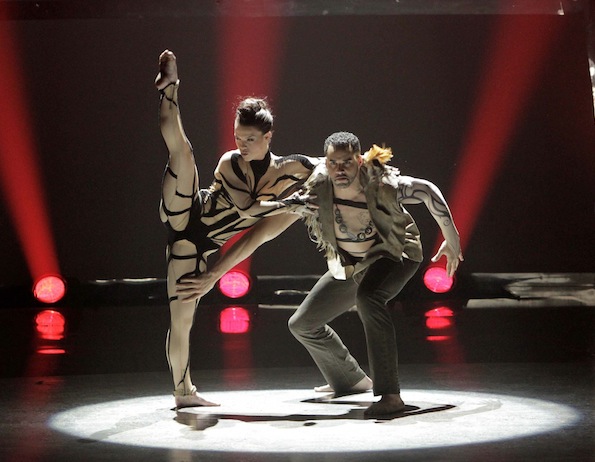 By Stephanie Wolf.
The whole summer has been building up to this moment…four dancers remained in the competition for Fox's So You Think You Can Dance, but only two would be crowned "America's Favorite Dancer."
At the top of the show, Cat Deeley summed it up, "The Top 4 go all out for your votes," as the dancers prepared to take the stage six times throughout the course of the evening. A lot was at stake—each dancer competed for a grand prize of $100,000, a cover feature in Dance Spirit magazine and the long-standing series' coveted title.
Joining resident judges Nigel Lythgoe and Mary Murphy this week were Gabby Douglas, two-time Olympic gold medalist, and the always-memorable Paula Abdul.
Amy Yakima and Aaron Turner danced first in a Ray Leeper jazz-fusion routine. Ray called it a "true test of their stamina and endurance." The audience went crazy for the routine, but what did the judges think?
Nigel loved the costumes and thought it was a great opener for the night. "You had so much strength and you just attacked it furiously," said Mary. She was blown away by their animalistic quality, yet felt it didn't detract from their technique. "Aaron you are such a generous partner," said Paula, adding that he takes her breath away when he dances.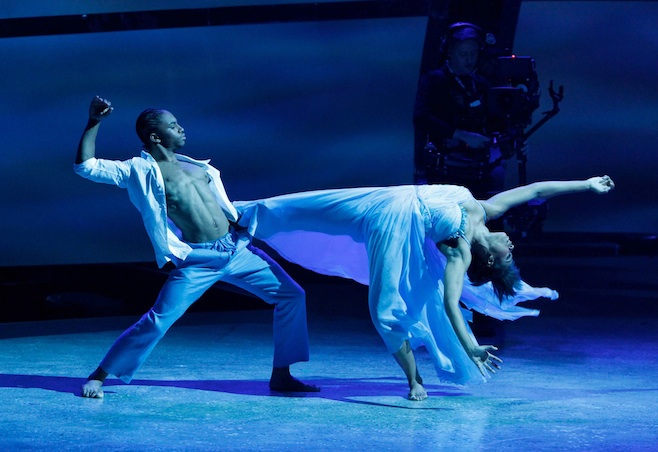 Next, Jasmine Harper and Fik-Shun teamed up for a Travis Wall contemporary routine. Fik-Shun's feet weren't always pointed and his legs weren't fully stretched, but there was something special about his performance and he was there for Jasmine 100 percent.
Mary felt the whole piece came together beautifully. "Your emotion, your tenderness and your partnering were so magnificent to watch," Mary told Fik-Shun. Paula compared Jasmine to Cyd Charisse's "Dream Sequence" from Singin' in the Rain. She also commented on Fik-Shun's "remarkable" journey on this show.
Aaron paired up with all-star Melinda Sullivan for a tap piece that was destined to be killer. While it was mellower than expected, the routine still managed to show off both dancers' incredible tap dancing skills.
Paula applauded the series for having a tap number, featuring two great tappers—FINALLY. "It was a brilliant routine," she gushed. "Aaron, you are the ultimate story teller." Nigel loved it and was thrilled to see the first tap dancer sashay his way into the finale.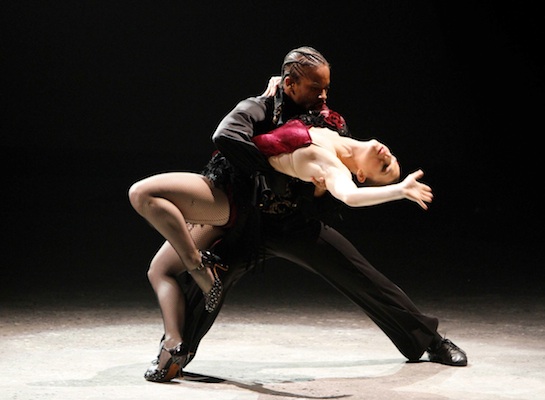 Jasmine teamed up with all-star Comfort Fedoke for a NappyTabs hip-hop routine, a surprise choice for the contemporary dancer. The screams from the audience were deafening, but rightfully so. The two ladies proved that girls could 'win the world' with moves like that.
"Wow, it's so loud," said Cat. The crowd could barely settle down to let the judges provide their feedback. "You're showing us all you are better than just being a contemporary dancer," said Nigel. "You are in it to win it tonight."
Blending elements from the tango and the paso doble, Amy and Fik-Shun took on a Miriam Larici and Leonardo Barrionuevo routine. There were some cool lifts and flips, but it wasn't a knockout performance for the couple.
"I thought it was a brave attempt, but it wasn't strong enough for me," Nigel told Fik-Shun. Mary also found some moments to pick apart for Fik-Shun, but she was rather pleased with his effort and ability to always make his partner look good.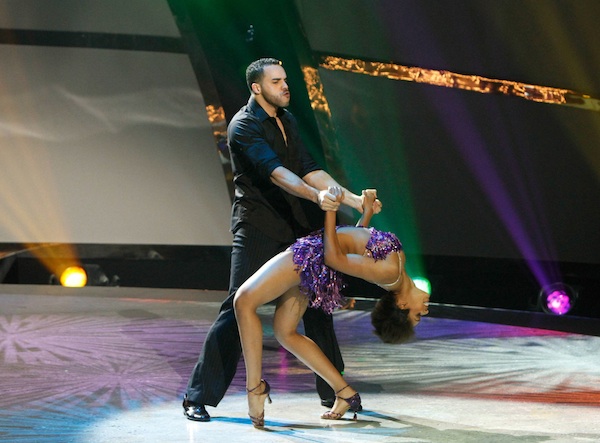 Jasmine and Aaron shook things up in a Dmitry Chaplin samba. The routine was intended to get the party started, but the routine didn't bring the heat. "There was a lot of shaking going on," said Mary. "Some of it was shaking in the right direction, some of it was not." It was a lackluster review from the ballroom expert.
Fik-Shun's dreams were realized when he got to dance with Stephen "tWitch" Boss in a long-awaited hip-hop duet. The routine allowed him to show his personality more, something Nigel wanted at the top of the show. "Every time you dance, you amaze me," Gabby said. Nigel added, "Well, it was like tWitch and tWitch Jr."
Amy partnered up with all-star Robert Roldan for a Stacey Tookey contemporary number. The best part was a moment when Amy ran towards the edge of the stage, and Robert caught her with her legs dangling off precariously.
Paula called it her favorite routine of the night. Nigel was hardly speechless, but he said it took his breath away. "There isn't one second that you haven't laid it all out there," said Mary. "I loved it." Gabby agreed with Nigel, saying it was one of her favorites of the night as well.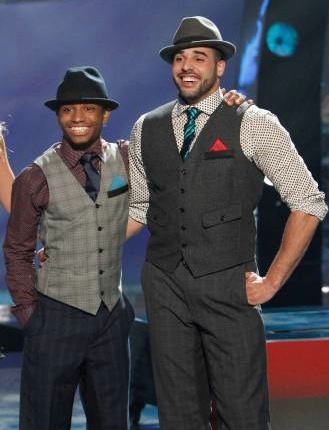 For the first time this season, Aaron and Fik-Shun partnered up for an old-school Tyce Diorio Broadway routine. This may have been a thrown back to some of Broadway's finest, but it also packed in plenty of originality and a cool moving sidewalk. Nigel was happy with the final routine for the boys, but he said he hopes America remembers their performances throughout the full season. Mary added to the praises of Tyce's choreography, and Gabby loved their energy.
The show closed with a quirky Mark Kanemura routine danced by Amy and Jasmine. This was the best routine of the night. Mark's oddities translated into his choreography brilliantly; and the two ladies brought the eccentric routine to life.
"That was crazy; it was creative…and I loved it," said Mary. Paula said she "felt right at home"—was Paula saying she is from another planet? "This year the girls have stolen the show for me," said Nigel. Joined by the rest of the judges, he gave them a standing ovation.
Tune in next week to find out which guy and which girl will go home with the grand prize!
Photos: ©2013 FOX Broadcasting Co. Credit: Adam Rose.