SYTYCD announces 13th season, big changes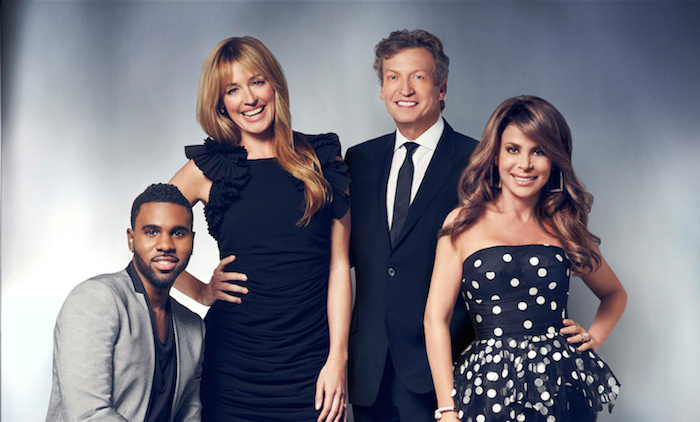 Fox has renewed the Emmy Award-winning So You Think You Can Dance (SYTYCD) for a 13th season and has revealed that the show will once again undergo a major transformation – possibly the biggest in it's history.
SYTYCD will now feature a younger generation of dancers between the ages of 8-13. The dancers—who will be skilled in various dance styles, such as contemporary, tap, hip-hop, ballroom, animation or breaking—will be paired up with SYTYCD All-Stars (or former beloved competitors) to compete for the title of "America's Favorite Dancer."
Premiering Monday, May 30, the new season—dubbed So You Think You Can Dance: The Next Generation—will feature returning host Cat Deeley and returning judges Nigel Lythgoe, Paula Abdul and Jason Derulo.
So how will it work exactly? According to Fox, young, talented dancers will compete in front of the judges during nationwide auditions for a place at "The Academy," where only the best of the best will be selected for the next round of competition. "At the end of the round, the Top 10 dancers will be partnered permanently with a SYTYCD All-Star," explains Fox in its announcement. "The competition then moves on to the SYTYCD studio, where the top youngsters will compete each week in a variety of styles, working and performing alongside their All-Stars with world-renowned choreographers. One young contestant will go home each week until a winner is named on the season finale."
Auditions will take place in three cities – first in Los Angeles on Saturday, February 27 at Orpheum Theatre; then in Chicago on Friday, March 11 at Lou Conte Dance Studio; and finally in New York on Friday, March 18 at Broadway Dance Center.
This season, SYTYCD has an online registration audition option, which is officially open. It ends Tuesday, March 1. All potential contestants are encouraged to have their parent or guardian sign up at the online audition portal at sytycdauditions.com and upload a video or provide a link to a video of the contestant's performance. If selected, producers will reach out to schedule the contestant for a pre-arranged time slot in one of the three audition cities.
"We are so happy to bring back the award-winning So You Think You Can Dance for a 13th season this summer with a brand-new format," said David Madden, president of entertainment for Fox Broadcasting Company. "The series has captivated its loyal fan base for over a decade, inspiring young dancers across the country and transforming the face of dance in every medium – and we're so excited to feature a young and talented new group of performers on the series."
Co-Creator, Executive Producer and Judge Nigel Lythgoe said, "Through the Dizzy Feet Foundation, I've had the great privilege of working with incredible young talent who will eventually shape the future of dance in this country. By evolving the So You Think You Can Dance format this season, we can showcase the very best junior dancers out there and open up the world of dance to a whole new generation."
Young contenders will have a shot at showing the judges they have what it takes to be "America's Favorite Dancer" when auditions start this month.
Photo: SYTYCD Host Cat Deeley with Judges Nigel Lythgoe, Paula Abdul and Jason Derulo. Photo courtesy of Fox.