SYTYCD: Is Mary Murphy Leaving?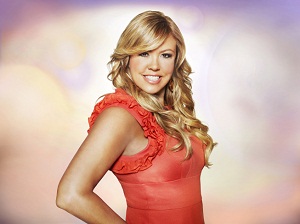 By Stephanie Wolf
It's hard to imagine So You Think You Can Dance without the ear-splitting shrieks of resident judge Mary Murphy. Yet, after Cat Deeley's slip up last week—calling Mary "Mia" when she introduced the episode's panel of judges—the rumors have been flying about whether or not the ballroom expert will stay on for the entirety of Season 9 or any future seasons.
Last week, Radar Online reported that Mary is currently dealing with a million dollar lawsuit. According to the celebrity gossip site, her manager, Michael Sanchez of Axis Management, is suing her for "breach of written and oral contract for more than $1 million in unpaid commissions and damages." Her estranged manager has a list of allegations and is dishing out strong public opinions about Mary's professionalism and 'extracurricular activities'. The controversy has Mary in the hot seat with the production team of SYTYCD. One Radar Online source reports, "Executives are going over options because they're furious that Mary has allowed a minor legal dispute to derail the success of the show."
There is speculation that Mary could be replaced by choreographer Mia Michaels, who stepped in for Mary in 2010 while she recovered from throat cancer. Mia also made an unexpected appearance earlier this season, choreographing a dark, yet glorious, routine for the Top 20. So, maybe Cat's on camera blooper has something to it?
With a decline in ratings over the past several years, it's likely that the production team is nervous about any type of scandal affecting the show. The team could use Mary as a scapegoat for poor ratings and dump her in favor of Mia. But there has been no confirmation from anyone at SYTYCD that this change is in the immediate future. In fact, other inside sources affirm Mary is not going anywhere—she's too much a part of the show and cannot be replaced easily. Additionally, according to the Gather, Mia is not even listed as a guest judge for the season.
Mia-Mary rivalry aside, we can expect to see a lot of the talented Travis Wall—whose own reality dance show, All the Right Moves, premieres on Oxygen later this month. In a recent interview with Wetpaint, he says, "I will be very involved [this season]…Once top ten comes in, I'm pretty much in every episode."
Tune in Wednesday night, to find out which six dancers are in the bottom and who will rise to the occasion to prove he or she has superstar potential.
Photo: Mary Murphy. ©2012 Fox Broadcasting Co. CR: Mathieu Young/FOX