SYTYCD renews & restructures for 12th year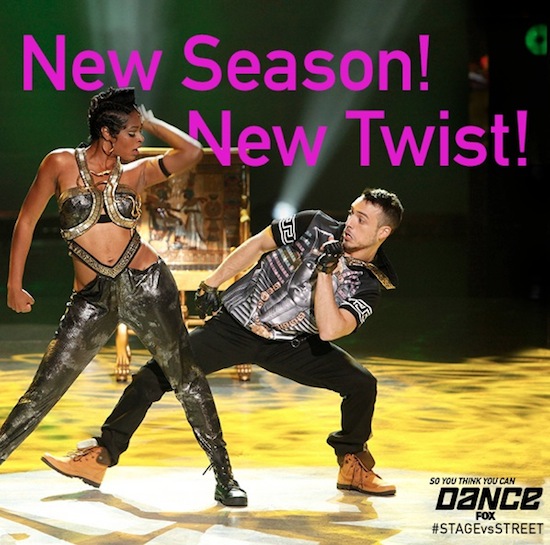 Fox has renewed its Emmy Award-winning So You Think You Can Dance for a 12th season. From 19 Entertainment, a division of CORE Media Group, and dick clark productions, it has been announced that SYTYCD will return in the summer of 2015 with a dramatic new twist.
According to Fox, participating dancers who advance through the auditions will be placed into two teams – "the stage dancers, featuring those trained in styles such as contemporary, ballet, jazz or tap; and the street dancers, hopefuls skilled in hip-hop, animation or breaking." This format change is one of many that the show's executive producers have orchestrated in the past few years. Last year for Season 11, SYTYCD brought on dance crews who competed to be the audience's top choice.
Fox's announcement explained that as auditions progress for Season 12, the judges, along with each team's All-Star Mentor, will "eliminate dancers until only the Top 20 – 10 Street Dancers and 10 Stage Dancers – remain." By the time the competition goes live, the Top 20 will be challenged weekly to perform a variety of styles, working with world-renowned choreographers. In this new format, one dancer from each genre will be eliminated each week leading up to the Season Finale. There will no longer be separate gender divisions.
"Who will win… a dancer from the stage or the street? Find out when So You Think You Can Dance returns in summer 2015," exclaimed Fox.
Simon Andreae, Executive Vice President of Alternative Entertainment for Fox Broadcasting Company, made a statement saying, "So You Think You Can Dance is a rare jewel. It combines high art with mass entertainment in a seamless, sophisticated and hugely satisfying way."
He continued, "It's produced and consumed with tremendous passion and it's developed one of the most deservedly loyal followings in all of unscripted television. We are immensely proud to be returning it to the schedule with a thrilling new twist that will bring it up to date and introduce a whole new set of rooting opportunities."
Co-Creator, Executive Producer and Judge Nigel Lythgoe said, "The competition is going to be much more exciting for viewers and even more demanding for the dancers. Dancers from different genres have always been competitive with each other and we've found a great way to harness that to bring out the absolute best performances in the best dancers across the country."
Audition cities and dates will be announced soon! See www.fox.com/dance for more information.
Image courtesy of Fox.