SYTYCD Season 10: The Top 12 Perform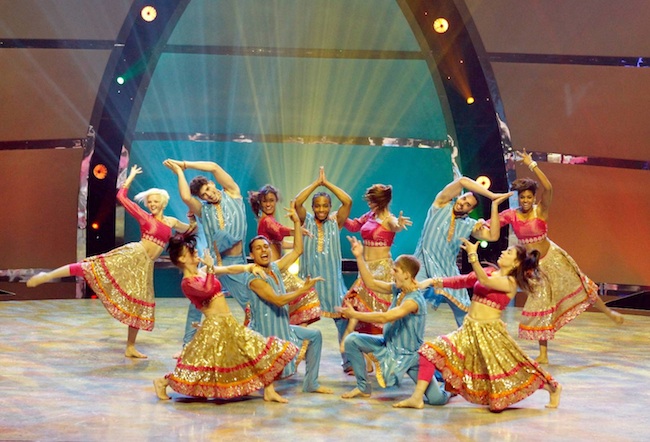 By Stephanie Wolf.
The competition continued as the Top 12 dancers of So You Think You Can Dance Season 10 faced the most difficult elimination yet. Ten dancers would continue on and hit the road in the fall for a 42-city tour; two dancers would be heart-broken and sent home.
The evening opened with a lively and colorful Bollywood routine choreographed by Nakul Dev Mahajan. However, the high-energy start was quickly overshadowed by Cat Deeley's announcement of another injury. She told the audience Tucker Knox picked up an infection in his knee and could not perform with his partner Jenna Johnson that evening—the number of injuries on this show should raise some eyebrows.
But the show must go on…
Resident judges Nigel Lythgoe and Mary Murphy were joined by established choreographer, director and producer Kenny Ortega. Based on last week's votes, Jenna, Alan Bernsten, Malece Miller, Nico Greetham, Amy Yakima and Tucker Knox were in danger.
There were some real shockers with this week's bottom six. The judges were quick to send Jenna and Nico to safefy, asking the remaining dancers, even an injured Tucker, to dance for their lives. Things were already not looking good for Malece and Alan.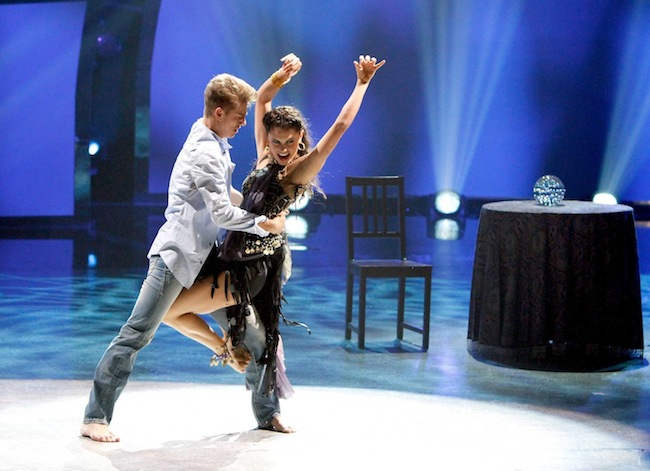 Haley Erbert partnered up with Nico Greetham and got the competition rolling this week with a Broadway routine choreographed by Sean Cheesman. Deemed as a killer piece, the routine required ample amounts of drama and gusto. The partnership seemed better matched than their previous counterparts, allowing Sean to do much more technically in terms of choreography. These amped up technical elements included high-flying lifts and complex partnered sequences.
All of the judges were immediately on their feet—a moment of Nigel mouthing "wow" was captured on camera. "One of the…best Broadway routines we've ever had on the show," breathed Nigel. He and Kenny felt it could have been on an actual Broadway stage. "I love this partnership," said Mary, commenting on their immediate chemistry. Their place in the competition appeared to be solidified after this number.
Malece and Alan flashed back to the days of Gene Kelly in a cool Mandy Moore jazz routine. Both dancers admitted to little exposure to old Hollywood dance icons. It was a relief to hear Alan tell Kenny he looked Gene Kelly up on YouTube. But seriously, has he never heard of Singin' in the Rain or An American in Paris? It doesn't matter whether a dancer is 19 or 31, he or she should develop an awareness and appreciation for the greats who came before them. How can aspiring dancers move forward without understanding where they come from?
The routine was cute, but ultimately, forgettable. Kenny enjoyed it. However, he said it was lacking in the chemistry department. Nigel found it "uncomfortable to watch," saying the style wasn't there and he was disappointed. Mary agreed that there were several technical and stylistic issues. They lacked the maturity and were too upright to bring the appropriate finesse to the number.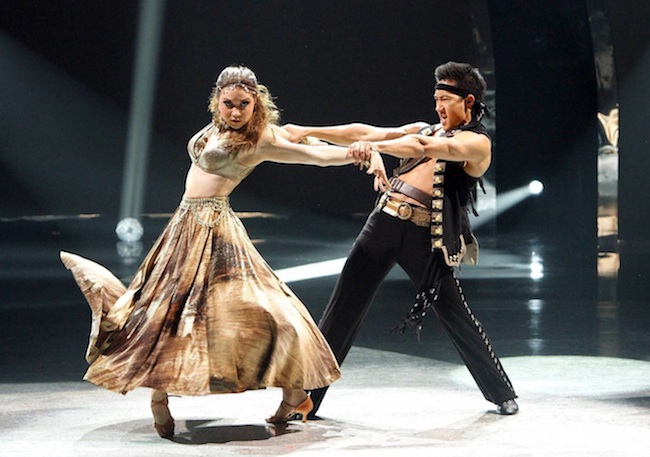 With Tucker injured, Jenna partnered up with all-star Alex Wong for a pirate-inspired paso doble by Jean-Marc Genereux. Mary was bowled over by it, telling Jenna it made her wish she could be up there dancing. "You attacked every single movement with such passion," said Kenny. "You are one of my favorites." Nigel felt the routine was a testament to why they saved Jenna this week from elimination.
Mackenzie Dustman and Paul Karmiryan paired up for a Mandy Moore contemporary routine about a forbidden love. There was one particularly stunning moment in which Mackenzie flew into Paul's arms to take an unconventional take on a ballet fish lift. Overall, it was a lovely, quiet routine and the best of the night so far.
Nigel complimented the both of them on their technique and expansive quality—he particularly enjoyed Mackenzie's use of her breath, a nice note from the judge. "What else can I say? It was another amazing routine," gushed Mary, commenting on how easy they made it look. Kenny said they are two of his favorite dancers in the competition. He added that Paul has something very special, saying his love for dance shines through every time he steps on the stage. It was high praise for the pair.
Next, Amy and Fik-Shun took on a Jean-Marc Genereux Viennese waltz. It was their first foray into ballroom this season. Jean-Marc used a unique approach to choreograph what can often be a difficult style to translate to a SYTYCD audience. The routine was intended to reflect their personal journey on the series thus far.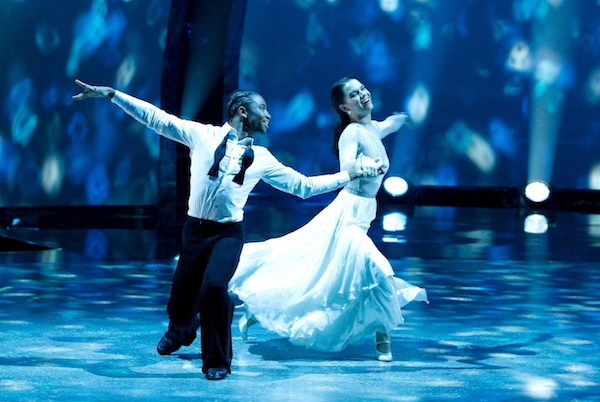 Similar to the issue Mackenzie had early on with a waltz, the ballroom heels looked stiff and awkward on Amy, who usually has seamless lines. Fik-Shun did well with the partnering, though he lost his carriage at times.
Mary caught some technical issues with the movement and footwork, but said, "There is something really special with you guys that gets me." Kenny added, "For me, it's been a wonderful love story watching you two dance each week…you are definitely going to be here for awhile." Nigel commented on how difficult it is to do this dance on this series. "It doesn't have the flash [like other styles]," he said. Though, overall, the judges were pleased with each dancer's growth.
Aaron Turner and Jasmine Harper got down and dirty for a hard-hitting, hip-thrusting NappyTabs routine. With limbs for days, these two dancers were presented with a challenge.
The duo received a standing ovation. Kenny LOVED it. "I have not seen hips move like that since Elvis the Pelvis," Nigel said to Jasmine. Mary also had favorable things to say to Jasmine. Where was the hip-hop love for Aaron? He was confident, cool and crisp in his every move.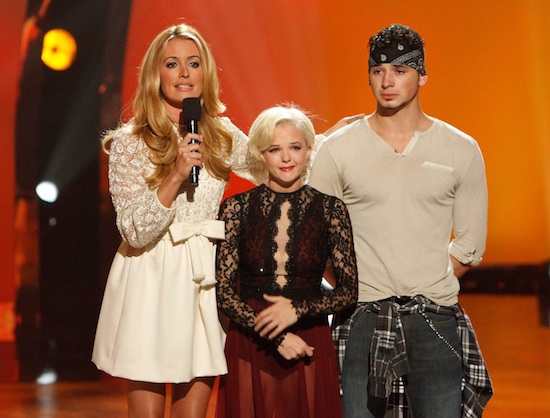 After a men-versus-ladies, group-dance showdown, the judges deliberated their decision on which two dancers would be leaving the competition this week. The verdict became more apparent as the evening progressed, and was validated when Nigel revealed that Malece and Alan would be going home. Nigel offered words of encouragement to Malece and Alan, suggesting they try to come on the tour as understudies or swing dancers.
Some pop culture sites and publications cried out with their disapproval of the eliminations and 'shouted' outrage that Nigel didn't utilize his power to grant them a spot on the tour. But his advice was sound. The dancers who make it in this dog-eat-dog profession are the ones who put themselves out there and don't wait for the next big break to come knocking on their door; the successful dancers are the ones who seize opportunities.
While this is in fact reality television—therefore, many of the dance world norms are evaporated to make room for ratings-driven motives—it is still a launching pad for young dancers' careers. The audience may boo Nigel every time he offers less than glowing feedback. However, an authentic participant of the industry can hope he doesn't hold back on constructive critique. More important than educating the general public about dance, it is the show's responsibility to educate these dancers about the world they so badly want to enter. Few will hold their hands through the profession; they need to know when their technique needs improvement, and they need to learn how to receive feedback that will allow them to grow.
Tune into Fox next week at 8 p.m. EST/7 p.m. CST, when SYTYCD all-stars return and the Top 10 becomes the Top 8.
Photos: ©2013 FOX Broadcasting Co. Cr: Adam Rose.