SYTYCD Season 10: The Top 16 Perform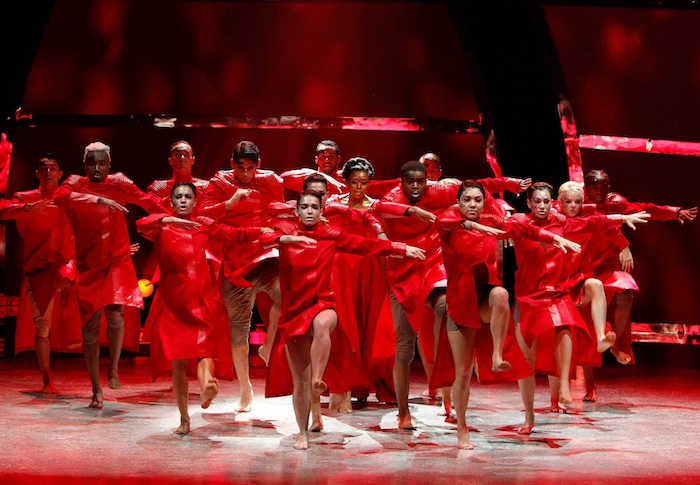 By Stephanie Wolf.
As another week with more routines and more eliminations whizzed by, the competition heated up as Season 10 of Fox's So You Think You Can Dance continued.
At the top of the show, Cat Deeley wasted no time and announced the bottom six dancers: Alan Bersten, Dorian "BluPrint" Hector, Jenna Johnson, Curtis Holland, Mackenzie Dustman and Mariah Spears.
The judges (Nigel Lythgoe, Mary Murphy and celebrity guest judge Carly Rae Jepsen) said they didn't want to see Jenna "dance for her life" since she had already proven herself last week. It came as a shock to see this stellar ballroom dancer in the bottom six again.
Here is the run-down on the solos from the five remaining dancers fighting to stay in the competition: Mackenzie danced a beautiful solo to Clare de Lune, showing off her clean lines, stunning facility and musicality. Alan brought a dynamic stage presence in his fiery Latin solo. It is hard not to root for Curtis, but his solo left question about whether or not he is versatile enough to last in this competition. Mariah whipped out some pirouettes in the beginning of her hip-hop/krump solo, but her days could be numbered. BluPrint's solo was underwhelming; he needs to show a different side of himself.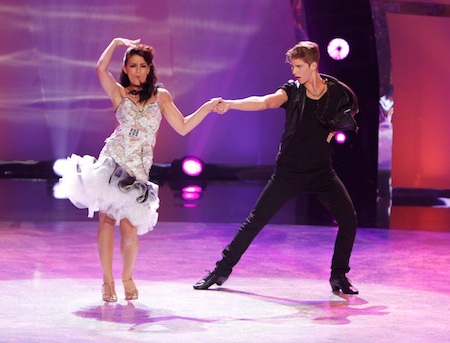 And with that out of the way, the competition kicked off – Alexis Juliano and Nico Greetham were up first with a jive routine choreographed by Tony Meredith and Melanie LaPatin. Nico took to the style well, but Alexis, while continuing to show improvement, still lacked showmanship as her energy didn't match her partners.
"Somehow you lost it halfway through for me," Nigel told the both of them. And the energy definitely waned. The lifts and transitions weren't crisp. Starting off the show that way may not bode well for them. These two could be in trouble.
Jenna and Tucker Knox took the stage next in an emotional Travis Wall contemporary piece. While the concept was cool, the whole "puppet on a string concept" felt cumbersome in the piece—this show's heavy reliance on props could be a tactic to disguise holes in the competitors' dance technique. Yet, Jenna and Tucker worked as a unit, showing support emotionally and technically for each other throughout the piece.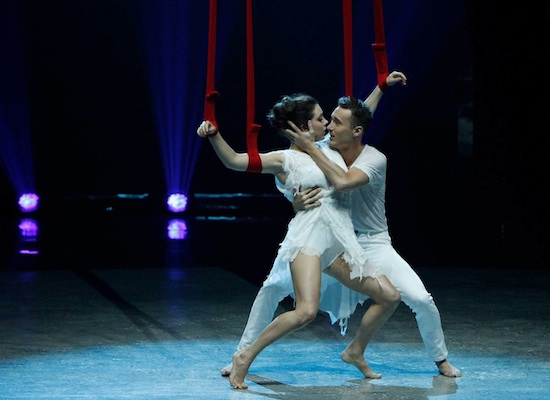 For Mary, the routine was "spectacular." She really felt their commitment, enjoying their "vulnerability" as well as their solid technique. Nigel loved all of the nuisances in the piece, and he praised Travis for creating a contemporary routine with "a classical base." He expressed his dissatisfaction for contemporary dances that drift too far from this foundation.
Mariah and BluPrint stepped up to the plate next; ready to swing hard in a Brian Friedman jazz number. Described as "athletic and high-octane" by Brian, this was not the strongest piece of the evening, performance wise or choreographically. Additionally, the costumes were too-over-the-top, detracting from the dancing rather than adding to the characters.
Jepson was kind, but admitted she was nervous during some of the lifts. Nigel thought the "hip-hop flavor" helped them out, but wondered if either of them took the time to research the style. "Good-ish," he said.
Malece Miller and Alan performed a supposedly-gritty Dave Scott hip-hip routine that had them time warping back from the future. Both got an "A" for effort, but it was neither was dirty nor mean enough.
Unanimously, the judges praised Malece's performance and gave harsher criticism to Alan. However, they were both sufficiently awkward in the dance. Malece maybe had face, but she lacked the body mechanics necessary for this type of number. Additionally, the costumes were a travesty, only adding to how uncomfortable that routine looked.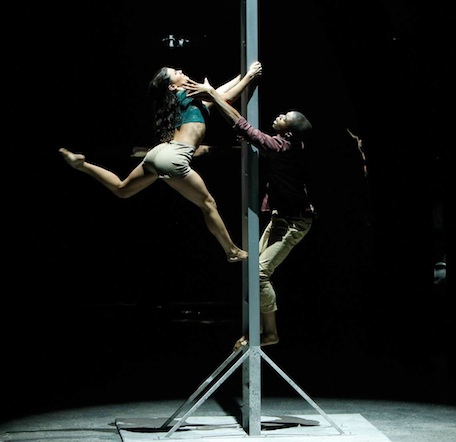 Haley Erbert and Curtis followed up with a Dee Caspary contemporary routine – another routine with a prop. It's starting to feel a little out of control this season.
Despite her confessed fear of heights, Haley danced well, showing off clean lines and good height (pun intended) in her jumps. Curtis still struggled with his upper body carriage and getting grounded, the judges concurred.
Amy Yakima and Du-Shaunt "Fik-Shun" Stegar danced a "hobo jazz" piece, choreographed by Tyce Diorio. They got a lot of creative freedom from Tyce and completely rocked it. Is there anything this couple can't do?
The judges were on their feet by the end, a well-deserved standing ovation. Carly called it her favorite routine so far; Nigel said it was the best routine Tyce has ever choreographed and proclaimed them "the couple to beat." Mary had the best comment of them all, saying, "That routine was as sweet as the Twinkie comeback."
Mackenzie Dustman and Paul Karmiryan danced next, performing a Dave Scott hip-hop routine. The choreography and concept behind the routine were unique, but the performance was… at best decent. Both Mackenzie and Paul pulled some weird facial expressions and there was a lot of hip grinding—is that the definition of sexy in dance these days?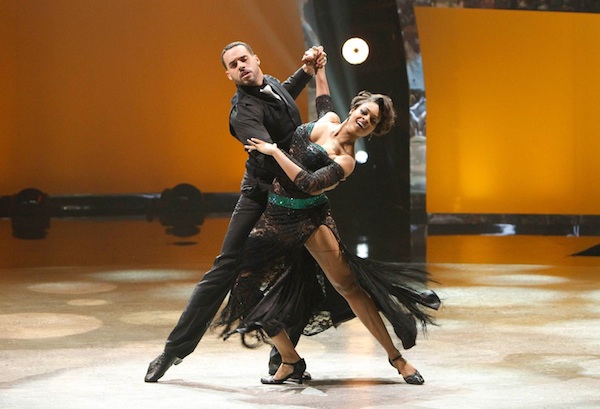 Nigel was speechless, calling it the "sexiest routine of all" (really?). They got tickets on his Hot Tamale Train, and he offered to be the driver. All three judges felt the heat, but the routine relied too heavily on overtly sexual movements to create the steam. It may have been more effective if the dancers had tapped into a subtle sensuality more suitable to the era they were attempting to embody, a sort of 1920/30s flapper-esque idea.
Jasmine Harper and Aaron Turner pulled the dreaded quickstep out of the hat this week, otherwise known as the "kiss of death" on SYTYCD. Choreographed by Tony Meredith and Melanie LaPatin, it was aesthetically a good style for this couple—they are both throwbacks to old school Hollywood/musical theatre stars. Jasmine's dress was stunning too!
"I love the fact that y'all just went for it out there," screamed Mary. She had a few critiques, but overall, loved the number. Cat agreed that they conquered this much feared style, saying, "The dreaded quickstep no more." Nigel congratulated them and called them a "magnificent couple."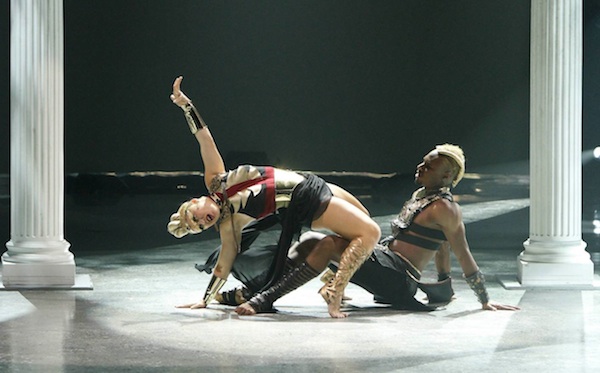 After this evening's diverse performances, it was time for the judges to deliberate and it wasn't an easy decision for them. In the end, BluPrint and Mariah were sent packing.
Tune in next week for more dancing, more eliminations and more hip grinding as America gets one week closer to picking its favorite male and female dancer.
Photos: ©2013 FOX Broadcasting Co. Cr: Adam Rose.