SYTYCD Season 10: The Top 20 Perform for the First Time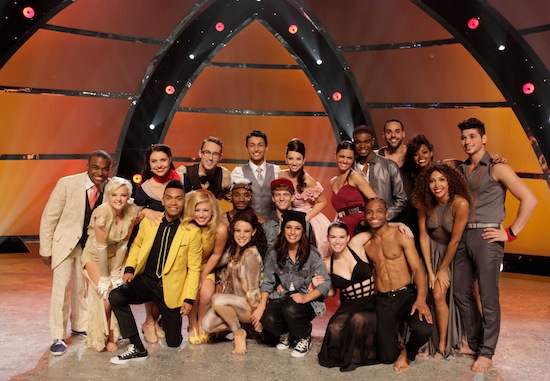 By Stephanie Wolf.
While it may be too early to make a judgment on how season 10 of Fox's So You Think You Can Dance may rank against past seasons, one thing is for sure—Season 10 boosts a wider variety of dancers from varying backgrounds and styles than previous years.
This season, Cat Deeley announced viewers will vote for their favorite guy and girl dancer. Lending their expertise and helping America make its decisions were resident judges Nigel Lythgoe and Mary Murphy, joined by guest judge Wayne Brady.
After 10 years, it was nice to see the show changing things up in its sleek opening hip-hop group routine. Choreographed by NappyTabs to a pop-ified rendition of "Puttin' on the Ritz," the show's contestants, choreographers and even judges danced their way through the labyrinth-like backstage area and eventually made their way onto the main stage.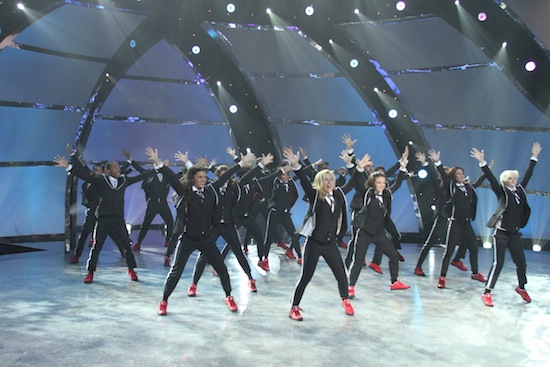 First out of the gate were krumper Mariah Spears and contemporary dancer Carlos Garland in a Jason Gilkinson jive number. Carlos said the fast-paced routine was "like dancing on top of a hot stove." It was fast and furious. However, for what should have been a high-energy dance, the performance was sloppy and subdued. The judges were kind in their critique, but it was cleared they were underwhelmed.
Mary told the couple they "coped with the choreography," but the routine looked "a little bit labored." Wayne added, "I wanted you to have more fun." And the final bit of constructive criticism came from Nigel. "You were lacking in the style…but if the public are voting on energy and performance, you're safe for a week," he said.
Jazz dancer Jasmine Mason and ballroom extraordinaire Alan Bersten took the stage next in love is blind, a Travis Wall contemporary routine to Ingrid Michaelson's "Can't Help Falling In Love." The routine played into the cliché both metaphorically and figuratively, as both dancers performed blindfolded. Despite their impaired vision, the two danced it very well and solidified themselves as judge favorites.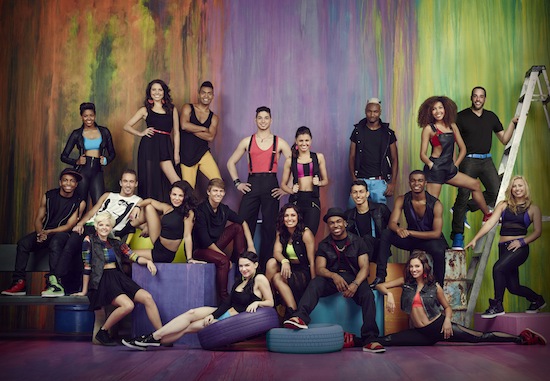 Alan was a secure partner, supporting Jasmine effortlessly in some daring lifts and dips—their trust was apparent in every move. Jasmine had a soft quality to her movement that was soothing to watch. It ended with a passionate lip-lock, an old, overused SYTYCD trick.
The judges were smitten. "Just beautiful…the thing I loved about watching the two of you is that I was never worried about you," Wayne said. "Travis, you just made me fall in love with these two," Mary added. "There's a connection."
Contemporary dancer Malece Miller found herself paired with animator Jade Zuberi for a Travis Wall jazz routine. According to Travis, this dance was "very aggressive," and required the dancers to personify defined characters of old Hollywood movie stars.
After watching the dress rehearsal, Nigel was concerned for this partnership. However, he was impressed with their turnaround when it was show time. He told Malece she demonstrated a new level of maturity. But, ultimately, Jade was the biggest surprise of the duo—after all of his dramatic dealings with his partner during Vegas week, Jade was there for Malace at every moment.
Ballroom dancer Jenna Johnson and contemporary dancer Tucker Knox teamed up for a Tyce Diorio Broadway routine. The piece was about a guy trying to get a girl to fall in love with him. Favorites from the beginning, it was no surprise that the two dancing dynamos tore up the dance floor in this number. Jenna was punchy and expressive, while Tucker showed off his chops as an excellent partner and solo technician. Together, they had great chemistry.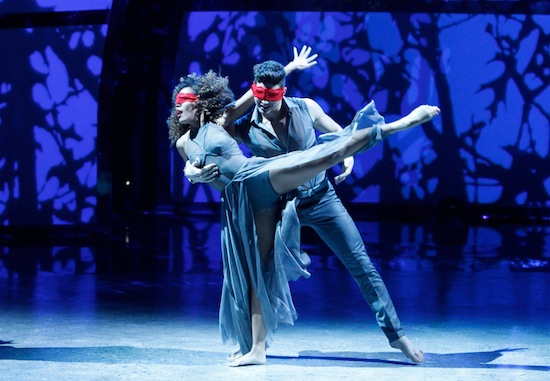 "It was fun. It was playful. It was flirtatious…it made me so happy," Mary told them. All three judges were impressed with both dancers' abilities to give a lot of personality while still delivering the technical elements. Nigel deemed them a "power couple," saying "you are going to turn in some fabulous routines this season."
Season 10's other ballroom diva, Brittany Cherry, danced next with animator Dorian "BluPrint" Hector in a Sean Cheesman Afro Jazz piece. Both dancers were thrown into a dance style outside of their comfort zone. It was an animalistic number full of interesting, intricate partnered movements. Both dancers dug down deep and successfully found a new dimension to their dancing.
BluPrint showed some surprising aspects of technique in the performance and Brittany, according to Nigel, "looked at home." Meanwhile, he told BluPrint it was probably one of the best routines done by an untrained dancer on the show ever. The first couple of the evening to get a ticket on the Hot Tamale Train, this could be an interesting partnership to watch.
Tapper Alexis Juliano and contemporary dancer Nico Greetham came together next for a Christopher Scott hip-hop routine. "It's all about the goofiness," said Christopher at first. Yet, he emphasized that the "swag" is equally important.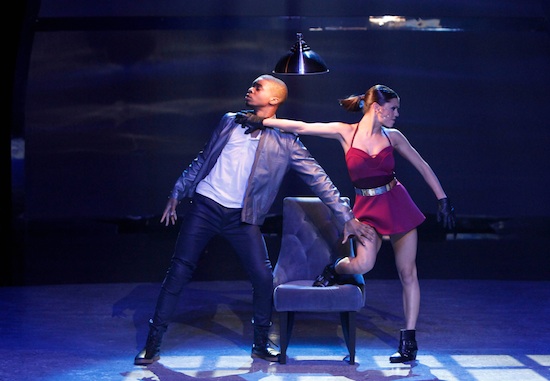 The choreography was a nice melding of goofiness and sway, yet the judges questioned the two's commitment. "It didn't work for me," said Nigel. But he added, "I'm pretty sure the public will support you." Mary seconded Nigel's comments, calling it "pleasant-hop." Nico assured all he and Alexis tried their best to "master the technique." But the number didn't succeed on many levels and these two could be dancing for their lives next week.
Next, contemporary dancer MaKenzie Dustman joined jive dancer Paul Karmiryan for a Jason Gilkinson Viennese Waltz. Surprisingly, Paul had never done this style of ballroom before. A normally stunning dancer, MaKenzie seemed uncomfortable in her heels, though Paul appeared more assured than in rehearsals. Choreographically, the number suffered from too many props, something seen on the show all too often.
Mary commended both on their performance, but did mention the new, stiff heels hid MaKenzie's beautiful feet. Overall, the judges felt they brought romance and grace to the routine. But it was kind of forgettable, making it hard to say if people will pick up the phone to vote.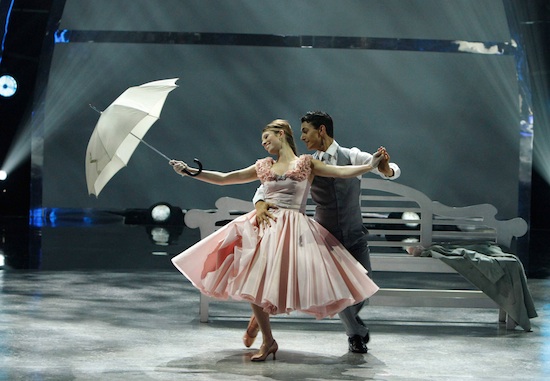 Contemporary dancer Jasmine Harper followed, paired with tap dancer Aaron Turner in a Sonya Tayeh jazz routine. Sonya described the movement in the piece as "swampy" and "aggressive." And, as the tallest couple in the competition, both dancers felt they had a lot to prove.
It was a solid routine, and Jasmine and Aaron demonstrated their strength and chemistry as partners. The judges were PLEASED!!! Wayne, who knows Aaron's father, called him a "sexy cat." Jasmine's legs for days caught the attention of Nigel. He called them another "power couple." Mary rounded out the critique, saying they "danced their hearts out up there."
Next to hit the stage were contemporary dancer Haley Erbert and tap dancer Curtis Holland in, according to Cat, a "seductive" Christopher Scott hip-hop routine. The two needed to bring some serious heat.
Again, the routine was too prop-heavy. But the dancers seemed more confident in the movement than they had in their montage. Nigel approved of their swag, saying, "You were both tremendous." Mary called Haley a "vixen," which she was. Yet, Curtis also really pulled it out. It would be a shock to see these two in the bottom.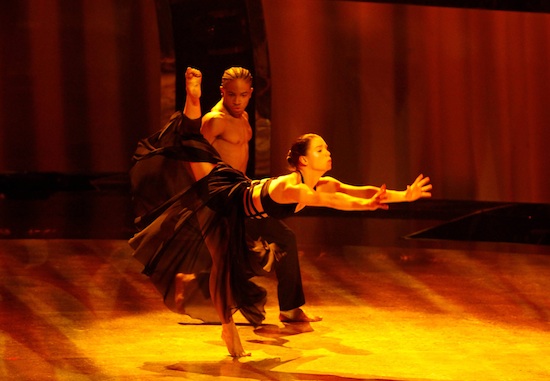 The last couple to perform was contemporary dancer Amy Yakima and hip-hopper Du-Shaunt "Fik-Shun" Stegar in a Sonya Tayeh contemporary piece. The piece was based on Amy having unresolved issues.
Amy has been a favorite since her first audition and she was fabulous in the routine. But Fik-Shun held his own next to Amy. He showed strength in his partnering and emotion in his dancing. They gave Cat her "first chills of the season." She wasn't alone in her sentiments. Mary's mind was blown. "Absolutely amazing," exclaimed Wayne. Nigel added, "Amy is what we call a beast." To Fik-Shun he said, "Who are you?"—he was amazed by his ability to dance something so outside of his element. The audience may have witnessed a glimpse of two of the Top 4 dancers.
The joy of the show is watching dancers grow by excelling in other forms. Hopefully, there will be much more of that to come. Here's to another dance-filled summer!
Photos: ©2012 FOX Broadcasting Co. Credits: Adam Rose and Mathieu Young.