SYTYCD Season 10: The Top 6 Take Center Stage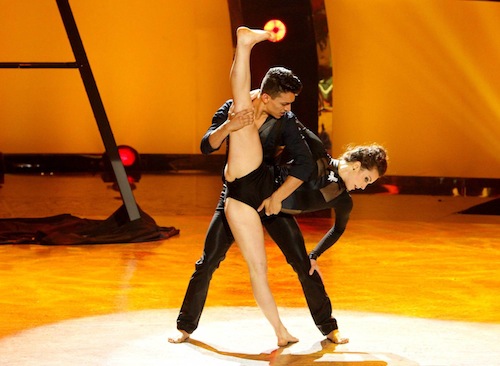 By Stephanie Wolf.
The game changed this week on Fox's So You Think You Can Dance as the remaining six dancers competed for a spot in the Season 10 finale. The judges no longer had a say in who would go home, as it was entirely up to America's votes.
Cat Deeley welcomed resident judges Nigel Lythgoe and Mary Murphy to the judges' panel as well as celebrity guest judge Jesse Tyler Ferguson. She then proceeded to say how the judges could relax this week, as they won't have to make the difficult decision of who to send home.
"It's not going to stop us from being tough though," said Nigel in regards to how the evening's critique would pan out. Predictably, this prompted disapproving groans from Cat and the audience. But Nigel was fair in acknowledging that the criticism component on the show is valid whether or not they are making the eliminations.
The dancers would perform three times: a duet with an all-star, a number partnered with another Season 10 finalist and a solo.
Paul Karmiryan took center stage first, partnering up with all-star Kathryn McCormick for a Tyce Diorio jazz routine. The piece allowed him to tap into his Latin ballroom skills, showing off his dynamo partnering skills and grounded-ness.
Nigel commented on his versatility, which has astounded the judges and viewers each week. "Charisma, talent, what a way to start the show tonight," said Mary.
Amy Yakima performed an emotionally charged contemporary solo. While she may be small in stature, there was nothing small about this solo. Amy proved she is a powerhouse and a serious contender to take this whole competition.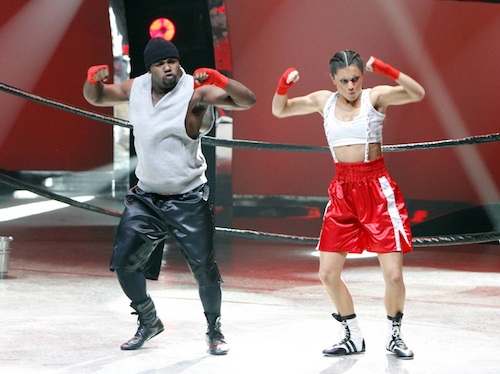 Haley Erbert partnered up with all-star Joshua Allen for a NappyTabs hip-hop routine. The routine was set in a boxing ring, with Joshua training Haley to "go hard." For a 'lightweight' contemporary dancer, Haley did hit the dance floor hard in this number. She had the crowd on their feet and the judges cheering out loud for her.
Fik-Shun brought his fantastic quirk and originality to his solo, proving why he has been so successful this season competing against such highly trained dancers.
Aaron Turner performed with Season 8 winner Melanie Moore in a Spencer Liff Broadway routine. The story was about a couple madly in love, but who also know how to push each other's buttons. It was a well-choreographed routine and Aaron had some great moments. Though, it wasn't Aaron's strongest performance, including when he missed a grip with Melanie and she landed on the floor.
Jesse commended Aaron on his journey throughout the show; and it has been incredible to see a tap dancer finally go far in this competition. Nigel agreed that Aaron has gotten "stronger every week," but thinks he needs to finesse the "nuisances" in his dancing.
With legs for days, Jasmine Harper performed a contemporary solo. A great dancer with killer extension, what Jasmine lacked in this solo was breath. Every movement was fast and hard. It would have been nice to see her stretch out certain moments longer, creating suspension and dynamics.
Paul then heated up the dance floor with a fiery Latin solo that was filled with acrobatics, pirouettes and even a double tour en l'air.
All-star Witney Carson returned to dance with Fik-Shun in a Jonathon Roberts foxtrot number. The judges didn't feel this was his strongest performance. However, performing in a style far from his comfort zone, the street dancer deserved a capital "A" for effort. Due to his popularity with viewers, it would be a surprise to not see him dancing next week.
Haley performed a nice solo. Though, with all three ladies remaining in the competition being contemporary dancers, it was hard to say if she was a standout.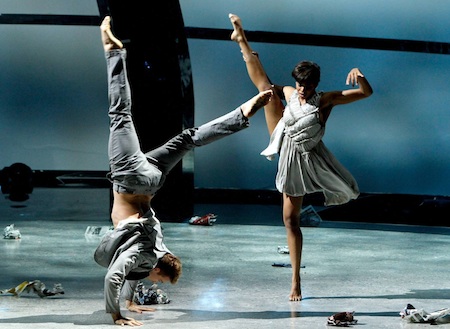 Jasmine danced with all-star Neil Haskell in a Tyce Diorio contemporary routine, which commented on the natural disasters Americans have endured over recent years. The special effects were fantastic, the choreography was inventive and, individually, Neil and Jasmine danced it well.
Nigel said he envisions Jasmine's career taking off immediately following the Season 10 tour. Mary was moved to tears by the piece, and professed that she loves it when dance affects her so strongly.
Aaron busted out his tap shoes to show how brilliant he is in his own style. Charm, skill and a little bit of sass, Aaron had it all in his solo.
Amy and all-star Alex Wong danced together in a Bollywood routine that required Amy to dig down deep and find her sexy inner-diva. Amy and Alex displayed great energy and were a good pairing, especially for this demanding number.
"Good golly Miss Bollywood," exclaimed Jesse. "That was absolutely insane…I loved it." Nigel agreed that the routine was stellar and he loves having Bollywood on the show because it always makes him smile.
Haley and Paul paired up for a difficult contemporary routine choreographed by Dee Caspary. It was a compelling piece and a beautiful partnership. The judges concurred.
Amy and Fik-Shun reunited for a Dave Scott hip-hop routine that was intended to be both sexy and aggressive. The judges were over the moon to see these two dance together again. "The two of you together are just so special and so spectacular," said Jesse.
Aaron and Jasmine also reformed their partnership for a Sean Cheesman jazz routine that sent Mary into a fit of squeals.
Based on America's votes, Haley and Paul were eliminated, sending Jasmine, Amy, Aaron and Fik-Shun into the Season 10 finale. Tune in next week to find out which male dancer and which female dancer will be named "America's Favorite Dancers."
Photos: ©2013 FOX Broadcasting Co. Credit: Adam Rose.