SYTYCD Season 10: Two Finalists are Sent Packing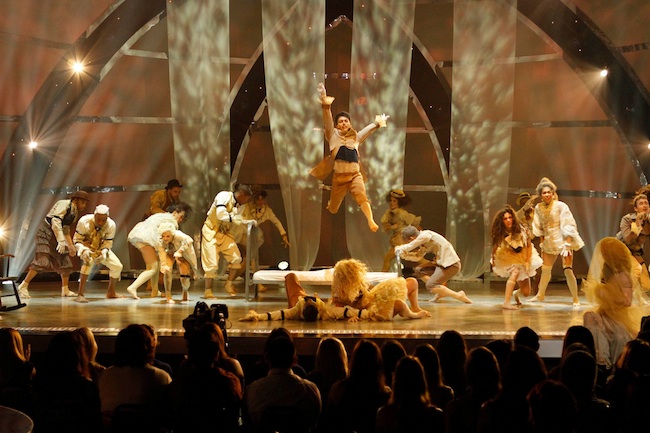 By Stephanie Wolf.
Week two of So You Think You Can Dance Season 10's live episodes opened with a Tyce Diorio group routine. Demented dolls come to life, this season's Top 20 dancers twisted, turned and contorted to a quirky song from the Moonrise Kingdom soundtrack. The audience was surprisingly quiet, a welcomed change to the typical high volume hooting and hollering.
To kick things off, host Cat Deeley introduced the week's judges: Nigel Lythgoe, Mary Murphry, and Christina Applegate, who brought insightful critique in past seasons.
Once again, the format was changed. At the top of the show, the bottom six dancers were announced and the judges deliberated their elimination before the dancers performed.
The bottom six was a surprise to the judges, and likely many of the viewers. After one week of the competition, Mackenzie Dustman, Brittany Cherry, Mariah Spears, Carlos Garland, Alan Bersten, and Jade Zuberi landed in the bottom. Mackenzie and Alan were immediately saved, while the remaining four had to dance for their lives.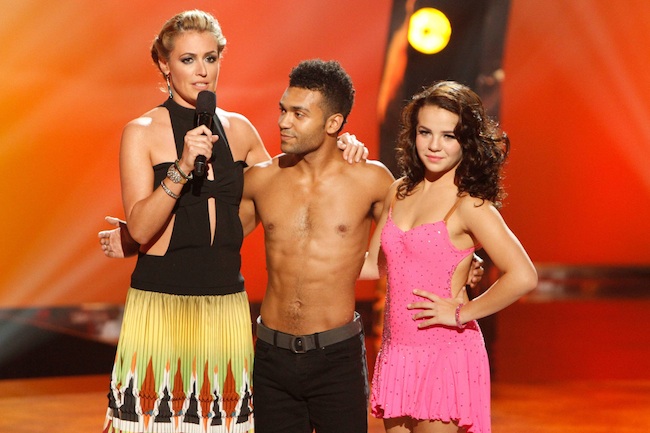 Overall, the judges were disappointed by the solos. So, they based their decisions on what they saw in Vegas Week and what choreographers said about each of the dancers from rehearsals. America would be saying good-bye to Carlos and Brittany.
First up were Haley Ebert and Curtis Holland, performing a too-hot-to-trot Ray Leeper jazz routine. Clad in an exorbitant amount of black pleather, once again Haley was a sex kitten tormenting Curtis—there was A LOT of rough n' tough booty grabbing.
"A very sexy routine," said Nigel with big eyes. "I thought it was danced brilliantly." He admitted he could not keep his eyes off of Haley—of course he couldn't. Mary screeched with all of that heat the 4th of July fireworks came early. "I forgot you were a tapper the whole time," Christina said to Curtis. Though she encouraged both dancers to "move into the words" and use the element of anticipation in their dancing as they move through this competition.
Jasmine Harper and Aaron Turner took the stage next in a Tabitha and Napoleon D'umo lyrical hip-hop routine. The two had nice synchronization, though some of the transitions within the complicated partnering sequences looked a little clumsy.
However, the judges were pleased. Mary called Jasmine a star, an actress and a great dancer. "What can I say? It was hot," she said. Christina had nothing negative to say. She added, "To me, you're the couple to beat." She saw their versatility and potential to grow together.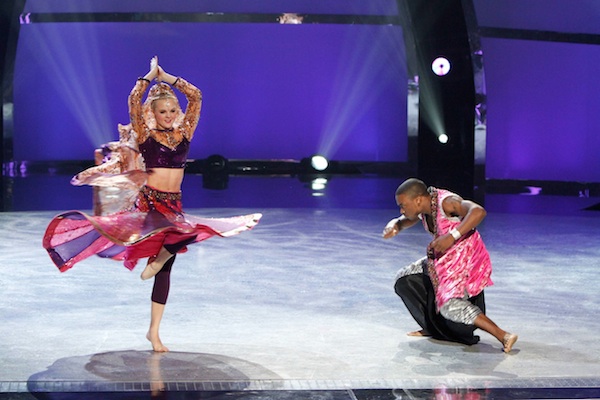 Always a crowd pleaser, Bollywood returned to the SYTYCD stage. Performed by Malece Miller and Jade, it was a classic story of a girl playing hard to get. The costumes had extra sparkles, but the routine didn't quite match the costumes—the energy should have been explosive and it wasn't.
Christina encouraged Jade to really open himself up to other genres, expressing "you are good, but you have to work even harder than everyone else here." Nigel agreed, but added, "I am shocked you picked up this choreography as well as you did."
Alexis Juliano and Nico Greetham had the difficult task of living up to a SYTYCD iconic performance from Season 5 that featured Kathryn McCormick and Robert Roldan. Stacey Tookey choreographed this contemporary routine as a "sequel" to the past routine, making for a mighty pair of dance shoes to fill. Nico and Alexis needed to find a deep connection for it to work.
Alexis had a lovely natural quality to her movement. However, if she moves forward, she'll need to focus on stretching her lines, reaching all the way through the ends of her toes and fingers. Not surprising, Nico danced well in this routine and was a solid partner for Alexis.
Nigel commended Stacey on her beautiful choreography. He then turned his attention to the dancers, telling Nico he gets better each week. To Alexis, he said she did very well, but will need to push harder each week in dance styles outside of her comfort zone. "You have a grace and a beauty about you that is extraordinary," Christina said to Alexis.
Eliminated dancer Brittany and her partner Dorian "BluPrint" Hector performed next in a Spencer Liff Broadway routine. Set in a library, Brittany and BluPrint are two students studying—they see each other and fall in love.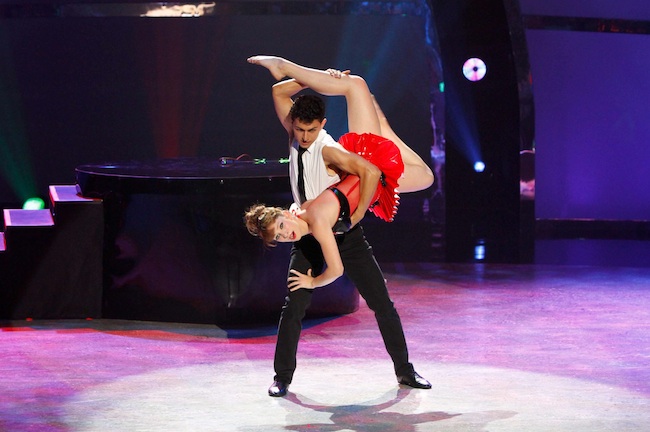 Mary wanted more from BluPrint technically, physically and emotionally. Christina also offered some critique to BluPrint, encouraging him to "tell a story" with his dancing. "You have to believe in what you are selling," Nigel told him. "That's what you need to do in routine's like this…just sell yourself." To Brittany, he said, "I'm so sorry you're leaving us today," wishing America could have seen her excel in her style.
Jasmine Mason and Alan paired up for a melodramatic tango routine. Alan was great, but Jasmine looked uncomfortable—not just in the lifts, but in the routine as a whole.
However, Christina and Mary gave it a standing ovation. "For a jazz dancer, the intensity you gave this routine was fantastic," Nigel told Jasmine. According to Mary, they gave her a fever from all of the passion. The routine must have read differently in front of a live audience than through a television.
Mackenzie and Paul Karmiryan danced a Sean Cheesman jazz routine next. It was yet another overtly sexy routine—this seems to be a common theme on the show. Mackenzie was smoking in it though, showing off her stellar lines and those incredible feet. Paul continued to prove what a great partner he is, and brought plenty of personality to the stage as well.
"It was another sort of naughty routine," said Nigel excitedly. He was impressed with Paul's tricks and flips. "I loved the beginning; I loved the end; I loved the bits in the middle too," Mary said. She and Nigel were both shocked that Mackenzie was in the bottom six and hoped American won't put her back there next week.
Mariah and Carlos took on a Stacey Tookey contemporary routine. It was a stunning number by Stacey, and played well to both dancers' strengths. Most importantly, it was an opportunity to see a softer, more serious side of krumper Mariah—after all, this is what this show is all about.
"It's America's loss," Mary said to Carlos. She told Mariah, "You just went to another place…I can't say enough about you right now." Christina commented on the couple's interconnectedness, saying, "The chemistry was better than any couple's I've seen tonight." It gave her goose bumps. Nigel concurred.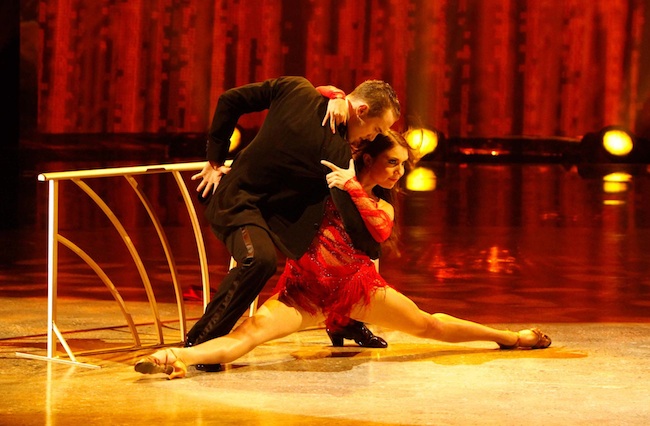 Amy Yakima and Du-Shaunt "Fik-Shun" Stegar danced a NappyTabs hip-hop routine. With Fik-Shun in his element and Amy far from hers, it was interesting to see how this couple would make it work. Amy confessed to being uncomfortable with all of the booty shaking, but she was much funkier than one would have expected. Fik-Shun, of course, killed it.
"I loved that so much," said Christina. It was fun and, as Christina said, made the audience feel good. Nigel made a point to speak on the dancers' personalities, because each has a special spark. Mary agreed—two great dancers with the "likeability" factor. They could be the couple to beat.
Jenna Johnson and Tucker Knox finished out the evening with a Dmitry Chaplin cha cha routine. "I love playing the sexy girl," confessed Jenna. Meanwhile, Tucker said he is not normally so smooth in his game. He dug down deep though, and found his sexy alter ego. Of course, Jenna brought some serious heat to the dance floor.
"You're in your element, but I have a feeling everything you do is going to become your element," Mary said to Jenna. Christina thought it was "amazing!" She felt Tucker found the necessary "rough dirtiness." Yet, Nigel was not as impressed. He wanted to see more cha cha and less choreographic pizazz—was that a dig at Dmitry?
Next week, two more dancers will be eliminated. Who will leave and who will continue on to become "America's Favorite Dancer"?
Photos: ©2013 FOX Broadcasting Co. Cr: Adam Rose