SYTYCD Season 12 begins Finale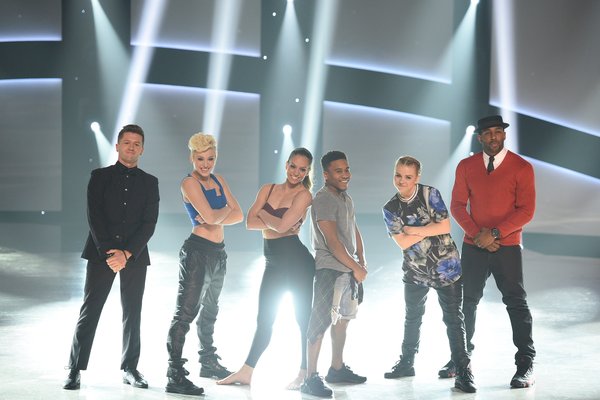 Part I of the So You Think You Can Dance Season 12 Finale hit the screens on Monday night. After eliminating Team Street's Megan "Megz" Alfonso and Team Stage's Jim Nowakowski last week, Monday presented the four finalists competing to be crowned this season's champion. Jana "JaJa" Vankova, Hailee Payne, Virgil Gadson and Gaby Diaz each performed four duets and one solo apiece.
By far, the highlights of the night included: Gaby and Hailee performing an emotional contemporary piece choreographed by Travis Wall to "Do Not Hang Your Head" by Elizabeth & The Catapult (can you say gorgeous?!); Gaby in a old-school tap routine by Anthony Morigerato with All-Star Zack Everhart (so smooth, smiley and fun it had me recalling the days of Fred Astaire and Ginger Rogers); Hailee and Virgil in a comedic work with a '40s flair by in-demand Broadway dancemaker Josh Bergasse (you've got to love this Smash-ing choreographer!); Virgil and Gaby remaking Phillip Chbeeb and Renee Kester's viral dance video duet set to "Slip" by Elliot Moss (think contemporary movement meets hip-hop on a subway platform); and Virgil and All-Star Joshua Allen in the brief, but incredibly high-energy, street dance routine by Pharside & Phoenix (that one move where Virgil basically surfed Joshua's back in a strange but exhilarating headstand-cartwheel trick was straight up crazy!)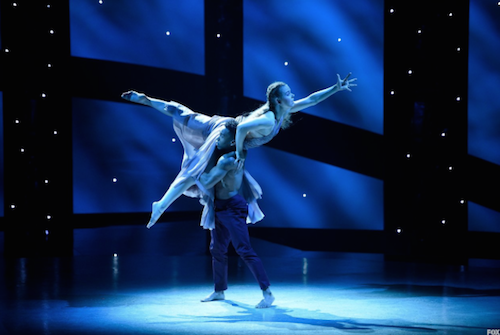 JaJa fell behind this week, losing some of her spark and momentum. Perhaps it was the combinations she was given, but some might be right when they suggest that it was an attempt by the judges to sway the tide in Gaby's favor, the obvious frontrunner. (I will say that Gaby did seem to get the best routines out of the four contestants, especially since most of them were her stylistic strengths.) Hailee, a strong dancer with beautiful artistry, seemed to get harsher critiques than others while Virgil seemed to shine in certain pieces but not really ever claim the lead.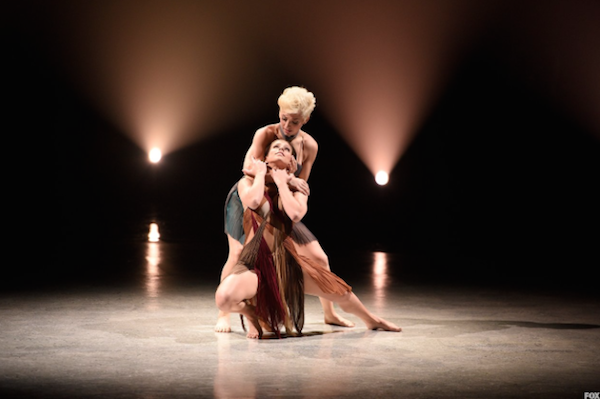 Whichever dancer wins next week will not only attain the title "America's Favorite Dancer" for Season 12 but they'll also receive a significant cash prize and earn a spot in Jennifer Lopez's new Vegas show. Tune in this Monday for Part II of the SYTYCD Season 12 Finale.
[Oh, and side note: Beloved SYTYCD host Cat Deeley is pregnant! Yay! Congratulations Cat!]
Photo (top): The Top 4 (center) prepare to lay it all out on the stage in the SYTYCD Season 12 Finale Part I. Photo (left): Jaja and Virgil perform a contemporary routine by Stacey Tookey. Photo (right): Gaby and Hailee perform Travis Wall's contemporary piece. Photos courtesy of FOX.