SYTYCD Season 12 Winner announced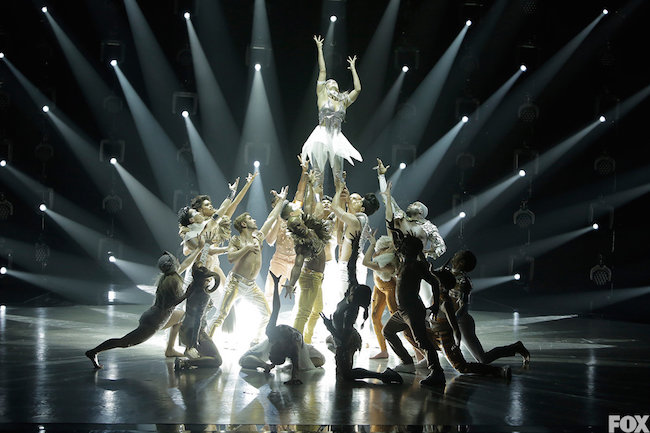 The 12th season of So You Think You Can Dance concluded on Monday night on Fox. As Part II of the Finale, there were a plethora of guest performances and many routine favorites brought back from earlier in the season. The four finalists—Virgil Gadson, Hailee Payne, Jana "JaJa" Vankova and Gaby Diaz—all performed a set number of pieces before it was time for the big reveal.
And America's new favorite dancer is… Gaby Diaz! This Miami native is the first tapper to win the title, and the first contestant to make it through the new Stage vs. Street format.
Not only will Gaby get to hold the title until next season, but she also receives $250,000 and the prospect of dancing in Jennifer Lopez' Vegas residency!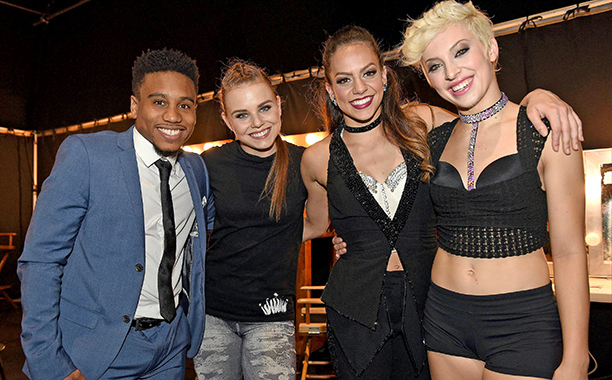 Leading up to this big announcement, which was reportedly decided by voters, the two-hour finale included a bunch of highlights. To name a few: the Top 9 performing a epic jazz routine with the All-Stars that was choreographed by Nick Florez and RJ Durell; former contestants Megz and Edson Juarez returning to perform Talia Flavia's touching contemporary routine; last year's reigning champ, Ricky Ubeda, reviving Al Blackstone's fun Broadway routine with Jaja; Gaby and Neptune re-presenting Stacey Tookey's contemporary piece (thanks tWitch for picking it!); and the Team Street Top 10 performing their NappyTabs group routine.
A few numbers that really stood out were a Travis Wall original premiered by All-Star Alex Wong and Jim Nowakowski (thank you for making our dreams come true!) and, speaking of Travis, his lovely duet with Step Up star Jenna Dewan-Tatum. A cute hip-hop piece by All-Star Cyrus and guest Lil' Phoenix was unexpected – not to mention the somewhat-random appearance of American Ballet Theatre Principal Herman Cornejo with hip-hop dance group Academy of Villains.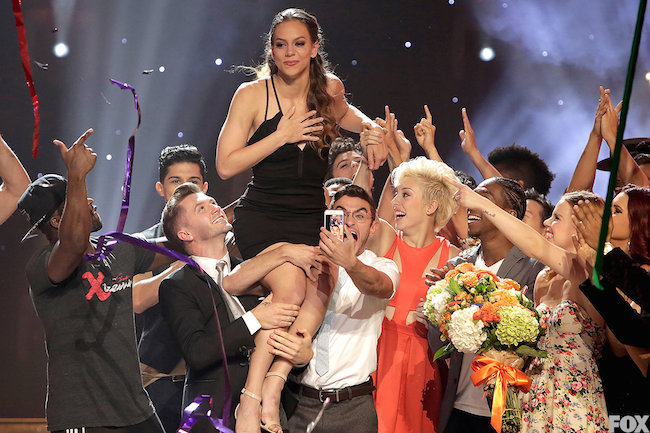 In the end, after 17 weeks, countless Cat Deeley outfits, unhelpful feedback by judge Jason Derulo and an Emmy Award for the Team Stage mentor (congratulations Travis!), SYTYCD officially crowned Gaby as its latest champion. Jaja landed in second place as Team Street's winner, trailed by Virgil on Team Street and Hailee on Team Stage.
What do you think of these results? Are you happy with how this season's new show format turned out? We'd love to hear your thoughts! For more photos from Finale Part II, head to www.fox.com/so-you-think-you-can-dance.
Photo (top): The Top 9 and the All-Stars perform a jazz routine by Nick Florez and RJ Durell. Photo (left): From left, contestants Virgil Gadson, Jana "JaJa" Vankova, Gaby Diaz and Hailee Payne. Photo (right): Gaby Diaz is named America's Favorite Dancer. All photos courtesy of Fox.