SYTYCD Season 13: Top 5 perform; 1 leaves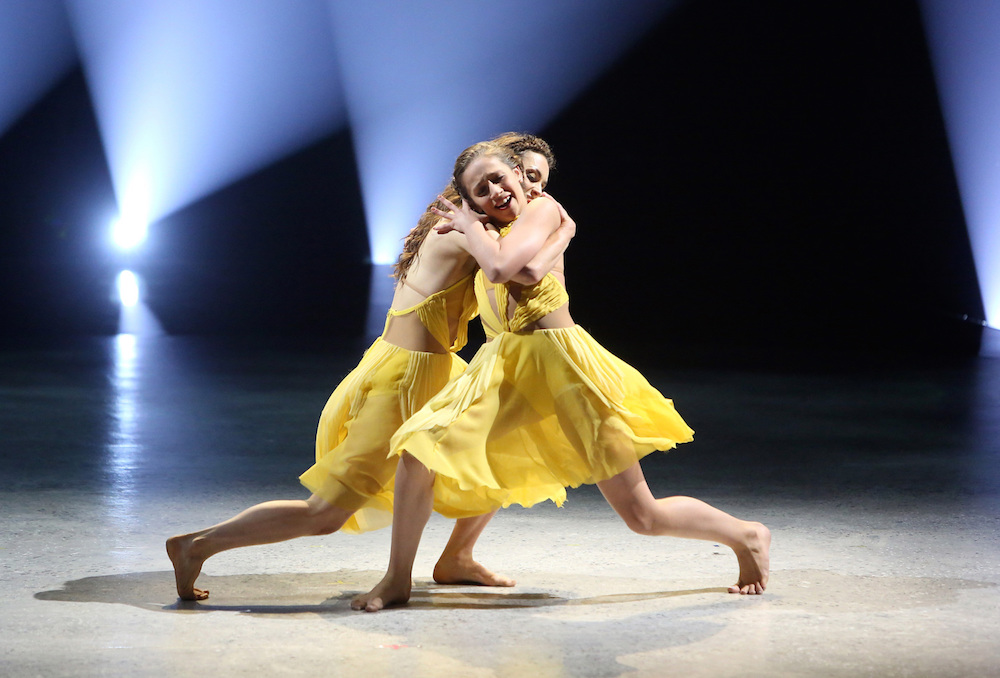 The 250th episode of Fox's show So You Think You Can Dance kicked off at 8 pm on Monday, August 29, 2016. The episode, which was the 11th for Season 13, featured the five remaining "Next Generation" dancers, including Tate McRae, Kida Burns, Emma Hellenkamp, J.T. Church and Tahani Anderson.
The special episode opened with a cool and different group piece with costumes and neon face tape, danced to Bjork, choreographed by Nick Florez and RJ Durrell.
Host Cat Deeley first caught up with Next Gen dancer Tate, and we watched a film clip of her and All-Star Kathryn McCormick in rehearsal with contemporary choreographer Stacey Tookey. The duo wore beautiful, bright yellow dresses and danced about how the two of them working together has been such a gift for both. Their execution of the movement was nearly perfect. The judges agreed, and Paula Abdul said, "There was just so much humanity and truth in that number, executed beautifully."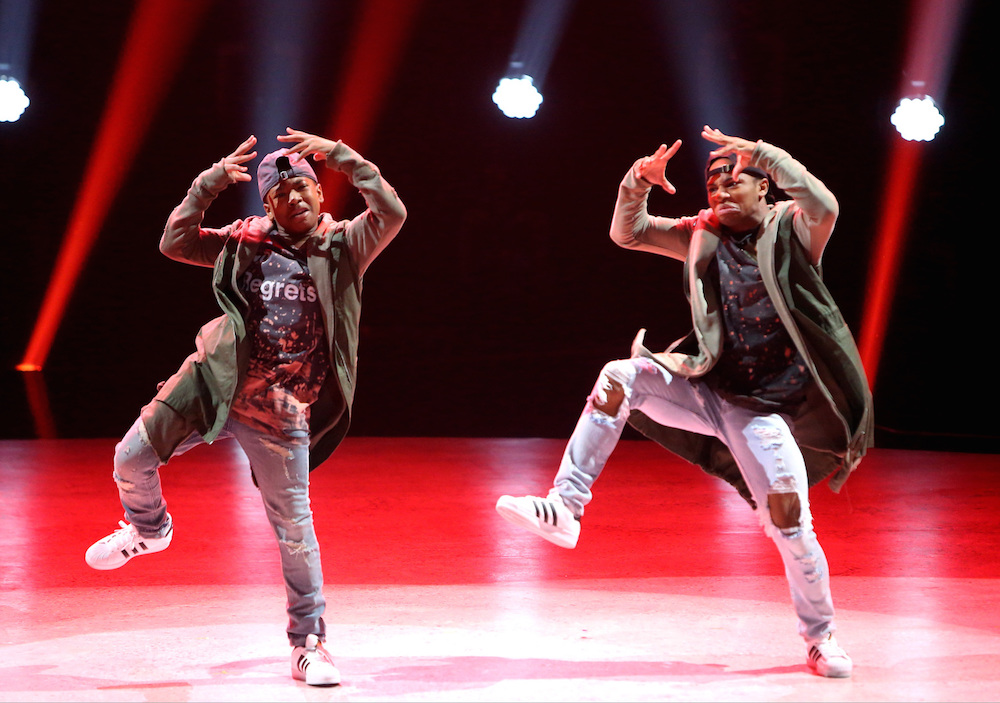 After a quick commercial break, Cat caught up with Kida, and we watched his rehearsal with All-Star Fik-Shun and choreographers Pharside & Phoenix. Their crump/hip-hop routine had a kind of dance-battle mentality and Kida and Fik-Shun had a ton of energy through all of the big, difficult movement. Executive Producer and Judge Nigel Lythgoe thought Kida could be a bit bigger in all of his movement, but other than that, the judges gave positive reviews.
Emma was up next, and spoke with Cat before viewing her rehearsal with All-Star Gaby Diaz and the legendary Savion Glover. Glover's choreography is very musical and seemed challenging to Emma in the rehearsal. However, when the pair performed their old-school tap number, she seemed very comfortable and at ease with the music. The judges were very proud of Emma for siting in the pocket of the music, and judge Maddie Ziegler said, "You have wonderful stage presence."
Next to catch up with Cat was the youngest dancer J.T., and we saw his rehearsal with his All-Star Robert Roldan and choreographer Stacey Tookey. In the contemporary dance, Robert plays the role of J.T.'s father figure. They presented a heart-warming, uplifting piece that received a standing ovation from the audience and judges. Paula called J.T. a "Picasso in a tiny frame" because of his artistry he brings to life on the stage every week.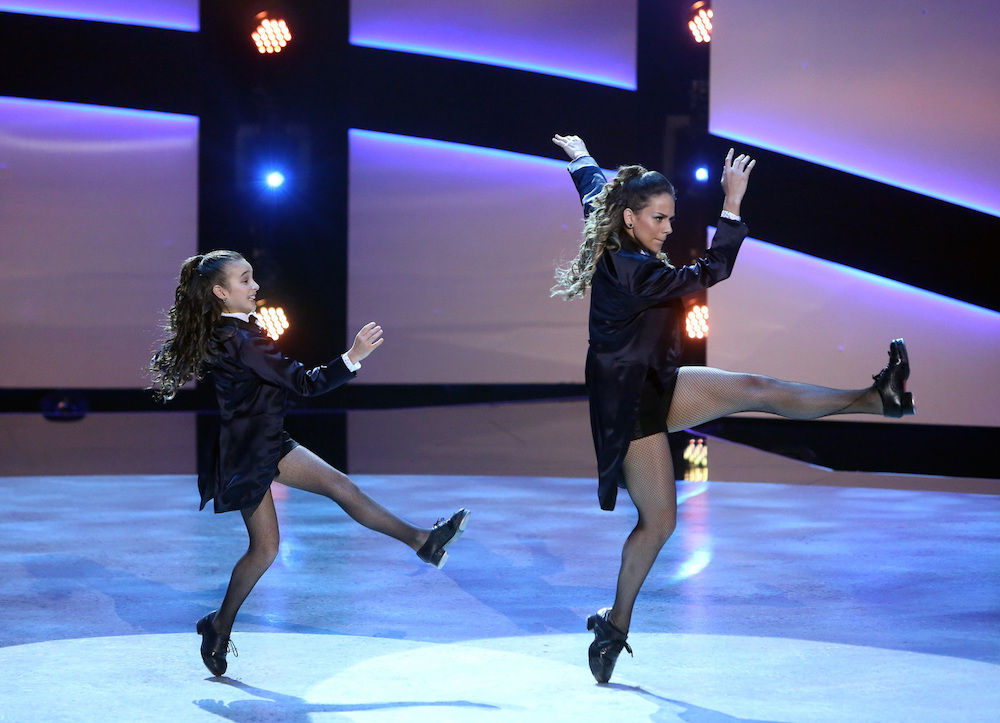 Contestant Tahani and Cat spoke next, and then we watched her rehearsal with All-Star mentor Comfort Fedoke with choreographer Dave Scott. The two performed a tribal-inspired hip-hop piece that was full of groove moments mixed with sharp movements. The judges thought Tahani needed to complete her movement to its fullest extreme, but were impressed how well she danced that routine with so much energy because of the difficulty of the choreography.
After the break, viewers witnessed a "first" for the show as the contestants' choreography was then presented on the So You Think You Can Dance stage. Each dancer's piece was about one minute in length and was in the place of their solos.
First up was Tate with her All-Star Kathryn. Tate's contemporary piece was about how we all wear a mask of insecurity in our everyday lives and how we need to break free from our own thoughts. The concept and choreography seemed well beyond Tate's 12 years, and the judges loved seeing her taking control.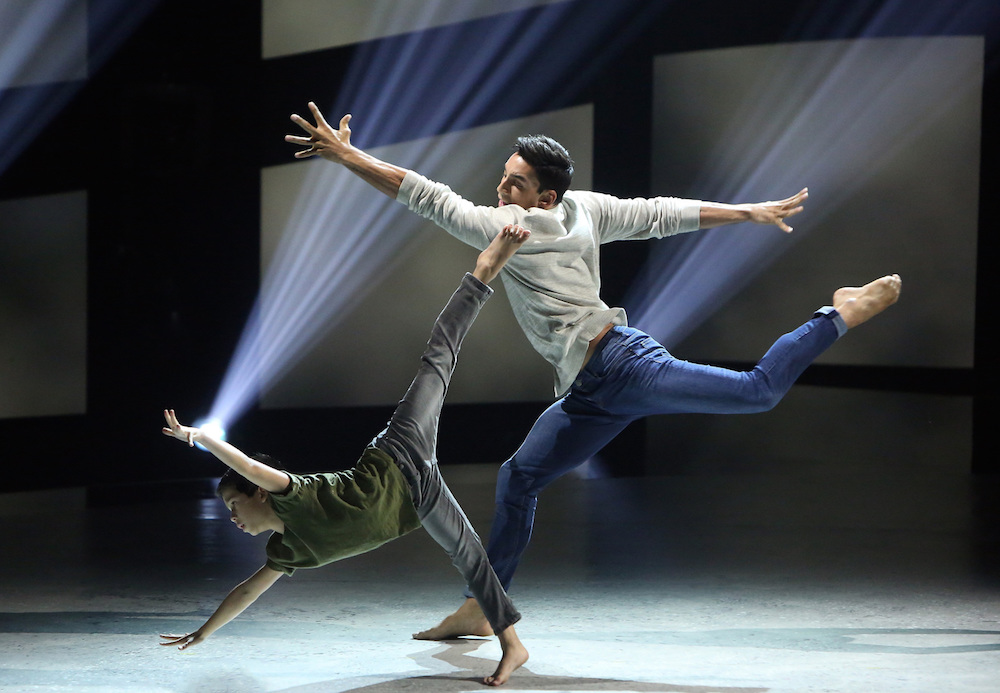 The second Next Gen dancer to showcase their choreography was Kida. Him and Fik-Shun were robots and the piece featured some popping, locking, animation and a little groovy hip-hop. The judges thought Kida did a fantastic job. Judge Jason Derulo said, "This is the part where usually I would thank the choreographer, so thank you Kida."
Before moving on to the next dancer's piece, we saw a lovely, feel-good contemporary routine from All-Stars Jenna Johnson, Sasha Mallory, Paul Karmiryan, Kathryn McCormick and Marko Germar, as choreographed by Theresa Stone.
The third contestant to show off their choreography skills was J.T. His story for the pair of them was about friendship and it was just about the most precious thing I've ever seen. The movement seemed quite simple, but maybe it was because J.T. is seven years old. The judges thought the routine was cute, and they were impressed.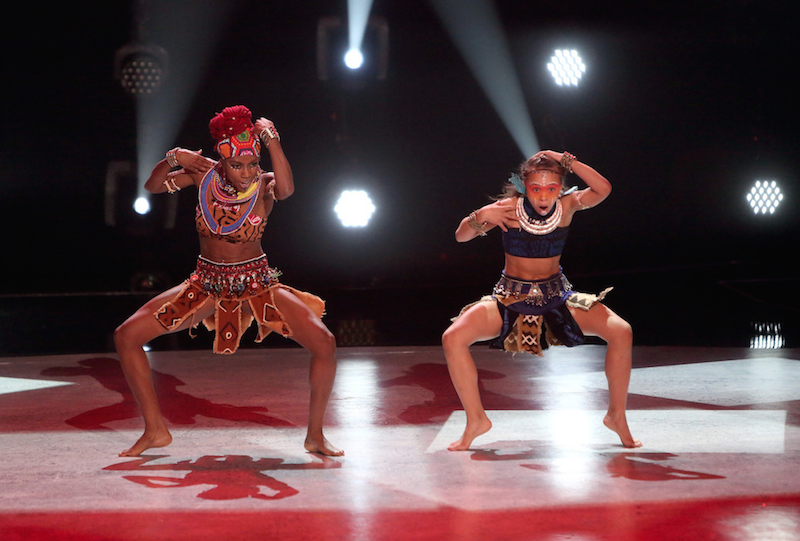 We then saw the remaining five All-Stars – Comfort, Gaby, Fik-Shun, Robert and guest Jonathon Platero – perform a swanky musical theatre routine choreographed by Al Blackstone.
The fourth dancer we see choreography from was Tahani. Her and Comfort's duet was about how Tahani is a popular girl and Comfort was a geek and was to "No Flex Zone." Her choreography was so fun and had great musicality. The judges were pleased with how Tahani took charge and even led Comfort out of her comfort zone. Nigel said he couldn't keep his eyes off of her.
The fifth and final Next Gen dancer to showcase her choreography was tapper Emma. Her routine was to the Pentatonix version of "Rather Be" and was about how much of an inspiration Gaby has been to her. The sounds had awesome musicality and she had some really intricate rhythms involved. The judges were impressed with the choreography and execution of the dance, and how magical the two of them are together on stage.
In honor of the 250th episode, choreographer Travis Wall created and danced in a piece with Next Gen judge Maddie Ziegler, of Dance Moms fame. The piece was about the contrast and friction between light and dark. They were (obviously) both brilliant and it showcased Maddie's technique and performance skill very well.
At the conclusion of the episode, the results were read, and the dancer that was sent home was Tahani.
The next episode of So You Think You Can Dance will be the performance finale and will premiere on Monday, September 5 at 8 pm EST on Fox.
To read the last SYTYCD recap about the tenth episode, click here.
By Allison Gupton of Dance Informa.
Photos: ©2016 FOX Broadcasting Co. Credit: Patrick Wymore.