SYTYCD: The Final 4 Compete for Your Votes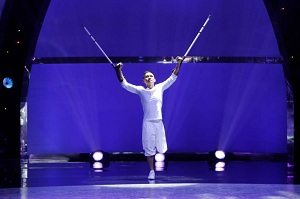 By Stephanie Wolf.
A dramatic opening montage sets the mood for the Season 9 performance finale of So You Think You Can Dance. It's down to the final four dancers and it's truly anyone's win. Ballet dancer Chehon Wespi-Tschopp has stealthy technique to spare, but animator Cyrus "Glitch" Spencer has won over America with his one-of-a-kind dance moves and charming personality. Both of the final ladies, ballet dancer Eliana Girard and contemporary dancer Tiffany Maher have shown great versatility, but only one can take home the title of "America's Favorite Dancer". It all comes down to this final night of performances with commentary by resident judges Nigel Lythgoe and Mary Murhphy with guest judge Rob Marshall. There is also a unique and amazing guest performance by one-legged b-boy Jean Sok from France!
The evening kicks off with Cyrus and Eliana in a Jason Gilkinson paso doble with a twist—there's a switch in the typical gender roles as Eliana dances the matador and Cyrus portrays the cape. SYTYCD has delivered some incredible paso dobles in past seasons, but this one doesn't quite rise up to the same level. However, all three judges are generous in their feedback and appear to really like it. Nigel likes the unique approach to a traditional dance, and tells Eliana, "without question [you have] secured your place in this industry." Mary thinks Cyrus brings passion and drama to the routine. But, ultimately, Eliana seems to steal the show. Rob says to her, "What I love is that you know how to throw the technique away…and tell a story."
Next up, Tiffany is paired up with Season 4 all-star Will Wingfield in a Sonya Tayeh jazz piece. Sonya incorporates some really interesting partnering, which is executed well, except that Will struggles on the final lift. Luckily, it's all about Tiffany, not Will, and the judges are over-the-moon happy with her performance. "You are the epitome of a fabulous dancer…you are a star tonight." Mary shrieks. "The two of you together are a perfect partnership, made in heaven." Nigel remarks that despite her tiny stature she covers a lot of space and moves like she's ten feet tall.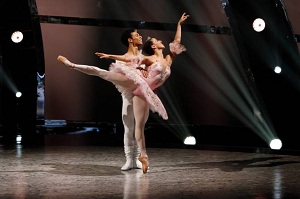 From mainstream contemporary the evening takes an unusual jump back to the more traditional. Eliana and Chehon partner up for the grande pas de deux from The Nutcracker. Despite ballet being their dance style, both dancers are nervous because it's been awhile since they've been able to get into a ballet class. Overall, the two look nice dancing together. Eliana shows off her lovely extensions and Chehon demonstrates sound classical partnering. But there are a few aesthetic things that stand out. Eliana is in pink tights and flesh pointe shoes, which cuts off her otherwise long lines. There are also moments in which the presentation could stand to be more demure and subtle. Rob gives props to the both of them. "That really separates the men from the boys. That's really hard what you just did up there…it's beautiful." Nigel is proud of not only the two dancers, but of the series as well. "I never dreamt that we would have two ballet dancers in the finale…and I'm thrilled." Oddly, he claims to not recall the grande pas de deux from The Nutcracker. Really? That's a bizarre statement for someone who claims to be an expert in the field of dance. Mary claims, "It's a triumph for the show and it's a triumph for ballet"
Next, Tiffany and Cyrus take on a lyrical hip-hop routine by Tessandra Chavez. There's some great partnering moves choreographed into the routine. Nigel commends both dancers for never being in the bottom and tells them, "I think you're both incredible." Mary says, "It's an incredible routine and you guys absolutely killed it…[Cyrus] you are hitting it so strong and so confident…Tiffany you are a little beast out there." Rob points out, "You both have something that I love in dancers and that's abandon…that was my favorite of the evening so far."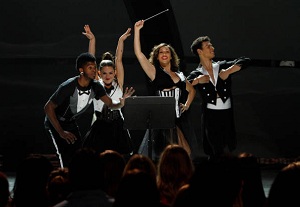 All four perform together in a "quirky" Tyce Diorio routine. Each gets to represent his or her own dance genre to a remix of Beethoven's Fifth Symphony. It's fun, inventive, and shows the strengths of each individual exceptionally.
Chehon dances a heartfelt Stacey Tookey piece with Season 2 all-star Allison Holker. Stacey does a fabulous job of letting Chehon fly, literally. He does some truly incredible, gravity-defying jumps. Yet, he's there for Allison as a partner the whole time. The routine ends with a passionate kiss, which has the audience roaring and Mary screaming. Mary uses the word "freedom" to describe his dancing, which is an appropriate adjective. He really did shine in this routine. "You really came alive," Nigel says. "Wow!"
Tiffany and Eliana join forces in a too-hot-to-handle Ray Leeper Broadway number to saucy music from Chicago. As Ray says, "we're taking Burlesque to Broadway." The two certainly work the pole, especially Eliana who has trained in pole dancing. Nigel is at a loss for words. Rob manages to string some sentences together. "That was fierce." Mary says, "It was crazy great."
For the first time this season, Chehon and Cyrus dance together in a masculine Sonya Tayeh routine. It promises to be a huge challenge for Cyrus and, next to Chehon, he doesn't look as strong. But the untrained dancer has come a long way in this season and must be lauded for his work ethic and enormous improvement. Nigel is "so proud" of Cyrus. "You make me very proud to know you. You are an inspiration to me." To Chehon, he says, "You have grown so much as a person…you sir are my favorite dancer." Rob feels the sense of community amongst the two and calls it a "beautiful thing."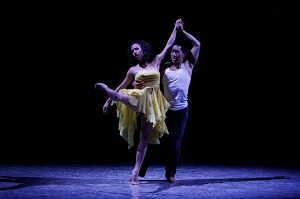 Eliana and Season 7 all-star Alex Wong perform a stunning Travis Wall contemporary routine. This just may be a match made in SYTYCD heaven. Do we sense a post Season 9 partnership brewing here? Alex and Eliana truly bring out the best in each other. "Oh my gosh, that was just poetry," Rob says. "What's so fantastic is that you're so connected and we just get lost in it." Nigel says it's his favorite routine of the night, giving high praise to Travis, Alex, and Eliana—he tells her she is his favorite of "all time." Is Nigel sending a message to America?
Chehon and Tiffany pair up for a Dmitry Chaplin rumba. Chehon has had a tough time with the Latin dances throughout the season. But this go around has a happier ending for him. The partnering is smooth and it ends in another sensual smooch—Chehon is certainly getting along with the ladies tonight. Rob finds a "beautiful" connection between the two that wasn't "oversold."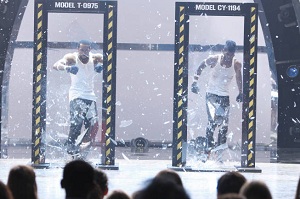 The moment we've all been waiting for has arrived! Cyrus and all-star Stephen "tWitch" Boss get real in a Christopher Scott animation routine. There are plenty of 'sick' moves, sending the audience into peels of applause and screams. "You are both world-class in what you do," Nigel quotes Christopher in regards to Cyrus and tWitch. Shockingly, Nigel tells Cyrus he is not going to vote for him tonight. Cyrus is "inspirational" and fills Nigel with emotion when he dances. But Nigel is a trained dancer and has to go with his heart and vote for Chehon. Wow! Quite the statement to end the night with!
It's up to America now to decide which female and which male dancer will take home the ultimate dance on TV prize. Tune in next Tuesday, September 18 for the season finale!
Photos: ©2012 FOX Broadcasting Co. Cr: Adam Rose