SYTYCD: The Top 14 Compete for America's Votes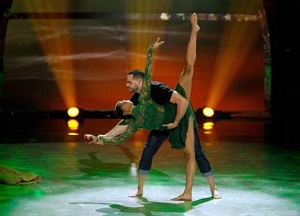 So You Think You Can Dance continued, as its Top 14 dancers competed for America's votes.
The competition took an unexpected blow, as another dancer suffered an injury. Curtis Holland hurt his shoulder during rehearsals and was not cleared by his doctors to perform this week. So he was absent for the dark and moody group routine choreographed by Sonya Tayeh and Dmitry Chaplin.
Joining resident judges Nigel Lythgoe and Mary Murphy on the judges' panel this week was celebrity guest judge Anna Kendrick. After Cat Deeley introduced the judges, she announced the bottom six dancers: Nico Greetham, Alexis Juliano, Mackenzie Dustman, Jasmine Harper, Alan Bersten, and Curtis.
None of the gentlemen were asked to dance for their lives—though they all remained in danger. For the ladies, Nigel sent Mackenzie to safety and asked to see Alexis and Jasmine's solo.
Alexis has shown the most growth in the competition. Yet, her solo was surprisingly subdued for the circumstances. Jasmine's solo had more attack, but also carried an air of desperation. With so many contemporary dancers still in the competition, Alexis's uniqueness could outshine Jasmine's long limbs and side tilts.
Jenna Johnson and Tucker Knox took the stage first in a hip-hop routine, which had them in territory outside of their comfort zone. It had many awkward moments, including when Tucker randomly unzipped his jacket. These two gave an earnest effort, but ultimately, it lacked in funk.
"It was unconvincing," said Nigel. He told Tucker he was "too upright" in the routine and Jenna was too "sweet and neat." Mary felt Nigel's critique was harsh, but she agreed it wasn't their best moment in the competition. She commended their effort.
Alexis and Nico went into the studio with Sonya Tayeh for a contemporary routine this week. There were many interesting moments with nice dynamics. This was a solid routine for the couple on all counts, choreographically, technically, and emotionally.
"The desperation in it," said Mary. "I could feel it all the way." She added how the details and abandonment both of the dancers brought to the routine made it successful. Anna loved the climaxing emotions in it and said, "I felt like I couldn't breath."
Haley Erbert performed an Argentine tango sans Curtis due to his injury. With her onstage sexual energy that the judges have been harping on throughout the entire competition, this dance should have been right up her alley. And it was. She demonstrated clean lines, confidence, and a subtle sexuality that had the audience eating out of the palm of her hand.
The judges were thrilled. Nigel called it "stunning." "It was so impressive," Mary said to Haley.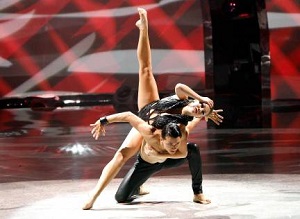 Mackenzie and Paul Karmiryan danced a sultry Sonya Tayeh jazz routine. "Sex sells" has been a common theme on this season of SYTYCD and this routine was in the same vane. It worked for Mackenzie and Paul. It was gritty and edgy, in the best kind of way.
The judges gushed about both dancers, commenting on their power and exceptional technique. It was the best routine of the night thus far.
Aaron Turner and Jasmine paired up for a contemporary routine center around The Giving Tree. It was a unique concept, yet wasn't memorable.
The judges made such a big deal about the prop, an apple, which was odd considering how prop heavy the series has been this season. Anna made a point on complimenting Aaron's strength and presence onstage. Nigel pulled in the story of The Giving Tree to praise the partnership, professing his adoration for the pairing.
Power couple Amy Yakima and Fik-shun performed a Christopher Scott hip-hop number. These two oozed charisma—their personalities are likely a large contributing factor to their success on the show. It was an enjoyable routine and was performed well.
Anna told Amy she is her favorite dancer on the show. "It felt like it was made for you," she said to the couple. "If this show was based on cumulative points over the weeks, you two would be so far ahead," said Nigel.
Malece Miller took to the stage next with Alan in a "roller costar ride" salsa routine. The lifts didn't disappoint. They were fast, furious, and frequent. Alan, of course, had the energy and feel of the salsa down. But Malece lost energy towards the end.
Nigel thoroughly enjoyed the routine, as did Mary. "Malece you were a huge surprise," said Mary. "You were kicking it out there." Every week, the judges praise Malece, but Alan has proved he is a contender on this show. Why all of this focus on little Malece?
The smoldering Spencer Liff group number was a welcomed break to the competition. Incorporating elements of old-school jazz and even some Fosse-infused moves, Spencer created a fun and spirited piece. Though, with Spencer stepping in for an injured Curtis, the judges felt the other gentlemen got schooled by this professional.
The final piece of the evening utilized contemporary movement to address the issue of bullying. Technique aside, shall dancers never take for granted the power of their art form to share a powerful message, impact change, and give those who are frightened or cannot speak a voice.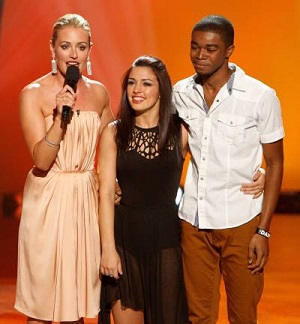 Anna added some insightful words at the end of the episode, especially for someone who professed that sincerity isn't her strong point. "If this is the last thing I say on the show, I just to thank all of you guys for dedicating so much time and energy to an art form that doesn't have many platforms…that was fantastic and that's all I'm going to say." Well said, Anna. Well said.
It was then time for the deliberations; Alexis and Curtis, the show's two resident hoofers, were sent packing, leaving only 12 dancers in the competition.
While the show is cheesy and maybe not a perfect portrayal of dance, SYTYCD does succeed where other dance-centric television shows fail—the emphasis of the reality competition series is on the dancing. The series is a celebration of dance with true aspirations of sharing the work, talent, and passion of dancers. Maybe that is why it has survived for ten seasons.
Tune in next week for more So You Think You Can Dance action!
Photos: ©2013 FOX Broadcasting Co. Cr: Adam Rose.