SYTYCD: The Top 20 Perform
By Stephanie Wolf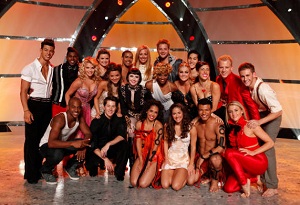 The first competitive week of So You Think You Can Dance Season 9 hit the ground running with an eye-catching group routine and a Top 20 that laid it all out on the dance floor. Resident judges Nigel Lythgoe and Mary Murphy were on hand to provide their insight and expertise and, joined by guest judge Kenny Ortega, they began the search for "America's favorite girl and America's favorite guy dancer."
After a spiffy and well-synced group routine by Christopher Scott, the competition began with the oddest of pairings, ballroom dancer Witney Carson and ballet dancer Chehon Wespi-Tschopp. The two danced a salsa routine choreographed by Louis van Amstel. It almost seemed unfair for Chehon to have to share the stage with Witney—an in-your-face "firecracker" who excels in the Latin ballroom genres. Nigel encouraged Chehon to "give in a bit more and enjoy the music." The ballet dancer seemed nervous and a little stiff, but Witney was clearly in her element. In regards to her saucy performance, Kenny exclaimed, "It was like Marilyn Monroe is Some Like it Hot, only it was hotter."
Up next were jazz dancer Tiffany Maher and contemporary dancer George Lawrence II, two of the shows smallest dancers that dance as if they are seven feet tall. They were at the mercy of Sonya Tayeh, who gave them an intimate contemporary routine. "Their love is so strong it literally takes their breath away," she explained. This was a stunning pairing; Tiffany's elegant lines and George's attentive partnering complimented each other greatly, seamlessly messing great technique and great emotions. It was a rather different routine than what we're used to seeing from Sonya, but was refreshing and showcased the dancers well. They "surrender[ed] themselves to the beautiful choreography…living [every moment]." The judges were captivated and hypnotized by the emotional and technical depth of the choreography and performance.
Contemporary dancer Janaya French was teamed up with step dancer Brandon Mitchell for a NappyTabs routine. There were some great highlights including a moment in which Janaya propels herself backwards into Brandon's arms. But, overall, the routine was kind of forgettable. With such a strong crop of dancers in this season's Top 20, it's crucial to stand out. Janaya and Brandon don't leave a lasting impression with this routine. The judges gave positive feedback, but Nigel did express that Napoleon and Tabitha choreographed in such a way to cover up some of their weaknesses.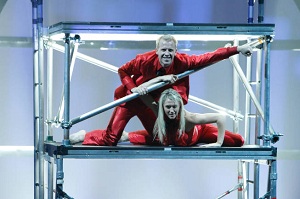 Contemporary dancer Alexa Anderson and ballet dancer Daniel Baker performed a jazz routine by Sean Cheesman, chock full of difficult partnering. The rehearsal process was full of bumps and bruises, but, if anyone can pull it off, surely these two could. The ending of the routine was interesting, incorporating scaffolding in unique ways. Nigel summed it up well in acknowledging the difficulty of the routine and how well they executed it technically; yet, there was a lack of connection with the audience. The feedback was positive, but the best is yet to come with this couple.
Amber Jackson and Nick Bloxsom-Carter took the stage next. Another unlikely pairing, the two were delivered a Jason Gilikison Viennese waltz. Jason was tough on Nick, expecting a lot from the ballroom dancer in his own genre. According to Mary, Nick was "phenomenal" in his own style, but Amber appeared a bit awkward in heels. Ultimately, Nigel expressed some concern for their safety in the competition.
"Another great partnership," according to Nigel was Amelia Lowe and Will Thomas. "It was terrific, it was memorable, and it was danced perfectly," he continued. The two contemporary dancers performed a quirky, alley cat hip hop-esque routine by NappyTabs. It was certainly creative and memorable. This very well might be a partnership to keep an eye on.
The big surprise of the evening was belly dancer Janelle Issis and contemporary dancer Dareian Kujawa, who danced a lively African routine by Sean Cheesman. They were exciting, energized, and committed to the fast and ferocious movement. "Sweetheart, if you survive rehearsals on this show, you could do well." Nigel told Janelle jokingly—she's already endured a few injuries. "It was cross-cultural, it was primitive…I felt like I was watching two flames dance across the stage," Kenny said excitedly. Will they be the competition's dark horses?
The judges were equally thrilled with ballet dancer Eliana Girard, who performed a Tyce Diorio Broadway routine with street dancer Cyrus 'Glitch' Spencer. Both were out of their comfort zones, yet found a way to make it their own. Cyrus has a lot of work to do in order to stay on par with the other dancers, but Nigel deemed Eliana the girl to beat.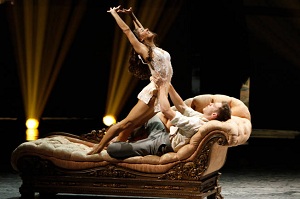 Travis Wall's contemporary routine, danced by jazz dancer Audrey Case and contemporary dancer Matthew Kazmierczak, brought the judges to their feet. Set on the Titantic, this contemporary routine played to each dancer's strengths and dramatic abilities. Nigel said it was his favorite routine of the night.
Last, but not least. The final couple to perform was ballroom hot tamale Lindsey Arnold and martial artist Cole Horibe. They danced a paso doble choreographed by Jason Gilikison. It was a heck of a way to end the night. The smoldering routine had the judges gushing. Kenny and Nigel both said it was one of the best routines to ever grace the SYTYCD stage. High praise!
They say it every year, but this just might be the best Top 20 ever!
Photos: ©2012 FOX Broadcasting Co. Credit Adam Rose