SYTYCD: The Top 8 Compete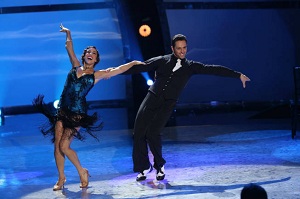 By Stephanie Wolf.
It's down to the final 8 on Season 9 of So You Think You Can Dance, which means the finale is just weeks away. As we near the end, the stakes and emotions are high; now is the time for the dancers to give it everything they have. This week, each dancer performs a duet with an all-star as well as a solo. We also get a glimpse into their training and upbringing through brief video montages, filled with old photos and home videos. It's a Hallmark moment and a bit too played out, but, in the search for "America's Favorite Dancer," it's important for the viewers to feel a personal connection with each contestant.
Uber fan and funny man Jesse Tyler Ferguson (Modern Family) joins Mary Murphy and Nigel Lythgoe to give constructive critique and praise to the competing dancers. What he lacks in dance know how, he makes up for in enthusiasm and energy.
Witney Carson is the first up to perform and continues to show she can do more than cha cha in a Luther Brown hip-hop routine with all-star partner Stephen "tWitch" Boss. Witney's sensuality is effortless and never over the top. She holds her own against tWitch, which is no easy feat. All three judges commend her adaptability, stepping seamlessly into different dances outside of her style week after week. We know how fabulous she is. The judges know how fabulous she is. But does America realize what a dancing dynamo this bubbly blonde from SLC is?
Cole Horibe is partnered up with Season 2 all-star Allison Holker in a Sonya Tayeh contemporary routine. Cole has an incredible ability to connect with his onstage personas. This routine is no exception, as he delves into a dark, intense, and slightly sinister character. Similar to Witney and Eliana, Cole also demonstrates an impressive ability to pick up a large range of dance styles. He has a good chance of dancing his way into the finale.
Next up, Eliana Girard performs a debonair Jonathon Roberts quickstep with Season 6 all-star Ryan Di Lello. The quickstep is notorious for being the "kiss of death" on SYTYCD. But this high-flying routine is filled with spectacular lifts and Eliana manages to appease Mary's particular ballroom eye. Jesse praises her enthusiastically, commenting on how versatile she is to go from last week's contemporary number to this week's ballroom routine. "Your range of emotion is extraordinary…I feel like I know you, but I don't," he gushes. Eliana does seem to be the lady to beat. The ballerina also dons her tutu and pointe shoes for a solo that further shows off her technical and emotional capabilities.
Lindsay Arnold teams up with Season 7 all-star Alex Wong for a Sonya Tayeh jazz routine to the popular tune Gotye's "Somebody I Used to Know." Lindsay has shown a lot of growth on the show, but she still doesn't stretch fully through her legs and feet in the contemporary/jazz routines. Yet, Nigel's feedback is not about the technique, which he claims exists solidly in the routine. Rather he says there is a lack of "sexual chemistry." The judges' comments give the sense that the ballroom dancer is in danger this week.
Will Thomas gets funky with Season 3 all-star Lauren Gottlieb in a Christopher Scott hip-hop routine. There are several interesting, inventive choreographic moments. But the facial expressions by both Will and Lauren are over-the-top, making the emotional context of the dance feel contrived. Mary actually has high praise, calling him "articulate." Jesse says Will is like "an adorable puppy covered in puppies" – whatever that means… Ultimately, Will dances well, but it's not a showstopper routine.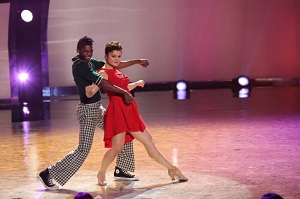 Cyrus Spencer and Season 8 all-star Melanie Moore are quirky and perky in a Fosse-inspired Mandy Moore routine. The choreographers are brilliant when it comes to Cyrus because, despite his lack of formal training, they make him look good. Mandy does the same here, giving a fun routine that challenges the animator but doesn't make him look awkward. Nigel and Mary both point out how much America loves him. Nigel reminds the in-studio audience and viewers that the goal of the show is to find America's favorite dancer not the best dancer. Cyrus isn't going anywhere anytime soon.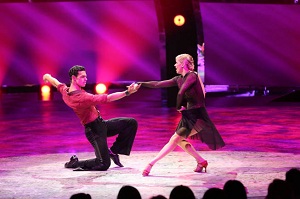 Chehon Wespi-Tschopp takes to the stage with Season 3 all-star Anya Garnis in a sensual tango routine that gets the crowd all hot and bothered. Mary goes crazy over the intricate lifts and turns, including one truly inspired phrase of tango maneuvers in which Anya's stiletto-clad feet don't touch the groud. She picks the number as her favorite dance of the evening. It's slinky and sexy, and shows a different side of Chehon.
The final pairing of the night is Tiffany Maher and Season 5 all-star Ade Obayomi in a Mandy Moore contemporary routine to Celine Dion's iconic song "The Power of Love." Once Tiffany is able to control her urge to burst out in Dion's vocals, she delivers a technically sound and expressive performance. Don't let her tiny stature foul you. This little lady is in it to win it and brings a lot of power and punch to the SYTYCD stage. The judges are floored and Nigel tells her, "You don't even know how beautiful you are." This is high praise from Nigel.
The results are in and the dancers look tense. Of the ladies, best buds Lindsay and Witney are the bottom two ladies. For the gentlemen, Will and Cole land in the bottom two. It doesn't take long for the judges to deliberate, sending Lindsay and Will packing.
Tune in next Wednesday when the Top 6 dancers compete for America's votes and find out which 4 dancers will compete in the Season 9 finale.
Photos: ©2012 FOX Broadcasting Co. Cr: Mike Yarish