SYTYCD Week 5: The All Stars are Back!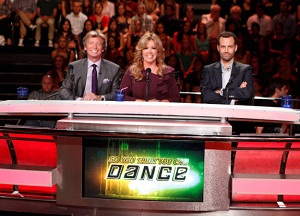 By Stephanie Wolf.
It's down to the final ten dancers on Season 9 of So You Think You Can Dance—an exciting time for both the dancers and the viewers because all ten will continue on to tour in the fall and some of the most memorable dancers from past seasons return to the competition. It's the return of the SYTYCD all-stars!
Every week is bittersweet; with new routines and exciting performances by guest companies comes the elimination of more dancers from the competition. With the new format, we get it all in one sitting so you never know what to expect. But the good news is that the partnerships are FINALLY broken up, which will give several dancers the opportunity to really shine.
This week, former New York City Ballet principal dancer and Black Swan choreographer Benjamin Millepied joins Nigel Lythgoe and Mary Murphy to provide critical feedback and commentary to the competing dancers. It's an interesting choice for the production team, who has pulled in guest judges with little or no dancing knowledge in the past like Zoey Deschannel and Jesse Tyler Ferguson. As much as we love Jesse and Zoey—big fan of New Girl—it's refreshing to see guest judges who not only know dance but are also immersed in the very field these young contestants are hoping to be a part of. Maybe the show is genuinely trying to capture more of the reality of dance…maybe.
The evening starts off with a Tyce Diorio group routine that pays homage to one of the greatest American dancers and entertainers of all time, the fabulous Gene Kelly. The routine celebrates the hoofer's 100th birthday.
The competition then gets rolling with Tiffany Maher who is paired with Season 5 all-star Brandon Byrant in a Doriana Sanchez disco routine. With teeny tiny Tiffany and beefy Brandon, Doriana really cranks up the difficulty level of this number. Mary counts eleven crazy lifts, executed well by the two. It's a hit with all of the judges and the audience.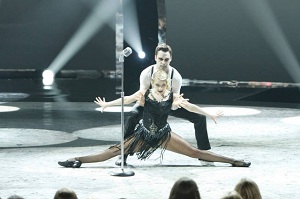 Next up, saucy ballroom diva Witney Carson is paired with Season 1 winner Nick Lazzarini for a Travis Wall jazz piece. In the routine, Witney portrays the ghost of a sexy jazz singer; she handles the role with poise and finesse, bringing a sensual quality without being over-the-top. Mary has been a fan of Witney since day one and hollers, "Lord have Murphy, you were smoldering!" Nigel notes that Witney has the potential to coast into the finale if she keeps delivering top-notch performances.
Cole Horibe takes the dance floor next with Season 3 hot tamale all-star Anya Garnis in a cha cha choreographed by Dmitry Chaplin. It's no easy feat to rise up to Anya's undeniable sexuality that oozes every time she steps on stage. Cole is definite finale material, but this week wasn't his best. He's over the top in his performance quality and doesn't connect with Anya the way he connected with Lindsay in past weeks. His hopes to secure a ticket on the hot tamale train go unfulfilled, but Mary assures him a ticket is in his near future.
Lindsay Arnold teams up with Season 5 all-star Jakob Karr in a Spencer Liff Broadway routine to "Dancin' Dan (Me and My Shadow)." The two are shadows sprung to life in this fun, jazzy routine. Lindsay has shown a lot of improvement in the past few weeks, rising from just another competitor to a dancer with a mission. Yet the judges spend a lot of time praising Jakob.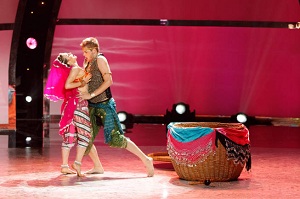 Will Thomas is partnered up with Season 5 all-star Kathryn McCormick in a Nakul Dev Mahajan Bollywood routine. It's another number with a convoluted story, making us curious why every routine on SYTYCD must be supported by a story. What ever happened to dance for the sake of dance? Anyway, Will is a charmer and has the judges under his spell. The judges don't make any fuss of his lack of sharpness and, instead, dote on how magnificent Kathryn is. The continuous praising of the all-stars appears to be a theme and is a little too much.
Cyrus Spencer has struggled with choreography in previous weeks, but, this week, he gains momentum with a Travis Wall contemporary piece. Dancing with all-star Jaimie Goodwin, Cyrus shows a lot of improvement. Nigel tells him, "You're brilliant," and commends on how much he's grown throughout the competition. He still very much needs to work on his flexed feet and bent knees though.
All-star Lauren Gottlieb returns to the show to dance with Chehon Wespi-Tschopp in a Dave Scott hip hop routine. Chehon is awkward in the routine, but he gets an A for effort. He's trying to let loose and allow his personality to come out, which the judges congratulate him for. If he manages to use this charisma to connect with the viewers his poor hip-hop skills will likely be overlooked when it comes time to pick up the phone and vote.
George Lawrence II is paired up with Season 2 fan favorite Allison Holker for a Paris inspired Tyce Diorio routine. George is a strong dancer and this piece wins high praise from Mary and even Benjamin, who calls him "exceptional." But Nigel is not fully convinced. He tells George his character portrayal wasn't believable.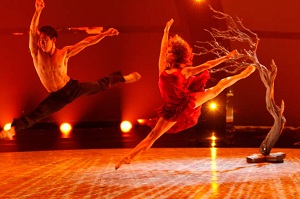 The superstar all-star pairing of the night, Eliana Girard and Season 7's Alex Wong, bring the house down with a sensational Stacey Tookey contemporary routine to "Bang, Bang." The piece is about a tumultuous, on-again-off-again relationship. Without Cyrus as her partner, Eliana is able to show American how fabulous of a dancer she is. From the partnership to the technique and performance quality, this routine is killer and earns a standing ovation.
The last dancer to take the stage is Audrey Case. She is paired up with Stephen "tWitch" Boss for a Dave Scott hip-hop routine. The routine gets a lukewarm reception from the judges. Benjamin hints that tWitch outshines her in the number and Nigel says she fell short in her character portrayal – similar feedback given to George. Is this possibly foreshadowing what is to come later in the show?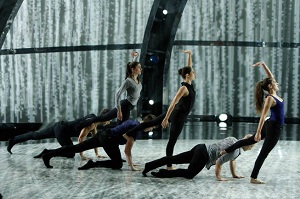 Now onto the eliminations…
The bottom four dancers are Witney, Audrey, Chehon, and George. Each dancer is asked to perform a solo, which is followed by a performance by Benjamin's newly formed company the L.A. Dance Project. In the end, we say goodbye to Audrey and George.
Tune in next Wednesday when the Top 8 dancers perform for your votes.
Photos: ©2012 FOX Broadcasting Co. Cr: Adam Rose